Thinking Stick Frame Rather Than Post Frame

Reader BRAD writes:"Real question…I've been doing lots of reading and love this site. I am building a 40x60x14 this spring. I originally thought I was going to go pole barn and now I am thinking stick frame. Reason….1. I am going to have insulated concrete foundation with in floor heating piping installed right away. (mono slab). 2. I am planning on fully finishing the inside insulation electrical, etc. in the future. What I've seen with post frame is that they are cheaper to build initially but if you are planning on finishing the inside there is substantial lumber and framing that needs to be done for interior walls and interior ceiling. It appears "at the end of the day" a finished pole barn is not much cheaper than a stick frame. I also question if it would be a lot more time trying to frame an interior post frame with 16" o/c studs and finishing a ceiling with 4' or longer truss spacing vs 2' with conventional stick frame. I am doing all metal exterior with 2' o/c stud purlins on side walls vs osb sheathing. I know you can spray closed cell spray foam but again that is more than triple the price vs bats and vapor barrier that you can only do with 24"or16" o/c framing. 
Am I way off base on this theory or is there any truth to my thinking?"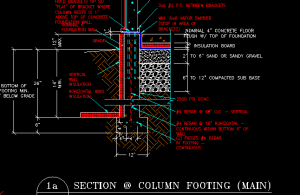 Mike the Pole Barn Guru responds:
I just don't see reason number one as a reason at all. A plethora of post frame buildings (my own included) utilize radiant in-floor heat. In order to stick frame, you are going to have to thicken your slab edges, or pour a continuous footing and stem wall, in order to provide adequate support for your now load bearing walls. This is going to result in added expenses for forming, regardless of your choice (before even considering extra concrete required). While anchor bolts for stud walls are relatively inexpensive, they do require some effort to be properly placed in order to avoid hitting studs and plates need to be drilled to account for them.

In order to stick frame without added engineering, your wall heights are going to be limited by Building Codes. To attach steel siding, you will need to add horizontal framing outside of your studs (scarily, I did see a builder post photos of vertical steel siding, screwed to vertical studs), resulting in two sets of framing, extra pieces to handle, cut and install. By using commercial style bookshelf wall girts in post frame, no extra framing is required in order to attach exterior steel siding and wall finish of your choice. As post frame buildings transfer gravity loads from roof-to-ground via columns, eliminating (in most instances) any need for structural headers.

Using prefabricated metal connector plated wood trusses, in pairs, directly aligned with columns (most often placed every 12 feet), does require ceiling joists to be placed between truss pairs. This can all be done on the ground, then cranked into place using winch boxes, with no need for other heavy lifting equipment.

When all is said and done, fully engineered post frame construction will always be more cost effective than stick frame, more structurally sound and afford a greater ability to super insulate, regardless of one's choice of insulation systems.