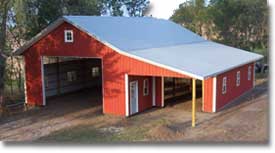 It takes a lot of equipment, supplies, and machinery to run a successful farm, and as the owner, you'll need to figure out where to put it all. Unfortunately, building enough storage facilities to keep up with demands can be expensive and time-consuming. Maybe your farm grew faster than you expected, or maybe your older, run-down sheds can no longer keep equipment safe from animals, insects, and weather. You can't always afford to build a new equipment barn or shed from scratch.
That's where Hansen Pole Buildings comes in. Our custom-designed, farm-friendly pole building kits make it easy to put up new tractor sheds, barns, equipment, and grain storage buildings quickly for a minimal cost.

Big and Small Equipment Shed Kits
Ordering a pole building starts with sizing. Figure out how much room your farm has for a new shed or barn and how big the building will need to be to store all your supplies or machinery with enough space left for you to work.
We offer kits that enable you to clearspan agricultural buildings up to 100' wide, so you can safely store farming equipment of just about any size in our pole barns. Once you've decided on the right width, think about height. The general rule for large steel farm buildings is to make the eave height two feet taller than the largest door opening.
Take a look at some of the outdoor storage buildings our customers have ordered in our farm storage gallery.
Doors, Roofs, and Insulation
The overhead and sliding door options for our equipment storage buildings go as wide as 32' and up to 16' high. We offer a large selection of door models in a variety of styles, with insulated and uninsulated versions available. You can insulate your whole building or just portions of it, with commercial wall girt options placed 24" on center. The 2×6 wall framing standard creates a large area for properly insulating the building.
Hansen Pole Buildings' farm shed kits come standard with reflective roof insulation to deflect heat in the hot summer months. If you're feeling decorative, you can dress up your storage barn with wainscoting, cupolas, overhangs, and other customizations.
Strong and Reliable Farm Storage Sheds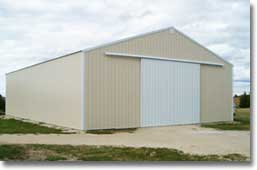 Our farm storage buildings are built to last, with double truss designs specifically engineered to meet your local building codes. All wall girts and purlins are minimum #2, or better, kiln-dried 2×6 lumber. We also provide powder-coated screws and LedgerLoks for a strong truss-to-pole connection. All poles are treated with a minimum .60 CCA treatment, and the wall girts are laid flat like shelves to take advantage of the strongest edge of the wood.
We include sealed engineering plans with every kit in case your local building department needs to see them, along with a lifetime warranty—the only warranty of its kind known within the industry. Each post frame building kit comes with two sets of 24×36" plans, with more sets available for purchase.
When all the storage sheds on your farm are full, count on Hansen Pole Buildings for adding more. Fill out our form to get a free quote for your next farm pole building.