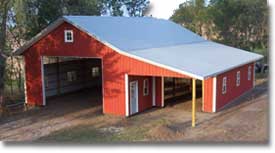 In the agriculture industry, ample storage space for vehicles and tools is an absolute must. With that in mind, our agricultural pole buildings are excellent choices for maximizing the storage space on your land. You can design your pole barn farm storage building to house anything from tractors to mowers to seeds and grains to any other common tools used out in the fields, keeping your essential equipment and supplies safe.
Hansen Pole Buildings offers the lowest farm storage building prices in the industry, and we make it easy to construct your building fast—you don't need any professional experience to put our farm storage building kits together. Get a quote for a customized agricultural farm storage pole building now!
Get A Free Quote!
What Is a Farm Storage Pole Barn?
Agricultural farm storage pole barns are wonderful additions to any farm space when extra storage is needed. The variety of sizes and customizations we offer makes it easy to design a farm storage building that will suit any purpose you can imagine. Our farm storage building kits are easy for anyone to assemble, but if you prefer not to construct your building yourself or with your own team, any local contractor should have the expertise to build it for you.
How Much Does It Cost to Build a Farm Storage Building?
The size of your new farm storage building will determine its price. The average pole barn costs anywhere from $7,000 to $75,000, but large or complex pole barns can cost up to $100,000. Costs also vary by area due to regional material prices and local design requirements, and you'll have to factor in optional items you want to add to your building design.
Low prices are one of the main reasons to choose an agricultural farm storage pole building over a building made with traditional construction methods. The cost to build a pole barn farm storage building is often substantially lower because they require less material to construct—even added features typically cost less in a pole building. They also offer more flexibility in terms of choosing materials for roofing and flooring and making other aesthetic decisions.
Agricultural Farm Storage Pole Buildings Come in Small, Medium, and Large Sizes
Farming equipment comes in all shapes and sizes, and so do our farm storage buildings. We'll help you choose the right size for your property and your storage needs so you don't pay for more space than you require. Whether you want to build a small supply shed or an expansive warehouse, the assembly process will still be very simple.
Small Farm Storage Building Prices
Our small agricultural pole barn homes cost between $7,000 and $18,000. They're great for holding farming supplies or a good-sized toolset.
Medium Farm Storage Building Prices
Our medium-sized farm storage buildings range in price from roughly $18,000 to $40,000. Call one of our experts to see which size might be best suited for your needs.
Large Farm Storage Building Prices
Large farm storage building prices start at roughly $36,000 and typically go up to $88,000, but some kits may cost more if you're looking for something extra large.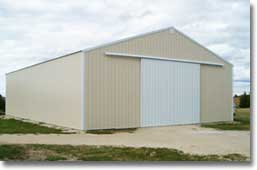 What Does a Farm Storage Building Look Like on the Inside?
The interior of your agricultural pole building can be open and minimalist if all you want is a space to park a tractor or two. If you'd like something more functional and aesthetically pleasing, though, you can add wall paneling, windows, loft space, and more. You can also ask for insulation and electricity if you think you'll be spending a decent amount of time in your farm storage building.
How Does a Wooden Farm Storage Pole Barn Differ From Steel-Frame Buildings?
There is a misconception that steel-frame buildings are more dependable and sturdy than wooden pole buildings, and with some building companies, that may be the case. That said, Hansen Pole Buildings' agricultural pole barn homes are just as durable and sturdy as any other type of building, keeping you and your equipment safe and sound in the harshest of environments.
Farm Storage Pole Barn Advantages and Disadvantages
Like any product, there are pros and cons to building a pole barn. However, we want to make sure our customers know that the sturdiness, cost, and ease of assembly outweigh any potential disadvantages.
Farm Storage Pole Barn Advantages
Less Expensive Foundations
Some groundwork still needs to be done with a pole barn, but it is much faster and cheaper than laying a foundation for a traditional building. It isn't necessary to do any excavating or fill concrete—you just need some holes in the ground for the poles that provide structural support.
Suitable for Any Terrain
With no ground-leveling work to be done, our pole barns are extremely adaptable to different terrains. This will save you both valuable time and money.
Farm Storage Pole Barn Disadvantages
DIY Construction
There are those who would champ at the bit to assemble a building of their own, but it's true that not everyone will want to take a task like this on. If you do need assistance, a local contractor will more than likely be able to help you assemble it for a fee.
Community Restrictions
Certain aesthetic guidelines may need to be followed in different communities. With that said, our pole barns come in many different sizes and styles, so it is highly likely we can help design a structure that fits in with those community guidelines.
How Long Does a Farm Storage Building Take to Put Together?
Once you receive your farm storage building kit, the assembly process can take anywhere from a couple of days to around a week. Your packaging contains instructions for putting your building together that are created to be as straightforward as possible.
Where Do I Get a Farm Storage Building Kit?
Instead of shopping at a store or through an agency, you can order your farm storage building online from the comfort of your own home. With just a few clicks, we can get you a quote for your dream farm storage building. We deliver all across the U.S., so whether you're up in Maine or down in San Diego, you'll get your kit delivered in no time at all.
How Do I Find a Farm Storage Building Contractor Near Me?
If assembling your farm storage building personally is not something you're looking to do, any local contractor should be able to do it for you. If you're interested, we can recommend contractors in your area.
Get A Free Quote!