Your dream RV deserves to be parked in a dependable, weatherproof RV carport, which is why Hansen Pole Buildings is proud to custom-design RV pole barn carport kits for customers in need of new or improved RV storage buildings. Whether you want to build something simple or something luxurious, you can count on our team to provide the best pole barns for RV storage.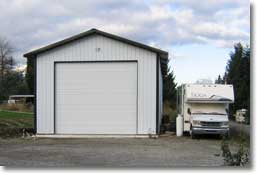 Our customers can order RV carport pole barns in various sizes and choose from a long list of optional features. Best of all, the first steps of the process are obligation-free—Hansen Pole Buildings offers free quotes for pole building designs. Even if you're just curious, you can learn how we'll bring your vision for an RV pole barn carport to life without committing to a purchase.
What Is an RV Carport Pole Barn?
Buying an RV is a serious investment, and natural elements have the power to destroy its value if you don't provide the proper shelter. Protecting the exterior from the sun, rain, and snow is a no-brainer if you want to keep your RV in great shape.
It's just as important to protect your RV's interior. With an RV storage building or shed, you can rest assured that its interior wiring, upholstery, and insulation will stay secure. Responsible owners are wise to purchase protective post-frame storage barns that keep their RVs safe from damage and theft.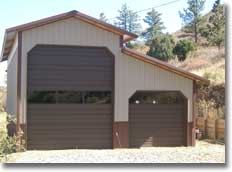 Your RV carport building kit, in its most basic form, will look like a larger version of the standard garage kit. However, there are many ways you can customize your RV storage unit.
RV Carport Kit Pricing
The size of your new RV carport pole barn building determines its price. The average residential pole building costs anywhere from $7,000 to $75,000, while larger or very complex pole barns can cost up to $100,000. RV carports are simpler than many other building types, so their prices shouldn't be on the higher end.
Costs also vary by location due to regional material prices and local design requirements, and you'll have to factor in any optional features you want to add to your pole building.
Affordability is one of the main reasons to purchase a post-frame building instead of going with typical construction. The cost to build a pole barn RV carport is often substantially lower than that of other construction methods because they require less material to build—even added features typically cost less in a pole barn building. The interior can be finished with drywall and hardwood floors like modern houses on the market today, and the exterior can be made of roofing and siding that matches the look of your neighborhood.
Residential RV Carport Pole Buildings Are Available in Small, Medium, and Large Sizes
RVs are large vehicles, but some are bigger than others. The amount of space you have to build a carport on your land is also a factor when designing your carport kit. You can choose from small, medium, and large kits for a residential carport pole barn near your home.
Get A Free Quote!
How Much Does a Small Residential RV Carport Kit Cost?
RV carport kit pricing ultimately depends on the final design, but in general, small RV carport kit prices range between $7,000 and $18,000.
How Much Does a Medium Residential RV Carport Kit Cost?
The price for a medium RV carport kit should fall between $18,200 and $39,100. Your final design and customizations will determine the exact price.
How Much Does a Large Residential RV Carport Kit Cost?
Large RV carport kit prices fall within the range of $36,000-$88,000. They're great for those that need a lot of extra storage.
What Does an RV Carport Pole Barn Look Like on the Inside?
The inside of your RV carport will depend on the size and design you choose, as well as what customizations and add-ons you decide to incorporate. Customization options include things like building style, the number of windows and doors, the type of siding and insulation, etc. However your individual building looks, the inside will be a large, open space big enough to safely store your RV and other accessories.
How Do Wooden RV Carport Pole Barns Differ From Steel Frame Buildings?
There are a few key differences between wooden pole buildings and steel frame buildings. First, size: Steel frames are usually used for tall buildings with large clear spans, anchored by large concrete footings. The amount of concrete and other materials needed in steel frame buildings also affects their price—steel frame buildings are generally more expensive than wooden pole buildings.
By contrast, pole barns need lower amounts of material and machinery for a large amount of space, making the buildings affordable and easy to construct while still remaining durable. This makes post-frame construction the perfect option for residential barn homes, carports, workshops, and more.
RV Carport Pole Building Kits Advantages and Disadvantages
What are the advantages and disadvantages of building an RV carport pole barn? There are several advantages to using a pole building kit for your RV carport, and one or two limitations.
Get A Free Quote!
RV Carport Pole Barn Advantages
Affordability
Overall, pole buildings have incredible value. Because of the small amount of material needed to construct them, plus the fact that all of our kits are DIY projects, you save thousands in building costs when you choose an RV carport pole barn kit.
Durability
Pole buildings may be affordable, but they're not cheaply made. Pole buildings are incredibly durable and are able to stand up against most forces of nature, including earthquakes. Because we use a modern wood pressure treatment, our buildings are also protected against deterioration caused by insects.
Versatility
All of our RV carport pole building kits are completely customizable, meaning you can create a building that works best for your unique needs. Don't be held back by design constraints—construct an RV carport that works for you.
RV Carport Pole Barn Disadvantages
There are very few disadvantages to using a pole building kit, especially for a carport. However, you may want to consider the following:
Size
Pole buildings aren't meant to be multi-story structures. Most of our designs are meant for low-rise buildings that contain two floors or less. A pole barn kit isn't advisable for any type of high-rise building.
DIY
A lot of our customers love the fact that our pole buildings are DIY. If you'd rather not construct your own pole building, though, we can help you find a contractor.
How Long Does an RV Carport Pole Barn Take to Build?
The amount of time it takes to build your RV carport pole building will depend on factors like size and customizations. However, once you purchase your design, we'll give you a personalized estimate on the amount of time it will take to build your pole building. Our time estimates are always based on the amount of time it would take an unskilled builder to construct their pole building kit.
Where Do I Go to Get an RV Carport Pole Building Kit?
Anywhere! Hansen Pole Buildings can ship an RV carport building kit to any location in the U.S. For international customers, we can ship our kits to a port in the U.S. if you can arrange the rest of the shipment process from there. Contact our offices to learn more.
How Do I Find an RV Carport Pole Barn Builder Near Me?
If you don't want to build your own RV carport barn, you can hire a contractor to construct your pole building for you. We keep a list of builders throughout the country that we can recommend to you. You can call our office directly to receive a referral for a builder in your area. These contractors do not work directly for us, so we always recommend that you try to find a local contractor in your area who is known for their quality work before you use our resources.
Get A Free Quote!
Popular Pole Barn Cities:
Popular Pole Barn States: