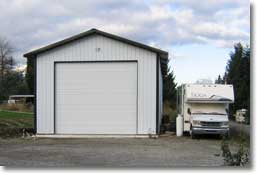 Your dream RV deserves to be parked in a dependable, weatherproof RV carport, which is why Hansen Buildings is proud to custom-design RV garage kits for customers in need of new or improved RV storage buildings. Whether you want to build something simple or something luxurious, you can count on our team to provide the best pole barns for RV storage.
Our customers can order RV pole barns of varying size and choose from a long list of optional features. Best of all, the first steps of the process are obligation-free—Hansen Buildings offers free quotes for pole building designs. Even if you're just curious, you can learn how we'll bring your RV pole barn dreams to life without committing to a purchase.
Get a free quote on an RV storage building.

Don't Expose Your RV to Nature's Wrath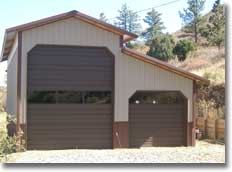 Buying an RV is a serious investment, and the elements have the power to destroy its value if you don't provide the proper shelter for your RV. Protecting the exterior from the sun, rain, and snow is a no-brainer if you want to keep your RV in great shape.
It's just as important to protect your RV's interior. With an RV storage building or shed, you can rest assured that its interior wiring, upholstery, and insulation will stay secure. Responsible owners are wise to purchase protective post frame storage barns that keep their RVs safe from damage and theft.
Your RV garage kit, in its most basic form, will look like a larger version of the standard garage kit. However, there are many ways you can customize your RV storage unit.
Choose a style that speaks to you and compare the advantages of each one. Common choices include:
We'll let you view other customers' designs to give you a better idea of how to customize your own RV storage barn.
Start brainstorming by taking a look at our library of RV storage building photos, and save the ideas that fit your RV storage needs. With Hansen Buildings, it's your building, your way.
Our kits come in a variety of sizes to meet everyone's budget. Get a free RV garage quote here.
Siding Is Important Too, Right?
Yes—you'll want to select the right siding material while designing your custom motor home storage building for aesthetic and construction purposes. Hansen Buildings garage kits come with a variety of siding options, including:
Board and batten
Steel
Vinyl
T1-11
Brick
Stucco
You can also choose from a variety of roofing options, including architectural or standard shingles and tile or steel roofing, to create a clean, modern look for your RV barn.
How Much Does an RV Pole Barn Cost?
Pole buildings are some of the most affordable buildings on the market, and we provide a variety of kits to meet everyone's budget. You might even have money left over to add features that enhance your RV garage's curb appeal, including:
Eave lights
Wainscot
Enclosed overhangs
Cupola with weathervane
Specialty overhead doors with window kits and carriage doors
3-, 4-, and 6-foot entry doors
Second-story lofts
Attic lofts
Crawl spaces
You've taken the leap and purchased the RV of your dreams. Don't destroy that dream – shield it from nature with a custom-designed RV pole barn storage building from Hansen Buildings!