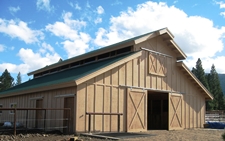 Looking for cheap indoor riding arena ideas? You're in the right place. Covered horse arenas where horse lovers can enjoy riding year-round are not only becoming more popular but also more affordable! Hansen Pole Buildings offers affordable indoor riding arena kits so anyone can build their own space to ride horses in any season.
What Is a Horse Arena Pole Building Kit?
Hansen Pole Buildings makes DIY indoor riding arena kits that allow our customers to construct their own riding area at an affordable cost. Horse arena kits can start out as nothing more than an open pole building with a covered roof. For those who want a bit more, add siding, doors, windows, stables, and more. We can help you design a custom indoor riding arena kit that fits your unique vision.
How Much Does a Covered Arena Kit Cost?
Indoor riding arena kits need to be a certain width in order to turn with your horses and avoid feeling like you're on a merry-go-round. We suggest 60' as an absolute minimum, but widths of 70' or 80' are far more common.
The ideal length depends on your budget and the space on your property, but anything less than 80' will really limit your freedom to ride. If you need to keep expenses as low as possible in the beginning, focus on getting the appropriate width and worry about length later. You can add length to your indoor riding arena as your budget increases over time. The cost of your horse arena building will ultimately depend on the size and customizations you choose.
Small, Medium, and Large Horse Arena Pole Buildings
We sell DIY indoor riding arena kits in small, medium, and large sizes.
How Much Does a Small Horse Arena Pole Building Cost?
Typically, a small covered arena kit will cost somewhere between $7,000 and $18,000, depending on the exact size and design of your horse arena. For a very low-budget arena, consider an open-air design.
How Much Does a Medium Horse Arena Pole Building Cost?
As you look at medium-sized arena building plans, you'll see the price go up to between $18,200 and $39,100. Once you choose an exact size, customizations, and add-ons, we can give you a more specific quote.
How Much Does a Large Horse Arena Pole Building Cost?
Large, more complex horse riding arenas will run you between $36,000 and $88,000. A horse arena in this price range would be fully enclosed, with special features and customizations.
What Does a Covered Horse Arena Kit Look Like?
The great thing about Hansen Pole Buildings' riding arena kits is that they are completely customizable. What your riding arena looks like will be entirely up to you, but we can offer you suggestions on things like the size, door type, siding type, roofing, windows, stalls, and more!
Horse Arena Pole Building Kits Advantages and Disadvantages
If you're still on the fence about whether a horse arena pole building kit is the right fit for you, read below to learn about the advantages and disadvantages.
Horse Arena Pole Building Kit Advantages
Customization
There's no one-size-fits-all when it comes to the right horse arena. That's why a huge advantage of using a pole building kit is the ability to customize your arena. Create a design that includes all the features you need to fit your unique needs and build the covered horse arena you've always wanted.
Value
A major advantage of pole building kits is their ability to create large structures with a small amount of material. On top of that, because our pole building kits are completely DIY, you not only save money on materials but on labor as well. We've designed our kits to be buildable by even the most unskilled builder.
Strength
You'll be hard-pressed to find a more durable option than a Hansen Pole Building kit. We've ensured that our kits will hold up against tough, inclement weather and insect damage for decades, meaning you'll certainly get your money's worth.
Horse Arena Pole Building Kit Disadvantages
DIY Construction
While some people love the idea of building their own horse arena, others might prefer to hire outside help. If you'd rather not take this on as a DIY project, you always have the option of hiring a contractor to help you construct your building.
How Long Does a Horse Arena Pole Building Take to Build?
How long your covered horse arena takes to build will be dependent on the size and complexity of the final design you choose. We give each of our customers a personalized time estimate based on their design. We'll let you know how long it will take to build your kit once you've finalized your plans.
Where Do I Go to Get a Horse Arena Kit?
Contact our offices to learn more about our delivery options. We can ship our kits to locations across the U.S. and Canada, and we even have some options for certain international customers who can arrange transportation from a sea port.
How Do I Find a Horse Arena Pole Building Builder Near Me?
Any contractor in your area should be perfectly capable of putting together one of our covered horse arena kits. If you need help finding someone, we may be able to make suggestions—contact us about contractors in your city.
You and your horses need a place to ride, and pre-engineered DIY indoor riding arenas are an easy way to get it. Click here to get a custom quote on a horse arena.
Get A Free Quote!