Cabins are great when you need to retreat from the hustle and bustle of daily life and focus on what matters most, whether you're making memories with your family or enjoying nature in solitude. If you're looking for a quiet, private place to get away from it all, you can build your own cabin with a pole barn kit from Hansen Pole Buildings.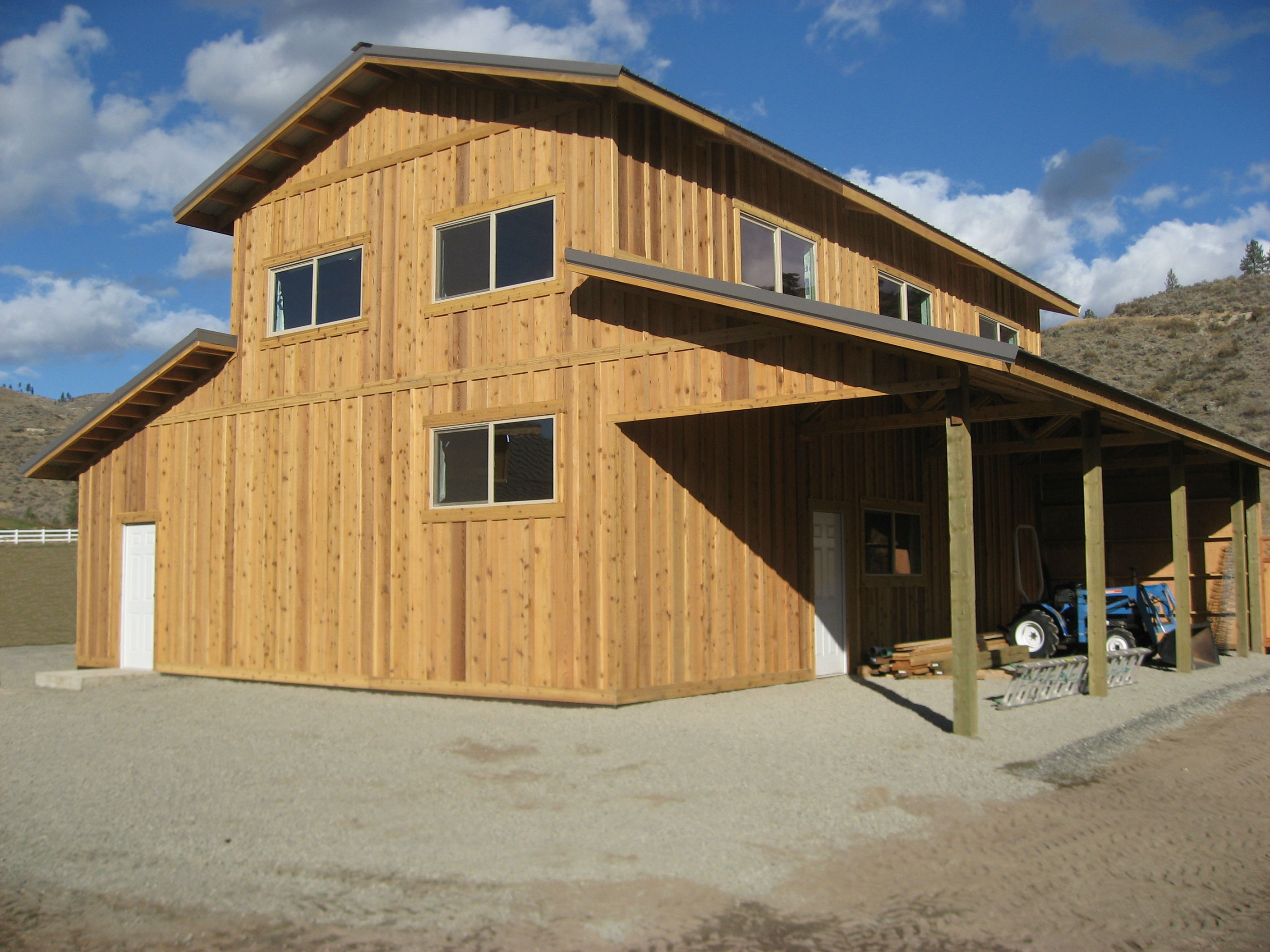 Our pole barn cabin building kits can be customized to your exact preferences, and the simple post-frame construction method means you'll be able to finish your cabin fast. On top of all that, ordering a pole barn cabin kit is the most affordable way to build a cabin. Hansen Pole Buildings' cabins are durable, high-quality, low-maintenance structures that can protect you from the elements year-round. We're so confident in the quality of our kits that we offer a lifetime warranty in writing with any engineer-sealed building package.
Get A Free Quote!
What Is a Pole Barn Cabin?
A pole barn cabin is just like any cabin you might imagine being in the mountains or by a lake, but it's more affordable and quicker and easier to build due to the post-frame construction methods.
Our pole barn cabin kit prices are remarkably low due to the efficient use of materials and our DIY model that allows you to build your own cabin instead of paying for construction work.
Pole barn cabins come in a variety of sizes, between small cabin kits for a cozier setting or large kits for hosting lively trips with friends. We offer one-story or two-story kits, and some designs include a loft. You can choose an open floor concept or design your cabin with separate rooms for different purposes.
How Much Does It Cost to Build a Pole Barn Cabin?
The size of your new pole barn cabin will determine its price. The average pole barn building costs anywhere from $7,000 to $75,000, while larger or more complicated pole barn designs can be as much as $100,000. Our cabin kit pricing also varies by location because of different material costs and building requirements between regions.
Affordability is one of the major reasons to build your cabin with a pole barn kit. The cost to build a pole barn house is often substantially lower than that of other construction methods because they require less material to construct—even added features like wainscot, overhangs, and decorative windows or doors typically cost less in a residential pole barn home.
The interior can be finished with drywall and hardwood floors like modern houses, and the exterior can be made of roofing and siding that match your neighborhood's aesthetic.
Small, Medium, and Large Residential Pole Barn Cabin Kits
Our pole barn cabin building kits are available in three general sizes. Once you have a rough idea of how much space you'll need, you'll have a cost estimate that you can adjust as you add features and make specifications.
How Much Does a Small Pole Barn Cabin Cost?
A small pole barn cabin kit is priced anywhere between $7,000 and $18,000, depending on your exact size, design, and customizations.

How Much Does a Medium Pole Barn Cabin Cost?
A medium pole barn will run you between $18,200 and $39,100. The prices for a medium pole barn kit fluctuate based on the final design of your cabin.

How Much Does a Large Pole Barn Cabin Cost?
A large pole barn cabin kit costs between $36,000 and $88,000. The exact price will be determined by the complexity of your final design. These large cabins are great for big family vacations.

What Does a Pole Barn Cabin Look Like on the Inside?
The great thing about our pole barn cabin building kits is that you can customize your cabin to fit your ultimate vision. Things like windows, doors, floors, the roof, and the materials you use are completely customizable, meaning you can design the interior of your cabin as you see fit.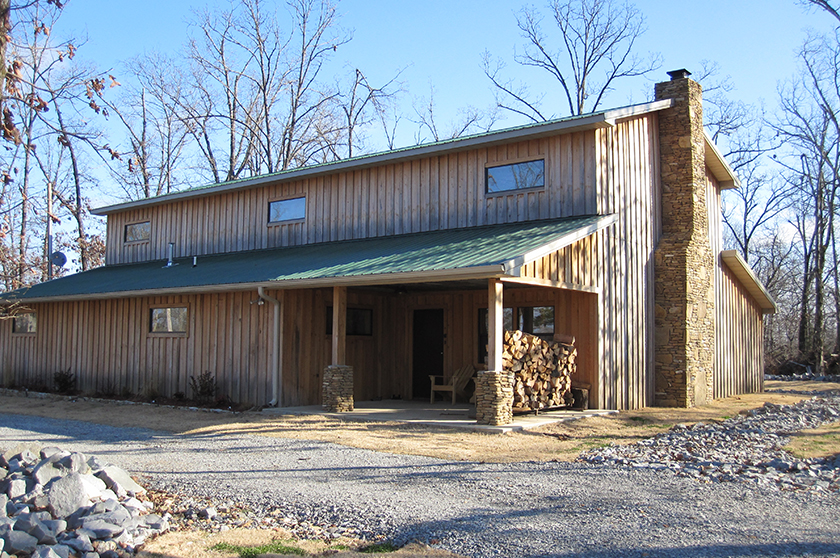 The materials used to make your cabin's exterior can also be personalized to suit your favorite style as well. If you're going for the classic hunting cabin look, order a kit with t1-11 wood panels. If you prefer a more modern aesthetic, there are plenty of other siding options for you to choose from. Just tell us what you're hoping for and we'll do the rest.
How Do Wooden Pole Barn Cabins Differ From Steel Frame Buildings?
Simply put, steel frame buildings are better suited for large, high-rise buildings that need a lot of structural support. Steel frames are cast in large concrete footings, which can be expensive.
Wooden pole kits are ideal for building structures of a reasonable size with fewer materials. With less material (like concrete) necessary during the building process, wooden residential pole buildings end up being significantly more affordable than steel frame buildings.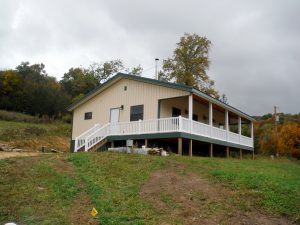 Plus, our cabin pole barn kits are made so that you can build your cabin yourself, saving you thousands on construction costs.
Get A Free Quote!
Pole Barn Cabin Kits Advantages and Disadvantages
If you're in the market for a cabin, you're probably already weighing the pros and cons of the different routes you can take to make your dream a reality. Below, we'll list the advantages and disadvantages of using a pole barn kit to build your cabin.
Pole Barn Cabin Advantages
Suitable for Any Terrain
A pole barn cabin can adapt to more types of terrain than a traditionally structured home. Pole barns do not require ground leveling work, which will save you a lot of time and money.
No Expensive Foundation Work
You still need to do some work on the ground to build a pole barn cabin, but the cost and labor required are much lower than they are for a traditional cabin. Instead of excavation and concrete filing, you only need to dig holes to place the poles that will support the structure.
Energy Efficiency
Depending on where you live, a residential pole barn home can help you save more money on insulation. The building has fewer thermal breaks, which means you only need a simpler insulation system than you would for a traditional building.
Get A Free Quote!
Pole Barn Cabin Disadvantages
There aren't many disadvantages to building your cabin from a pole barn kit, but keep the following things in mind before you order.
Size
While pole building kits work great for one- and two-story buildings, they aren't ideal for anything taller. If you want your cabin to have more than two stories, we recommend going a different route.
Building Your Pole Barn
All of our pole barn cabin building kits are intended to be DIY projects, which is actually an advantage for most people. Our step-by-step instructions are designed so that any person, even the most unskilled builder, can construct their own building. However, if you're not interested in putting your building together yourself, you may need to pay extra for a contractor or construction company to help.
How Long Does a Pole Barn Cabin Take to Build?
The amount of time it will take you to build your pole barn cabin will depend on a few different factors. First, will you be doing the building yourself, or do you plan on hiring a contractor? How big is your cabin, and how many customizations or add-ons are included in your design? We will create a time estimate during your ordering process so that you can get a personalized quote that factors in your unique circumstances.
Where Do I Go to Get a Pole Barn Cabin Kit?
Ready to start designing and building your pole barn cabin? If you live in the United States or parts of Canada, we can work with you to figure out the best delivery options to your area. We also have some delivery options available for international customers. Contact us to learn more.
How Do I Find a Pole Barn Cabin Builder Near Me?
If you don't want to build your own pole barn cabin, any skilled builder should be able to do the project for you. We suggest hiring a local contractor who you know and trust. If you don't know of any local builders, contact Hansen Pole Buildings. We can connect you with someone in your area who may be able to help, depending on their availability. Keep in mind that any contractor we recommend will not actually be an employee of Hansen Pole Buildings.
Get A Free Quote!
Popular Pole Barn Cities:
Popular Pole Barn States: