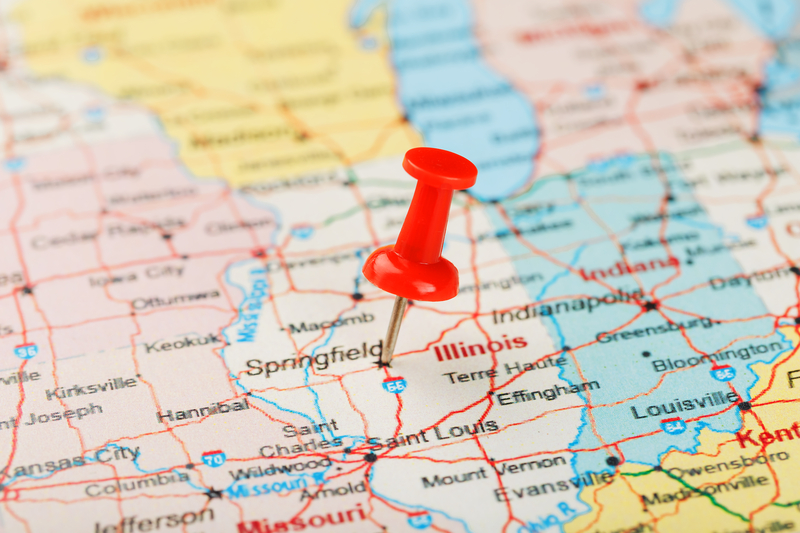 Pole barns in Illinois are becoming increasingly popular due to their durability and affordability. With easy construction and long-lasting designs, pole barns are a reliable solution for efficient and affordable storage, workshop, and residential space. Pole building kits in Illinois are used for residential, business, and agricultural purposes and can be customized to fit your needs. If you're looking for pole barn kits for sale in Illinois, we recommend ordering from Hansen Pole Buildings. We're proud to be one of the top distributors of customizable pole barns in the United States, a distinction we've held since 2002.
Pole buildings and pole barn kits are popular in Illinois and the other Midwestern states: Indiana, Iowa, Kansas, Michigan, Minnesota, Missouri, Nebraska, North Dakota, Ohio, South Dakota, and Wisconsin.
Hansen Pole Buildings has a large selection of designs and offers competitive prices for pole barn builders in Illinois and across the country. We'll even match the price of a pole barn if another company offers you a lower quote for an identical kit.
Pole barns are also in high demand in these Illinois cities:
Illinois Pole Barn Building Types
Pole barns are used for a variety of purposes, and due to their flexible designs, they can be personalized to suit your unique needs. The following building types are popular in the Midwest region:
Residential pole buildings in Illinois are a popular choice for individuals who want to design their own homes. Kits can be customized to meet specific needs, so residents never have to compromise on the features that will work best for them.
Pole barns are an excellent choice for RV owners because they provide safe and convenient storage for even the largest of vehicles. Pole barns can be easily customized to accommodate other vehicles or supplies for cross-country adventurers.
Illinois has a burgeoning manufacturing industry that covers machinery, food processing, electrical equipment, chemical manufacturing, and fabricated metal products. Pole barn workshops offer the space workers need to complete these specialized projects.
These pole barns are built and used for a variety of reasons, including agricultural purposes and storage of vehicles. If you need to house precious livestock or equipment in a safe place, consider investing in a garage building.
Build the Pole Barn That's Right for You
Ready to design your own pole barn? We're here to help. Whether you're designing a residential, agricultural, or commercial pole barn in Illinois, Hansen Pole Buildings has the kits and the experience to make it happen.
Find the Best Pole Barn Builders in Illinois
Hansen Pole Buildings is proud to be one of the best pole barn builders in Illinois, offering a variety of residential, agricultural, and commercial pole barns in numerous styles.
Build It Yourself
For those with a real DIY attitude, we carry a range of pole barn kits in Illinois that allow you to design, customize, and execute on your very own pole barn. Every kit comes with detailed instructions that will walk you through completing a building whether or not you have any construction experience.
Illinois Construction Companies
If you'd rather leave your pole barn building to the professionals, a local construction company in Illinois may be able to do the heavy lifting for you.
Pole Barn Contractors in Illinois
Need help putting your pole barn together but want someone with a more personal touch than a construction company? We can help you find experienced pole barn contractors in Illinois. Please note that even though we may recommend somebody, they won't be a Hansen Pole Buildings employee.
Pole Building and Pole Barn Pricing
Whether you're a homeowner looking to expand your storage space, a farmer erecting more barns on your land, or a business owner building a new workshop or retail space, Hansen Pole Buildings has an option for you. Our selection of pole barns kits for sale in Illinois is unmatched, and our prices are the lowest you'll find for this level of quality.
Small Pole Barn Prices
Small pole buildings are ideal for Illinois homeowners who just need a little extra space on their property or DIYers who need space to work on projects.
Medium Pole Barn Prices
Similar to our small pole barn options, our medium pole barn kits for sale in Illinois are strong options to consider if your space needs require a slightly larger footprint. Good for storage, as barns for livestock and supplies, or as bigger carports, our customizable medium pole barn kits for sale in Illinois strike a good balance between compact storage areas and commercial-sized structures.
Large Pole Barn Prices
Rounding out your choices for our pole barn kits for sale in Illinois are our largest pole barns on offer. These structures are much larger than their small and medium counterparts, and they are best reserved for things like alternative housing, warehouses, and storage for large vehicles like aircraft. If you're a business owner looking for a space to operate, these are also a good option for you.
Pole Barn Kits Also Available in These Regions
In addition to our pole buildings in Illinois and the rest of the Midwest, Hansen Pole Buildings offers pole barn kits for sale all over the United States.
Get Started Today
Whether you need a pole barn kit delivered to Chicago, or Aurora you can trust Hansen Pole for the most durable pole barns in Chicago listed at the best price. We're happy to answer any questions you may have – simply give us a ring at 866-200-9657 to speak with a pole barn expert today.
Get A Free Quote!