Residential Carports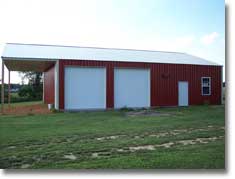 If you're out of garage space or don't have a garage but still need somewhere out of the elements to park a car or multiple cars, building a residential carport will do the trick. Carport pole buildings protect vehicles from the harmful rays of the sun, keeping their paint finishes from dulling and fading and making sure their interiors stay cool even during the hottest times of the year. An easy-to-construct home carport can also function as a shed for storing your lawn mower, grill, tools, and other yard and patio equipment.
Pole building carports are a simple, convenient, and cost-effective solution for sheltering your vehicles or other belongings somewhere close to your home. Get started by requesting a free quote for a carport pole building kit from Hansen Pole Buildings.

Customize Your Carport Building
Like all of our pole barn kits, carport buildings are fully customizable. These are not prefab kits where "one size fits all" (or fits nothing, as the case may be). If you have an idea for an original design, we'll help you create a personalized carport with the right dimensions and features to meet your needs.
Your carport can attach to an existing structure, like your house, or be a freestanding open shed garage. Choose between steel, tile, or standard or architectural shingles for roofing materials. Add overhangs, wainscot, or a cupola with a weathervane for a classy aesthetic. However you want your carport building to look and function, a customized pole barn kit can make it happen.
Building Your Carport
Once your carport design has been finalized to your satisfaction, we'll ship your pole building kit directly to the building site at no extra cost. Your kit will include full 2' x 3' blueprints and an illustrated construction manual to guide you while putting your carport together—the instructions are simple and easy to follow. You don't need any prior construction experience to build your carport, but if you think you could use extra help, one of the local contractors in our network should be available for support. Pole buildings are known for their simple, straightforward construction, and their sturdy designs have been proven to withstand the tests of time and nature.
Order Your Carport Today
Fill out our online form to begin creating your ideal carport and get a quote for your custom design. You'll be one step closer to building a convenient, affordable place to keep your cars safe between trips.
Get a quote on your new garage or carport today!