If you're out of garage space or you don't have a garage at all, but you still need somewhere to park a car or multiple cars away from the elements, building a residential carport pole barn will do the trick. Carport pole buildings protect vehicles from sun, rain, and hail, keeping their paint finishes from fading or getting scratched and making sure every car's interior stays cool even during the hottest times of the year. An easy-to-construct home carport can also function as a shed for storing your lawnmower, grill, tools, or other yard and patio equipment.
A pole barn carport is a simple, convenient, and cost-effective way to store your vehicles or other belongings somewhere close to your home. Get started by requesting a free quote for a residential carport pole building kit from Hansen Pole Buildings.
What Is a Carport Pole Building?
Like all of our pole barn kits, carport buildings are fully customizable. These are not prefab kits where "one size fits all" (or fits nothing, as the case may be). If you have an idea for an original design, we'll help you create a personalized carport with the right dimensions and features to meet your needs.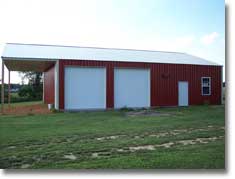 Your carport can attach to an existing structure, like your house, or be a freestanding, open garage. Choose between steel, tile, or standard or architectural shingles for roofing materials. Add overhangs, wainscot, or a cupola with a weathervane for a classy aesthetic. However you want your carport building to look and function, a customized pole barn kit can make it happen.
How Much Does It Cost to Build a Carport Pole Barn?
The size of your new carport building will determine its price. The average pole barn building costs anywhere from $7,000 to $75,000 (larger or very complex pole barns can cost up to $100,000). Pole barn costs also vary by location due to regional material prices and local design requirements, and you'll have to factor in optional items you want to add to your pole building. Carports are simpler than residential barn homes or many other pole building types, however, so their prices are unlikely to reach the higher end of the typical range even with certain additions.
The cost to build a pole barn carport is usually much lower than other construction methods because it requires less material to construct—even added features are typically less expensive in a pole barn building. The interior can be finished with drywall and hardwood floors like modern houses on the market today, and the exterior can be made of roofing and siding that matches the look of your neighborhood.
Residential Carport Pole Buildings Range From Small to Medium to Large
Learn more about the average price ranges for each carport building size to get an idea of where to start.
How Much Does a Small Carport Pole Barn Cost?
A small carport building is priced between $7,000 and $18,000. We'll quote you an exact price once you finalize your design.
How Much Does a Medium Carport Pole Barn Cost?
A medium carport pole building is usually between $18,200 and $39,100, depending on the exact size and complexity of your final design.
How Much Does a Large Carport Pole Barn Cost?
A large carport pole building costs between $36,000 and $88,000. These large carports are great for multiple cars, and they have a lot of extra storage space for supplies and extra belongings.

What Do Carport Buildings Look Like on the Inside?
Depending on the size and customizations you choose for your carport building, there may be some differences in what the interior of your carport looks like. In general, our carport pole building kits create a large, open space for optimal storage. Things like siding, windows, doors, the roof, and floors can be customized.
How Do Wooden Carport Pole Buildings Differ From Steel Frame Buildings?
Steel frames are often used for large, high-rise buildings that need significant support. Because of this, steel frame buildings require their frames to be cast in large concrete footings, increasing material and building costs significantly.
Wooden pole buildings use pressure-treated posts as their main vertical support and need much less concrete. With pole building kits, one is able to create large buildings using a small amount of materials without sacrificing durability. Additionally, because our pole barn carport kits are DIY projects, you save thousands on building and material costs.
Carport Pole Building Kits Advantages and Disadvantages
Using a pole building kit to construct your carport comes with a bunch of advantages and very few disadvantages. Keep the following things in mind when deciding whether to purchase a carport pole building kit.
Carport Pole Barn Advantages
Customization
Using a pole building kit allows you to design a carport to your individual needs and preferences. Need to house two cars instead of one? Three instead of two? Interested in extra shelf space or a few windows? Our designs allow for customizations and add-ons so that your carport pole barn works for you.
Value
As mentioned above, pole buildings are generally much more affordable than buildings made with traditional construction. All of our kits are made for DIY assembly, meaning you don't have to hire a contractor to build it for you. Pole buildings allow you to construct large, durable buildings with small amounts of materials and resources, so you'll save tons of money.
Strength
Just because our pole barns are affordable doesn't mean they're lacking in quality or durability. In fact, pole barns are known for their ability to withstand extreme weather and natural events, including earthquakes. Our advanced pressure-treated wood keeps your building safe from deterioration due to insects as well.
Carport Pole Barn Disadvantages
While a pole building kit is a great solution for a carport, keep the following in mind when considering a pole barn building for whatever purpose you have in mind:
Size
There are some limitations with pole barn kits when it comes to size. While pole barns can be used as large one- and two-story buildings like residential barn homes, workshops, or airplane hangers, any building taller than two stories would require more structural support.
Building Your Pole Barn
One of the cool things about our pole building kits is that they're completely DIY, meaning even the most unskilled builder can use our kits to build their own carport. However, not everyone wants to construct their own pole building, and that's OK. If needed, we can help you find a contractor in your area that can help you build your carport.
How Long Does a Carport Pole Barn Take to Build?
That depends! During the pole building kit buying process, our team will create a personalized estimate for how long it will take to construct your building. This estimate factors in size, design complexities, and any add-ons and customizations you chose for your carport. All of our estimates assume the purchaser is an unskilled builder.
Where Do I Go to Get a Carport Pole Building Kit?
Our carport pole building kits are available anywhere in the United States and Canada. Contact our offices today to hear about our pole building delivery options. We also have shipping options for international customers.
How Do I Find a Carport Pole Barn Builder Near Me?
As we mentioned above, there are options for those who don't want to build their own carport pole barn. We keep in touch with a network of builders and contractors around the country and can help you connect with one if needed. These builders do not work directly for Hansen Pole Buildings but have the skills needed to put your kit together quickly and efficiently.
Get A Free Quote!
Popular Pole Barn Cities:
Popular Pole Barn States: