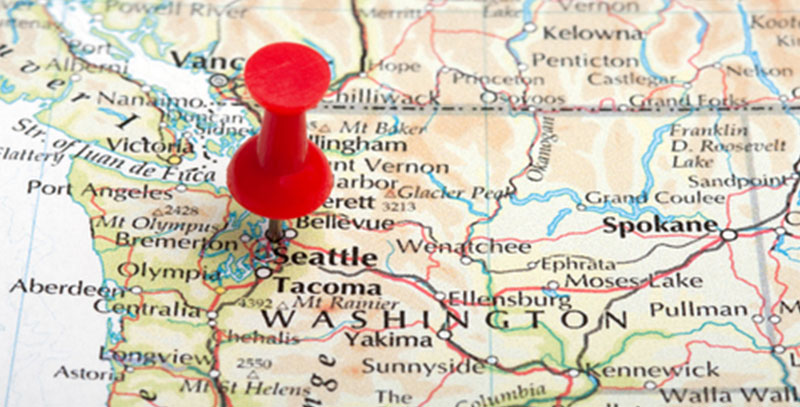 That's right – Hansen Pole Buildings helps you plan and build your dream pole barn in the Seattle, Washington area, too! We bring the vast knowledge of the Pole Barn Guru along with our team of master pole building engineers and craftsmen to the cool air and wild woods of Washington to provide homes, commercial spaces, and industrial warehouses to the hard-working people of Seattle.
Popular Building Types in Seattle
These are the most popular building types that our customers in Seattle are interested in.
Seattle Is the Perfect Place to Build
Thanks to their proximity to the Pacific Ring of Fire, Seattle and its surrounding wilderness of Washington are teeming with large tracts of land and rolling terrain on which spacious pole buildings fit extremely well.
Industrial
A balance of traditional industry and new technology drive the economy of Seattle. The entire area is a port city through which large-volume trade occurs with Asia. There are immense opportunities for smart, hard workers in the industrial sector.
Build a pole barn in Seattle to attract traders and technology manufacturers to your storage or shipping warehouse. If you're an entrepreneur, you can use affordable pole barns to stow your product until it's ready to ship. You can even start pole barn construction in Seattle to house manufacturing equipment.
Commercial
Seattle may be home to some of the largest companies in the world, but that doesn't mean that there isn't room for the small guy. The entire state of Washington celebrates the small to medium business owner, and its residents are quick to support local enterprises.
If you own or want to own a business in Seattle and need some commercial space, pole buildings are an affordable alternative to office space rental or commercial building construction. We even offer pole building kits for Seattle entrepreneurs who want to construct their own pole barn.
Residential
City codes are often wary of pole barn construction because it differs so vastly from traditional building construction. However, on the outskirts of Seattle, pole barn construction contractors can craft breathtaking pole buildings that mimic the city's architecture.
Get out of the heavy rain and wet cold of autumn and winter in your warm, comfortable pole barn house on green Washington ground. Start by browsing pole barn kits customized for the Seattle climate, then ask us about our pole barn contractor services in Seattle.
The Seattle Area: Weather and Building Codes
The temperate marine climate means cold, wet winters accented by warm, dry summers. The draw for many is the mild weather during spring and summer, but the winters are heavy with rain and occasional snow. For pole barn owners in Seattle, that means:
• The land on which pole barns are built should be prepared to resist flooding
• Pole building contractors in Seattle, or the party responsible for building the pole barn, should take extra care to check for leaks
• Pole barn roofing and siding is ready to handle Seattle weather conditions
Weather concerns are few in the state of Washington, and especially in Seattle. Building codes, however, are detailed to help control city growth and maintain order.
Our standard pole barn and building kits comply with Seattle Department of Construction & Inspections building codes for height and safety. Talk with a Hansen Pole Buildings expert about compliance with codes for usage and occupancy, which will differ depending on your intent for your pole building.
Become a Part of the Seattle Community
The port side of Seattle is stacked with nondescript warehouses into which your standard pole building or barn will blend seamlessly. For commercial and residential pole barns, however, you may want to opt for some customization if you're looking to fit into the architectural style and culture that surrounds you.
For customers who want to build Seattle-style, we can offer customized roofing and siding options that stretch the aesthetic to match your intent. For commercial and residential Seattle pole barn kits, try Gambrel roofs or add a porch with columns to mimic the historical style of local buildings. Mix siding choices to blend in with modern homes of the 2010s, and be sure to leave plenty of room for a garden.
Local Contractors
Our Seattle pole barn kits come with straightforward, step-by-step instructions so that you can construct your own pole building. However, if you'd rather hire a professional, you'll find plenty of pole barn contractors in the Seattle area. Here are some local contractors to try:
If there is not a Washington contractor in your local area or willing to service your needs you may contact Rachel at 605-432-8971 to assist you in finding a Washington builder to meet your needs. By working with one of the listed pole building kit builders you are agreeing to our contractor terms and conditions.
Build a Pole Barn or Building in Seattle Today!
Start looking at our pricing for pole barn kits in Seattle to get an idea of where you would like to start. If you have any questions, call us toll-free at 866-200-9657 or send us a message at sales@hansenpolebuildings.com. Start building your dream with a pole building kit in Seattle, WA today!
Get A Free Quote!