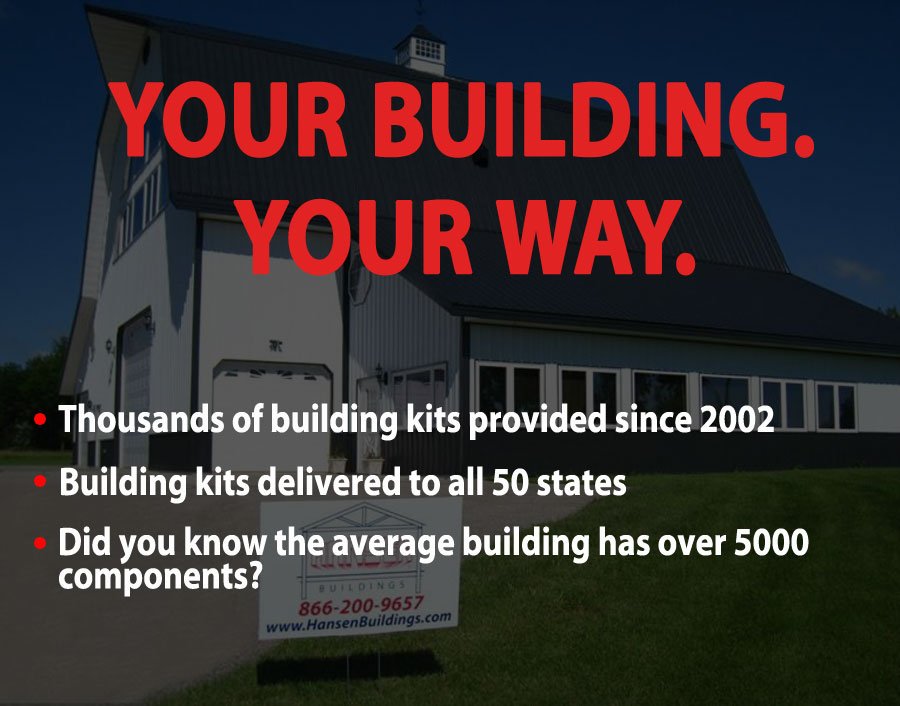 Hansen Buildings Started With An Idea
With the simple idea of being the first to provide post frame kits on the web – Hansen Buildings was formed in 2002
Back in 1995 the Internet was in its commercial infancy and Mike Momb, technical director for Hansen Buildings, was there with a website for his construction business.
After Y2K a friend of Judy Hansen, partner of Hansen Buildings and Mike's was selling aftermarket Dodge truck parts from his website on the Internet, so the viability for businesses looked to be there. As no one else was offering pole building kits on the internet, we realized it was the right place to be. Judy was a little skeptical at first, so she kept her day job as an RN at the Spokane VA Hospital, so (as she aptly says) we could have important things like toilet paper.
Starting with our first sale in May of 2002, we sold and delivered 89 building the first partial year. Within months Judy had quit her nursing job to manage the business full time and taught herself how to draft building plans using AutoCAD. 2003 brought sales of 294 buildings and we were really off and running. The rest, as they say, is history!
The Hansen Buildings Philosophy
At Hansen Pole Buildings, we want to provide to each and every client "The Ultimate Post Frame Experience". A portion of this experience is our structural design philosophy. Efficiency of materials' use, while meeting the requirements of the imposed climactic conditions, is at the central core in the design of every Hansen Pole Building. Each and every component, as well as their connections, are thoroughly and rigorously checked to ensure their ability to perform structurally, without adding undue investment to the client.
What Hansen Buildings Is All About
The Hansen Buildings vision is to be the industry leader in post frame building kits as solutions to personal living, storage and agricultural needs while making great service a priority. We want to reshape the building kit industry and make Hansen Buildings a nationally known name. We see in the future an expanding product line to even more custom and complex building designs. We will lead the industry in technological advances and push our suppliers to join us.
The Hansen Buildings mission is to provide high quality building kits at a fair price. We are not cheap, nor the least expensive, we are not the fastest, nor the slowest, we are what everyone else isn't. We look to be a steward to the local and online community offering building advice, products we believe in and charitable contributions. Hansen Buildings strives to keep our clients from making crucial building mistakes they would regret forever.
Core Values
-Honesty
-Integrity
-Value
-Trust
-Caring
-Innovative
-Customization