Residential pole buildings are a great option if you're looking for a new home, garage,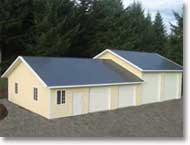 or hobby room that has the look and feel of a standard household structure but that can be assembled much more quickly and easily. With residential pole barn homes from Hansen Pole Buildings, the process from start to finish is incredibly straightforward. Choose the type of building you want, make customizations, and place your order, then you'll receive a pole barn home kit you can assemble within weeks. We have plenty of pole barn home styles and sizes to choose from, so whatever you're looking for, you won't be disappointed.
Residential Pole Buildings — Planning and Permits
Worried about getting your building permits? Engineer-sealed plans are now included FREE with every Hansen Pole Buildings purchase. With engineer-sealed plans, we guarantee you will get your structural building permit when you provide the proper design criteria. Each pole barn home or garage building kit comes with two sets of plans, and additional sets are available for an extra charge.
Planning for your residential barn home can be overwhelming. That's why we've created a residential building planning guide to help you through the process. The questions you need to ask before you design your own house can all be found on our Hansen Pole Buildings Planning Guide. The one thing to remember is we have never had a customer come back and tell us they made their building too big. It just doesn't happen—when you plan for enough space, you'll do it right the first time.
Already have a design in mind? Get that building quote in minutes!
Get A Free Quote!
Pole Barn Home Building Kits
Our residential pole barn home kits come with everything you need to properly assemble your new structure. While our kits are specifically designed for anyone to put them together whether or not they have construction experience, if you ever feel like you need extra help, we will set you up with a contractor in your area.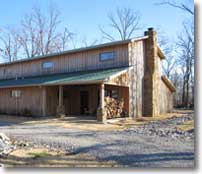 Garage Kits — Home Building Kits
Not only can you construct your new home, garage, or workshop building yourself, but you can design it yourself too. Start with a simple idea and allow your building designer to help you create a custom residential pole building that meets your needs. It's not as hard as it may sound—with the help of a comprehensive construction manual, you can customize and put up your own pole barn garage. Not interested in steel siding? That's OK. We have a variety of options to match any siding or roofing you can imagine. Request a quote to get started today!
Garage Kits
Protect your new car or lawn equipment with one of our garage building kits. Make sure to add the extra space you need to store stuff that's always in the way. With optional lofts, you can put it all out of sight and out of mind. Next, finish your pole barn garage with attractive overhead doors and windows. Need some ideas? Look at our Garage Photo Gallery to check out the garage kits our customers have built in the past.
Already have a design in mind? Get your building quote in minutes!
Workshop Buildings
If you are looking for an extra space for activities such as carpentry, car maintenance, a home gym, or other garage-related hobbies, a pole barn workshop is a great option. Our pole barn workshops will give you the added room you need in no time.
RV Carports and Storage Buildings
If you need somewhere protected to park your home on wheels between road trips, look into our covered RV storage buildings. Our sturdy, weather-resistant RV pole barns are of an excellent quality, and you can customize them however you see fit to perfectly accommodate your vehicle.
Carport Buildings
What do you do when you can't park your car on the street and your garage is already full? Build a pole barn carport. Our carport buildings can protect luxury vehicles, motorcycles, and more from the elements year-round, and they're even easier to construct than the average residential pole building.
Cabin Buildings
When you need somewhere to take your family on a relaxing trip, arrange a weekend reunion with a group of old friends, or just get away from city life for a while, pole barn cabins make amazing vacation homes. Order one of our easily assembled pole building cabins and you'll be relaxing by the lake before you know it.
Hobby Buildings
Everyone needs a hobby, but not everyone can do theirs in the house. Maybe you and your friends have gotten really into playing darts lately, or you've decided to take up painting and pottery—you need a dedicated space to pursue your favorite activity without making a mess at home or getting in your family's way. With our hobby building kits, you can create your own place to get things done where you won't interrupt anyone and no one will interrupt you.
What Makes Our Residential Pole Buildings Better?
Hansen Pole Buildings offers unlimited pole building customizations. You can change your design, style, and colors as many times as you like until the time of purchase. We want you to end up with the pole barn home of your dreams.
We guarantee the lowest prices for pole barn home kits. If you see a lower price for a building with all the same specs and features as the one you want, show us proof and we'll match the better rate.
Anyone can build their own house with the step-by-step instructions we'll include in a fully illustrated manual. If you need further assistance, however, you can contact us for help along the way or ask us to connect you with a local contractor.
Your search for convenient, attractive, and durable structures has ended. For the fastest building quote, click on FREE QUOTE to submit your request. You can also call (866) 200-9657 toll- free 24 hours a day, seven days a week, to leave your information. Most quotes are completed in 24 to 48 hours.
Residential Pole Buildings and Garage Kits

Garage kits are simple with the help of Hansen Buildings!
Get A Free Quote!
Popular Pole Barn Cities:
Popular Pole Barn States: