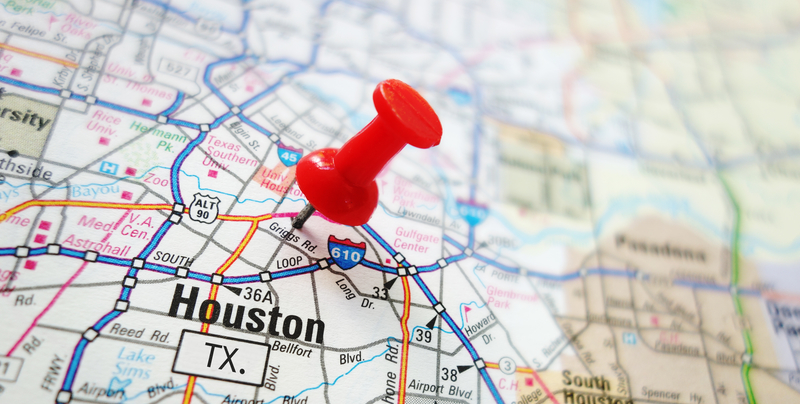 If you need a new workshop, barn, garage, or home in Houston, pole building kits are an excellent choice. Pole buildings are faster and cheaper to build than structures made with traditional construction methods, but they have the same level of integrity and durability. Best of all, pole barn kits from Hansen Pole Buildings are fully customizable, so you can design every aspect of your building from the basic layout to the finishing touches.
Pole barn kits from Hansen Pole Buildings are popular in Houston, TX and other Southwestern locations in Arizona, Oklahoma, and New Mexico.
Our prices for pole barns are the best in Houston. If you find another company offering a pole building kit with a similar design for a lower price, let us know and we'll be happy to match them.
Pole buildings are also in high demand in these other Texas cities:
Houston Pole Barn Types
Houston, TX residents use pole barn kits to create all kinds of buildings, residential, commercial, and agricultural alike. These are some of the most common things people make with pole building kits in Houston.
Whether you need a single-family home or a two-story house with multiple bedrooms, pole building homes are Houston families' best option. You can design the living space you've always wanted without having to endure a long construction process or great expenses.
When you aren't on the open road, you can park your RV in a simple but durable storage building to keep it safe and clean until your next trip.
Need somewhere to park an extra car or a quiet space to get projects done? A multipurpose garage pole building is a convenient and flexible solution.
If you own a ranch or extensive farmland in the Houston area, you know how much equipment and how many supplies it takes to take care of it all. Pole building kits are an easy way to add new storage space as needed.
Build Your Perfect Pole Barn
No matter what you want to do with a pole barn kit in Houston, TX, Hansen Pole Buildings will make it happen. Learn more about specific building types from the pages below.
Find the Best Local Pole Barn Builders in Houston
Some people want to put their pole kits together themselves, others need a little help. Here are some different ways you can go about constructing your pole building kit in Houston.
Build It Yourself
Every Hansen Pole Buildings kit comes with detailed instructions that will guide even the most inexperienced builders through completing their pole barns in a snap.
Houston Pole Barn Construction Companies
Enlist the help of a local construction crew to make even quicker work of your pole building kit.
Houston Pole Barn Contractors
Any skilled contractor in Houston should be familiar with pole building kit construction. If you've worked with a contractor on other projects before, ask them about your pole kit. We can also recommend pole barn builders in the Houston area if you like.
Houston Pole Barn Pricing
We offer the most affordable prices for pole barn kits in Houston, TX and beyond. Although specific customizations will determine the final price of your pole building, you can get a rough idea of what yours will cost based on the size.
Small Pole Barn Prices
Our small pole barns start at $7,000 and can cost as much as $18,000. They range in size from 24' x 24' x 8' to 36' x 36' x 12'. This size is great for the following building types:
Medium Pole Barn Prices
Medium pole barns tend to cost about $18,000 to $39,000. Their dimensions range in size from 36' x 48' x 10' to 40' x 72' x 14'. Medium pole barn kits are generally used for:
Large Pole Barn Prices
Large pole barn kits typically range from $36,000 to $88,000, but their prices can hit $100,000 and beyond if the building is especially large or complex. Their dimensions range from 40' x 60' x 16' to 60' x 120' x 16'. Large pole building kits can be used for:
Pole Barn Kits Are Also Available in These Regions
Need a pole barn kit somewhere besides Houston, TX? We can ship kits to any region of the United States.
Whether you own open land in the Corn Belt or you're in one of the Midwest's major cities, our pole barn kits will fit right into your environment.
Pole building kits are the fastest and most affordable way to build new structures in New England.
From the top of Tennessee to far south Florida, you'll find our pole buildings fulfilling all kinds of needs.
Purchase a pole building that's comfortable in any West Coast climate, from the deserts of Southern California to the rainy Pacific Northwest.
Build a Pole Barn or Building in Houston Today!
If it's been your dream to build a pole barn in the Houston area, don't waste any more time. Start by browsing our pricing information, and call us toll-free at 866-200-9657 if you have any questions or want a custom quote.
Get A Free Quote!