If you do a lot of work with metal, vehicles, or other machinery, having your own shop is essential. You need a place to complete projects without distraction, organize your tools, and keep sensitive parts and equipment out of the wind, rain, and snow. When you're ready for extra shop space, a metal shop building kit from Hansen Pole Buildings is a simple, cost-effective solution.
How much will your machine shop building cost? Click here to get a free quote!
Get A Free Quote!
Shop Building Designs

What do metal shop buildings look like from the outside? Whatever you want them to look like—just about any building design can make a good shop. A gable style (the traditional box or rectangle shape) is generally the most cost-effective, but paying more for a monitor building will get you a lot more room. The raised area of a monitor-style pole barn's center section can be used for storage or office space, or you can fit tall machines and vehicles like tractors, combines, and elevators.
Adding side sheds to your shop building creates extra space for tools and parts. If you'll be using your shop to work on vehicles, side sheds can also keep cars, RVs, and boats nearby.
Check out our shop building photo gallery to see different styles. From the outside, it may be hard to tell that some of these photos are really pole barn shop buildings. With their insulation, drywall, and paint, some of them could pass for a five-star commercial repair shop! Tool benches on immaculate, heated concrete floors, a car lift, and commercial overheads with window kits complete the picture of a well-designed and sharp-looking workshop.
It's also easy to get a lot of natural light by installing eave light panels along the sidewalls. No more reaching for the light switch and tripping over tools and machinery! The lack of mid-height glass windows will also keep potential burglars or vandals from eyeing your expensive shop equipment and tools.
Custom Shop Buildings
Your metal shop building kit can be customized for any kind of pole barn shop you'd like. It can be plain and simple or as ornate and classy as any building that might catch your eye in your neighborhood. Choose sidings from T1-11 to board and batten to vinyl of any color, or get brick or stucco sidings for a more upscale aesthetic.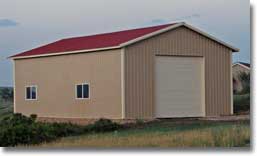 For your roof, you can choose asphalt standard or architectural shingles, tile, or standing seam (hidden fastener) steel. If you value durability, longevity, and low-maintenance material above all else, the classic steel walls and roof look is the way to go. You can also order steel liner panels for the interior walls and ceiling to make sure the inside of your shop is sturdy, easy to wash, and resistant to fire—a must-have safety feature for anyone whose machine work sends sparks flying.
Contact Hansen Pole Buildings Today
Getting a shop building kit for your farm, metal yard, garage, or any other enterprise is both immediately convenient and a wise long-term investment. Get a free quote on a pole barn so we can start helping you design the ideal shop building for you.
Get A Free Quote!