Building a shop is exciting! It means a place to work on machinery and equipment out of the wind, rain, and snow. Best of all, tools can be kept clean and organized in a fashion which can make it enjoyable to do your own repair work. Money spent on constructing a shop building is quickly recouped by monies saved in no longer having to hire others to do the fixing. There is just something about the satisfaction in repairing things to your own standards…in your own timeframe. If you are like this, building a shop is not a luxury, but a necessity!
How much will a shop building cost? Click here to get a FREE QUOTE!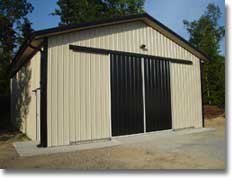 The old traditional shop building with 4 steel walls and a roof is a thing of the past. A workshop building can be plain and simple – but it also can be fancy and classy as any other building on the market today. Sidings can range from T1-11 to board and batten, vinyl siding of any color available or even brick or stucco for an upscale look. Roofings include choosing from asphalt standard or architectural shingles, tile or regular fastener and also standing seam (hidden fastener) steel. The classic shop can also be just that…steel on the outside and also the roof. If you want durability and longevity with low maintenance – using all steel on your shop building is the way to go! You can choose your sidings and roofings and put steel liner panels on the interior walls and ceiling for a durable, washable ceiling, resistant to fires should any welding sparks fly out of hand. If your shop building involves any type of metal working or machinery repairs, there is a good chance of a spark or two!
Click here to check out photos of all types of shop buildings
What does a workshop building look like from the outside? Just about any style can function as a shop. A gable style (traditional "box" or rectangular) will be the most cost effective, but sometimes a monitor building is just as effective if you want to use the upper area of the main center section for storage or office space. A monitor may also afford storage of a boat and/or RV storage in a side shed, with the main part used for the taller equipment like tractors, combines and elevators. Side sheds function as good tool storage areas and the farm office. Sometimes a lone horse finds its way "home" to a shed on a shop building, and an "open" shed roof off one side can house a few bales of hay, or wood for the wood stove inside the shop building.
What does building a shop cost? Check on a custom kit price today!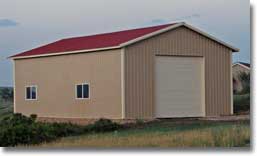 From the outside, it may be hard to tell some of the photos displayed in our Photo Gallery are really shop buildings. Insulated, drywalled and painted, some of these shop buildings could pass for the interior of an upscale commercial repair shop! Tool benches on immaculate heated concrete floors, with a car lift and commercial overheads with window kits complete the picture of a well designed and very sharp looking workshop building. It's also easy to get lots of "free" lighting by installing eavelight panels along the sidewalls. No more reaching for the light switch while tripping over tools and machinery! Expensive shop equipment and tools are protected by not having windows to entice break-ins or cause for replacement. It doesn't take long to decide, money invested in building a shop…is a wise investment over time.