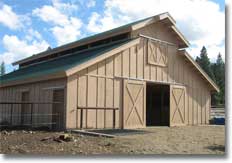 If you own horses, you know how much goes into caring for them properly. You need ample space to not only keep your horses safe and comfortable but also to feed them, groom them, and store riding equipment. A spacious, well-equipped barn is essential for the comfort of your beloved horses, as well as the people that care for them.
If your current stables aren't up to your standards, consider a custom pole barn with horse stalls. Hansen Pole Buildings will help you develop a horse barn plan that fits your unique needs. Choose between different sizes, features, and add-ons to create the perfect horse barn for your animals.
What Is a Horse Pole Barn?
All of our horse barn kits for sale are completely customizable, so we can create any pole barn horse barn plan that fits your vision. Horse barns come in a variety of building designs that have aesthetic and functional differences. Choose a pole barn with horse stalls, build a monitor barn with a raised center aisle, a barn with a single-slope roof, a gable-style barn with a triangular roof, or a traditional gambrel-roofed barn.
There are shedrow barns, which have an eave attached to a row of stalls to keep the sun off while people tend to the horses from outside, and L- and T-shaped barns that can maximize space on your property. Whatever size and style you're looking for, we can accommodate your with one of our horse barn kits.
How Much Does It Cost to Build a Horse Barn Pole Building?
The cost of your horse pole barn will depend on a couple of different variables: how big you need your barn to be, what features it will include, and how you customize it. The average pole barn building costs anywhere from $7,000 to $75,000, with extra large and complex pole barns costing more. Costs also vary by location due to regional material prices and local design requirements, and you'll have to factor in optional items you want to add to your pole building.
Horse Barn Pole Buildings Come in Small, Medium, and Large Sizes
Designing a horse barn begins with determining how big you need it to be. How many horses will you keep in the barn? Do you need a tack room, feeding room, and grooming stall? Will you need a loft to store hay, or will you keep it on the main floor? Once we determine the size of your desired horse barn, we'll have a better understanding of how much it will cost.
How Much Does a Small Horse Barn Kit Cost?
A small horse barn kit will probably cost you between $10,000 and $25,000. The exact price will be determined by the exact size, the materials used, and additional customizations and add-ons.
How Much Does a Medium Horse Barn Kit Cost?
When building a medium horse pole barn, your cost will likely land between $25,000 and $50,000. This price will depend on the final plan you choose for your medium-sized horse barn.
How Much Does a Large Horse Barn Kit Cost?
Large horse barns can cost between $50,000 and $100,000, and extra large or complex barns may cost more. Once you've customized your horse barn kit, we'll be able to quote you a more accurate price.
What Does a Horse Barn Pole Building Look Like?
What your horse barn pole building looks like will vary depending on what kind of customizations you make. Hansen Pole Buildings can help you put together a free barn plan for your horses, with customizations that meet your unique specifications. In terms of construction material, siding options include T1-11 boards and batten, vinyl, or tongue and groove siding. You can also substitute steel roofing for standard or architectural shingles, tile, or standing seam steel.
There are plenty of ways to customize the look of your horse pole barn as well. You can order wainscot on the sides, lighted cupolas, and a weather vane on the roof to add some decorative touches, and your siding can be painted, stained, or made from more than 17 colors of metal (which will preserve your desired look the longest).
All of our horse barn kits include trims to cover the wood, meaning there will be no exposed wood left to decay or become unsightly with time. You can choose to paint your trims or order steel trims to keep painting and refinishing off of your to-do list forever. Whatever your vision, we have horse barn kits for sale that will fit your needs. 
Horse Barn Pole Building Kits Advantages and Disadvantages
Thinking about using a pole building kit to build your horse barn? Consider the following advantages and disadvantages.
Horse Barn Pole Building Advantages
Affordability
One of the biggest advantages of using a Hansen Pole Building kit for your barn? Cost-effectiveness. Pole building kits are significantly cheaper than other building methods. Why? Pole buildings, by design, allow you to build large structures with fewer materials and equipment. Our pole building kits are also designed to be DIY, so you don't have to spend money on hiring a contractor.
Customization
If you want to build a horse barn that's unique to your needs, Hansen Pole Buildings will make that happen. Our pole building structures are completely customizable, meaning you don't have to sacrifice your ultimate vision.
Durability
Pole buildings are known for their strength and durability. They're designed to withstand any type of inclement or dangerous weather, and we use wood that's resistant to insect damage. Your horse barn is sure to stand the test of time.
Horse Barn Pole Building Disadvantages
Construction Size Limitation
If you're looking for a multi-story horse barn (for extra storage space, for example), you may want to look into a more conventional building method. While pole barns are perfect for 1-2 story structures, anything higher than that likely isn't doable with a pole barn kit.
DIY Construction
While the ability to construct your own pole barn structure is a major advantage for most, not everyone wants to put a building together themselves. However, you can still order a Hansen Pole Building horse barn kit and hire a contractor to put it together for you.
How Long Does a Horse Barn Pole Building Take to Build?
The amount of time your horse barn will take to build ultimately depends on the size and customizations you choose. For instance, a structure with multiple rooms, a loft, a cupola, etc. may take a little more time than a simple pole barn kit with stalls. Once you finalize a blueprint for your horse barn, we'll give you a custom time estimate based on your unique plans.
Where Do I Go to Get a Horse Barn Pole Building Kit?
We ship our horse barn building kits all around the U.S. and Canada. To learn more about our delivery options, contact our offices today to speak to a representative. For international customers, we may be able to ship to certain ports.
How Do I Find a Horse Barn Pole Building Builder Near Me?
If you'd prefer to hire a builder to construct your pole barn, contact our offices. We may be able to connect you with a reliable contractor in your area who can help you construct your horse barn. Otherwise, any local builder or contractor should be able to help you put together your horse barn kit.
Contact us today to get a free quote on a custom horse barn plan. We'll help you design a horse barn that you'll love right out of the gate.
Get A Free Quote!