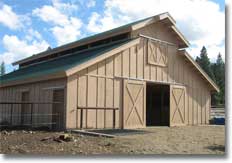 Horse barns can be as simple or complex as you prefer. You are only limited by the size of your property, your budget, and of course, your imagination! Just because you will use this accessory building as a horse barn, doesn't mean it must lack design or creativity. Monitors, single slopes, gable style, grid horse barn kits and of course the traditional gambrels –all have features which will best fit the needs of your horses. Horse barns can be in the shape of an "L" or a "T" to maximize property use and reduce steps when going from one horse to another. Regardless of your budget, each option can be weighed carefully to determine what works best for you… and your prize horses. Take a look at the different styles on our Horse Barn Photo Gallery.

Items to Consider When Building a Horse Barn
If you want a horse barn to be totally functional, begin by counting your horses. Consider the number of horses you plan to have in your horse barn kit. This will provide a starting point for the number of stalls you will need. Next, add on stalls for a tack room, feed room and possibly a wash or grooming stall. Hay may be most economically stored by having it readily available in a stall on the main floor. Loft areas can often be used for hay and other storage. But as they say, what goes up must come down. Putting the hay up and bringing it down again can be a lot of work. Hay storage on a second level comes at a premium. A second story requires a much taller eave height as opposed to a single level horse barn with a few more stalls at the end for storage.
So much to choose from, where do you start? By getting a free online pole barn quote!
Custom Horse Barn Designs
Horse barn kits are quick and easy to construct. Siding options include T1-11, board and batten, vinyl, or tongue and groove. Steel roofing can be substituted for standard or architectural shingles, tile, or standing seam steel. Barn kits will have the least amount of long-term maintenance and provide the longest lasting finish, but it all depends on the "look" you want to achieve. Horse barns can be as appealing as any other building. For example, use wainscot to set it off. Then, add beautifully finished tongue and groove stall kits and a lighted cupola with a horse weather vane on top to add that finishing touch. Sidings can be painted, stained, left to weather, or, for longest "just like new" appearance, choose from over 17 colors for a metal barn in 29- or 26-gauge steel. Hansen horse shelter kits use trims to cover all wood. There is no exposed wood left to weather, decay or prove unsightly down the road. Unless you choose to have painted trims, steel trims can be provided so peeling and repainting is off your "to do" list forever!
Transitioning from Small to Large Horse Barn Plans
Horse barn kits can be a project carried over several years. How? Select the width you want overall, and then put double trusses on one or both ends for future additions. Many customers have chosen a solid 36', 38' or even 40' width, along with an initial length which fits their budget. Down the road, removing the end wall steel on horse barns is simplified by adding on 12' increments for stalls and the aisle way. Selecting an overall eave height to allow future additions on the sidewalls is another popular option when building a horse barn. One benefit of a pole building is concrete floors can be poured at any time during the actual barn construction, or even a year or two after it's built! Hansen makes it easy to transition from a small horse barn plan to a large horse barn floor plan without all the fuss. Simply get the size you need and add on the extras later.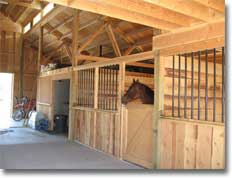 Ventilation, Insulation, and Lighting
Ventilation is easy with Hansen's horse barn kits. Choose enclosed overhangs to add a stately look to your barn. The vented soffit will provide the air intake. Vent the ridge cap to provide sufficient circulation and add gable vents if necessary, for maximum ventilation and minimizing any condensation issues. Hansen Buildings recommends you include optional reflective insulation as a moisture barrier to prevent wall and ceiling condensation from dripping on you, your horses, and valuable hay. Natural lighting is a snap with eave lights. Avoid fumbling for the light switch and reduce your electricity bill by creating a horse barn full of natural light.