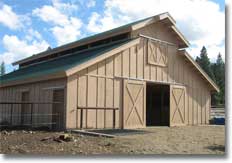 If you own horses, you know how much goes into caring for them properly. You need ample space to not only keep your horses safe and comfortable but also to feed them, groom them, and store riding equipment. A spacious, well-equipped barn can make all the difference between prizewinning horses and those that finish last.
When your current stables aren't up to your standards, order a new custom horse barn with a pole barn kit from Hansen Pole Buildings. We'll help you design a horse barn that meets both your needs and your budget.

What to Consider When Building a Horse Barn
Designing a horse barn begins with counting your horses. The number of horses you expect to keep in your barn at one time will determine the size of the building and how many stalls you will need. Next, you should create space for a tack room, feeding room, and grooming stall.
Hay is a more important part of planning than you might think. Some prefer to store their hay in a loft to maximize floor space, but adding second-level storage to your horse barn incurs extra costs—you'll also have to carry hay up and down a ladder every time you want to feed your horses or replenish your stock. Storing hay in a stall on the main floor is simpler, but it takes away space you may need for another horse.
Different Horse Barn Designs
Horse barns come in a variety of building designs that have aesthetic and functional differences. You can build a monitor barn with a raised center aisle, a barn with a single-slope roof, gable-style barns with triangular roofs, or a traditional gambrel-roofed barn. There are shedrow barns, which have an eave attached to a row of stalls to keep the sun off while people attend to the horses from outside, and L- and T-shaped barns that can maximize space on your property.
For a better idea of which style might suit you, take a look at our horse barn photo gallery.
Custom Horse Barns
Hansen Pole Buildings can help you create plans for a customized horse barn that meets your unique specifications. In terms of construction material, siding options include T1-11 boards and batten, vinyl, or tongue and groove siding. You can also substitute steel roofing for standard or architectural shingles, tile, or standing seam steel.
There are plenty of ways to customize the look of your horse barn as well. You can order wainscot on the sides, lighted cupolas, and a weather vane on the roof to add some decorative touches, and your siding can be painted, stained, or made from more than 17 colors of metal (which will preserve your desired look the longest).
All of our horse barn kits include trims to cover the wood, meaning there will be no exposed wood left to decay or become unsightly with time. You can choose to paint your trims or order steel trims to keep painting and refinishing off of your to-do list forever.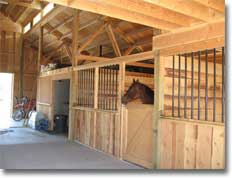 Ventilation, Insulation, and Lighting
Ventilation is essential for keeping your horses cool and breathing easily year-round, and it's important to reduce condensation to keep the metal in your barn from corroding. Luckily, Hansen Pole Buildings' horse barn kits make ventilation simple. Enclosed overhangs give your barn a stately look while facilitating air intake through the vented soffit. Venting the ridge cap will provide sufficient circulation, and you can add gable vents if necessary to maximize ventilation and minimize condensation issues.
We recommend you add optional reflective insulation to your barn to act as a moisture barrier, preventing condensation from dripping onto your horses and hay. For natural lighting, build eave lights into your barn—you'll enjoy the look as much as the lower electricity bill.
Changing the Size of Your Horse Barn
Once you finish building your original horse barn design, there's still plenty of opportunity to make modifications. You can leave yourself open for future additions by putting double trusses on one or both ends, and it's simple to remove the end wall steel.
You can pour the concrete floors for your horse barn at any time during construction—even a year or two after finishing the build. We make it easy to transition from a small horse barn plan to a large one without any fuss. Just start with the size you need and add on the extras later.
Contact us today to get a free quote on a custom horse barn plan. We'll help you design a horse barn that you'll love right out of the gate.