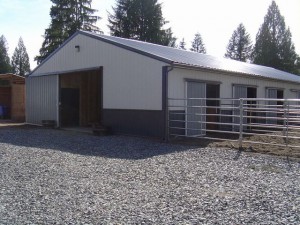 When it comes to protecting your animals from the elements, building a livestock barn is one of the wisest, most affordable solutions. Strong, efficient, and resistant to the passage of time, livestock barn kits make lasting, cost-effective animal shelters. From horses to dairy cows and sheep to llamas, livestock of all kinds will be safe and comfortable in animal barns from Hansen Pole Buildings.
What Is a Livestock Pole Building?
Cattle pole barns are essentially barns made to house animals, giving them a warm, safe space to live on your farm or ranch. What your animal building looks like and consists of depends on what you're looking for. We can help you customize your livestock barn plans whether you need something simple or a multi-animal barn layout.
How Much Does It Cost to Build an Animal Barn Pole Building?
The cost of a livestock barn kit will vary depending on a number of factors. First and foremost, size. Our barn designs for cattle come in three basic sizes: small, medium, and large. Additionally, prices may change based on how complex your design is or how many customizations you choose for your livestock barn plans.
Animal Confinement Pole Buildings Come in Small, Medium, and Large Sizes
Here's more information about the different livestock barn sizes and what they cost.
How Much Does a Small Livestock Barn Cost?
A small livestock barn kit usually costs between $7,000 and $18,000. Depending on the siding, roofing, and customizations you make, the price will fluctuate.
How Much Does a Medium Animal Pole Barn Cost?
The cost of a medium-sized livestock barn lands between $18,200 and $39,100. Once you finalize the exact plans for your livestock barn, we can give you a more solid cost estimate.
How Much Does a Large Animal Confinement Pole Building Cost?
A large animal barn usually costs between $36,000 and $88,000, with the price increasing the larger you decide to go. Things like roofing, siding, doors, windows, and other add-ons will affect the price.
What Does an Animal Confinement Pole Building Look Like?
If you can dream it, we can design it! Building an animal pole barn doesn't have to be restrictive in any way. Your animal barn design can have the look and feel of a gable-style barn, or it can be something unique and original. Hipped roofs, single slopes, monitors, and of course the ever-popular gambrel style (traditional barn design) are just a few of the custom barn packages available. We want to be sure the barn design you have in mind is the right fit for you.
Although steel is probably the most durable material, and the easiest to maintain for roofing and siding, your barn package can include other sidings as well: T1-11, board and batten, vinyl, or sheeted with OSB for the application of other sidings such as brick or stucco. Besides steel, other roofing options include standard shingles, architectural shingles, tile, and standing seam steel.
Animal Confinement Pole Building Kits Advantages and Disadvantages
There are plenty of advantages to using a pole building kit when it comes to constructing your livestock building. We list some of the many advantages (and a couple of disadvantages) below.
Animal Confinement Pole Building Advantages
Cost
When you use a pole building kit for your animal barn, you'll enjoy some serious savings. Because all of our pole barn kits are DIY, you don't have to pay for labor. We also prioritize efficient design so that you're not overpaying for materials that you don't need.
Durability
Our barn designs are made to stand the test of time. We use strong, pressure-treated wood that is resistant to insect damage and can withstand inclement and dangerous weather. Your livestock barn will be built to last.
Scalability
Want to start small? Choose a simple design and continue to build upon it through the years as your budget allows. We can help you continue to build upon your dream barn.
Customization
Our pole barn designs allow you to customize the animal barn that fits your unique needs. Choose your siding, roofing, windows, doors, add-ons, and more.
Animal Barn Pole Building Disadvantages
DIY Construction
Our pole building kits are meant to be entirely DIY—even the most unskilled builder can construct our building kits on their own. Of course, not everyone is interested in handling the assembly. If this isn't something you want to do, you always have the option of hiring someone who can help you put your kit together.
How Long Does an Animal Barn Pole Building Take to Build?
Because building time will depend on the size and complexity of your design, we'll give you a custom estimate once you finalize your design plan with us. We make the estimate based on the amount of time it would take an unskilled builder to put together your pole building kit.
Where Do I Go to Get an Animal Confinement Pole Building Kit?
We deliver to numerous locations around the United States and Canada. Please contact our offices for more information on your shipping and delivery options for your animal barn kit.
How Do I Find a Cattle Pole Barn Builder Near Me?
If you don't want to construct your own pole building, we understand. We keep in touch with a network of builders and contractors around the country and can help you connect with one if needed. These builders do not work directly for Hansen Pole Buildings, but they have the skills necessary to construct your building.
Get A Free Quote!