Pole barns provide an economical solution to your agricultural building needs. Store your expensive new equipment in farm buildings that will last a lifetime. Easy to construct, a barn kit can provide years of protection against the weather. Don't find yourself under machinery in the cold or rain when you can easily construct an agricultural building to keep you warm and dry. Our barn kits come in any size you want with many options to choose from. Simply request a pole barn quote to start budgeting for the horse barn or farm building that will solve your problems.
Farm Buildings
Every post frame farm building will be constructed with high grade lumber with poles treated to withstand the test of time. Need large door openings and open space to move around – not a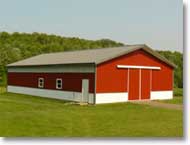 problem. Most buildings have no interior poles with the ability to span up to 100 feet wide and sliding doors 36 feet wide or more. Move equipment in your pole barn with ease. Our farm buildings use double trusses for added strength and added flexibility. A new agricultural building can be constructed with fewer resources than tradtional construction methods which lowers cost per sqaure foot of usable space.
Farm buildings quoted in minutes. Need help with a design? Talk with one of our highly trained designers (866)-200-9657.

Barn Kits
Keep your horses or livestock safe with a horse barn from Hansen Buildings. Whether you need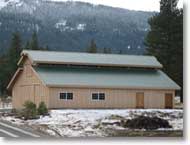 a simple leanto or a large barn we will animal safety in mind. A well ventilated building is important when storing animals. Vented ridges and gable vents are cheap solutions with vented overhangs highly recommended. Ask about our premium stall kits with many options available. From small three stall barns to large boarding facilities a pole barn is for you. Pole and rafter designs are available which are great for adding loft space. Our designers have the experience and knowledge to help plan your barn kit while listening to your needs. Think outside the box with a gambrel or monitor style. Add some traditional style to your modern barrn – from cupolas to a widows peak… we can make your building look like the barn you grew up in.
Get your building up fast! Need a building solution now? Pole barns are one of the simplest buildings to construct. From time of first quote to completion…your farm building can be finished in just weeks if needed. Not only can a pole barn be built quickly but by doing construction yourself you can save money and know its built right. We offer technical support and a comprehensive manual to help the do it yourselfers complete the project as planned. Every step of the way we will be there for you.
Quality Barn Kits and Farm Buildings
We gaurantee the lowest price barn for equal quality and features. Got an agricultural building quote at a lower price for the same building? Provide it to your designer and we will either match the price or requote a similar building.
Step by step instructions in a fully illustrated manual and stamped engineered plans included to guarantee your structural farm building permit.
Unlimited barn kits – Change your design, style and colors as many times as you like until time of purchase. We want you to have the building of your dreams that fits your budget.
Welcome to HansenPoleBuildings.com – providers of horse barns and farm buildings. For the fastest building quote, click on FREE QUOTE to submit your pole building package needs. Or, call (866) 200-9657 toll free, 24 hours a day, seven days a week, to leave your information. Most quotes are completed in 24 to 48 hours.