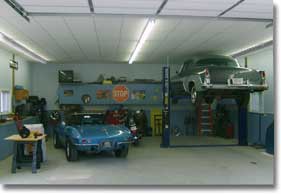 If you're into carpentry, metalworking, auto mechanics, and other hobbies involving craftsmanship, you need a dedicated place to work on projects, organize your tools, and experiment without any distractions. Of course, maybe all you want is a place to relax with your buddies and play pool or watch football. Either way, a pole building workshop kit is an excellent way to create your ideal space.
With Hansen Pole Buildings' pole building kits, you can design, customize, and construct your own workshop without great expense or lengthy planning periods. You don't need to be a handyman or -woman to build a pole barn without any difficulty, but the artisans will make even faster work of their workshop.
Get A Free Workshop Quote in minutes!

What's Your Workshop For?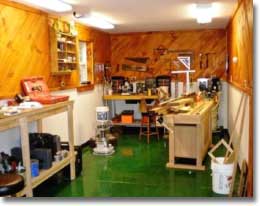 The best way to start designing your workshop is to figure out everything you plan to use it for. Woodworking, car maintenance, taxidermy, or working with steel and metal may require workshop buildings with different features and dimensions.
Do you need a car lift? Will you work on a boat or RV? Electricity is probably a must, but do you need running water? Do you plan to work in both hot summers and freezing winters? Are you OK with bundling up while you're in your workshop, or do you need commercial girts and insulation to make the building comfortable for hours at a time all year round? Ask yourself these kinds of questions while you're planning your perfect workshop space.
Auto Workshop Buildings
If you're a car enthusiast, you can't live without a workshop for DIY auto maintenance. Your pole building should be tall enough for a car lift and wide or deep enough to fit a workbench, a few tool chests, and the vehicles you'll be tinkering with.
Many of our customers order a double garage combo for a two-car garage or extra workshop space, with a third bay added for lounge space when they need a break from tuning up engines. Once you've decided on a design for your DIY workshop, making it a little larger is easier and more affordable than you think, even after you've constructed the original building.
Lounges and Entertainment Centers
Everybody needs their own space to unwind, and in a lively house with kids and significant others to contend with, that's not always easy to find. A pole barn workshop building is perfect for carving out "me" time. Fellas call it a man cave, women might call it something else, but whatever the name, it's what you do with it that counts.
Put a couch and TV in your workshop to watch movies and sports. Create your own mini-arcade and game center. Throw in a fridge for snacks and beer. Install a desk and computer so you can get work done—either professional projects or your own creative pursuits. Most workshops look the same on the outside, but the inside of your entertainment center should be unique to you.
Contact Hansen Pole Buildings
When you're ready to create your own workshop space, contact us to request a quote. We'll help you design the workshop building of your dreams and create a kit you can construct in no time. If you need ideas, check out our workshop photo gallery.
We look forward to helping you build a bang-up workshop that you'll be proud to get down to business in.
Click here to see photos of workshop buildings, man caves and other shop buildings just like you have designed:.
Visit the Workshop Gallery Shops and Man Cave Gallery.