Workshop Buildings Kits
If you're into carpentry, metalworking, auto mechanics, and other hobbies involving craftsmanship, you need a dedicated place to work on projects, organize your tools, and experiment without any distractions. Of course, maybe all you want is a place to relax with your buddies and play pool or watch football. Either way, a pole building workshop kit is an excellent way to create your ideal space.
With Hansen Pole Buildings' pole building kits, you can design, customize, and construct your own workshop without great expense or lengthy planning periods. You don't need to be a handyman or -woman to build a pole barn yourself, but if you're the type of person who needs a workshop in the first place, you should have no trouble putting your kit together.
What Are Pole Barn Workshop Buildings?
What's Your Workshop Building For?
The best way to start designing your residential workshop building is to figure out everything you plan to use it for. Woodworking, car maintenance, taxidermy, or working with steel and metal may require workshop buildings with different features and dimensions.
Do you need a car lift? Will you work on a boat or RV? Electricity is probably a must, but do you need running water? Do you plan to work in both hot summers and freezing winters? Are you okay with bundling up while you're in your workshop, or do you need commercial girts and insulation to make the building comfortable for hours at a time all year round? Ask yourself these kinds of questions while you're planning your perfect workshop space.
Get A Free Quote!
Auto Workshop Buildings
If you're a car enthusiast, you can't live without a workshop for DIY auto maintenance.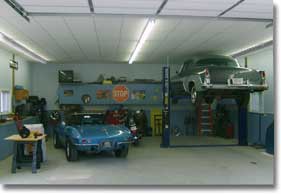 Your pole building should be tall enough for a car lift and wide or deep enough to fit a workbench, a few tool chests, and the vehicles you'll be tinkering with.
Many of our customers order a double garage combo for a two-car garage or extra workshop space, with a third bay added for lounge space when they need a break from tuning up engines. Once you've decided on a design for your DIY workshop, making it a little larger is easier and more affordable than you think, even after you've constructed the original building.
Lounge and Entertainment Center Pole Barn Workshops
Everybody needs their own space to unwind, and in a lively house with kids and significant others to contend with, that's not always easy to find. A pole barn workshop building is perfect for carving out "me" time. Fellas call it a man cave, women might call it something else, but whatever the name, it's what you do with it that counts.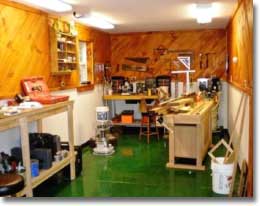 Put a couch and TV in your workshop to watch movies and sports. Create your own mini-arcade and game center. Throw in a fridge for snacks and beer. Install a desk and computer so you can get work done—either professional projects or your own creative pursuits. Most workshops look the same on the outside, but the inside of your entertainment center should be unique to you.
How Much Does It Cost to Build a Pole Barn Workshop?
Your workshop building price will vary depending on the size of your building, the complexity of the design, and what additional features you want to include. Click here to get a free quote on workshop building prices, and keep scrolling through this page to learn more about the different sizes and prices available for residential pole buildings.
Get A Free Quote!
Workshop Pole Barns Range from Small, Medium, and Large
Our standard pole barn workshop kits come in three sizes: small, medium, and large. The size of your workshop building will affect the price and the overall design. Thinking about what exactly you want to use your workshop building for will help you determine which size is best suited for your needs.
How Much Do Small Pole Barn Workshop Buildings Cost?
A small pole barn workshop building will have a base price of around $7,000-$18,000. Different features and add-ons will affect the final cost.
How Much Do Medium Pole Barn Workshop Buildings Cost?
Medium pole barn workshop buildings will range from $18,200-$39,100, depending on the exact design of your building. Of course, any customizations could raise this price.
How Much Do Large Pole Barn Workshop Buildings Cost?
A large workshop building will run you between $36,000-$88,000, depending on the complexity of your design and added features.
What Do Workshop Buildings Look Like on the Inside?
In general, pole barn buildings are designed with a large clear span so that you have plenty of space for work, entertainment, or storage. How exactly the interior of your workshop building will look depends on features like interior walls, insulation, ceilings, windows, doors, flooring, and more. You have the opportunity to customize your building so that the interior matches your intended use.
Get A Free Quote!
How Do Wooden Pole Barn Workshops Differ From Steel-Frame Buildings?
The difference between wooden pole barns and steel-frame buildings comes down to size, structure, and affordability. Steel-frame buildings are often used for tall buildings and require large steel frames that are cast in large concrete footings. Building with steel requires much more concrete in general, as well as heavy, expensive machinery.
Wooden pole buildings use widely spaced pressure-preservative-treated posts for the main vertical supports, which are embedded in the ground with only a small amount of concrete around them. Pole barn buildings are able to use a small amount of materials for a large amount of space, require much less concrete and machinery, and are much more affordable.
Pole Barn Workshop Building Kit Advantages and Disadvantages
There are tons of advantages to using a workshop pole building kit. Depending on your vision, there may be a disadvantage to using a pole building kit as well.
Pole Barn Workshop Building Advantages
Value
Pole building workshop kits are an incredible value. Our concepts use a small amount of materials to build large, expansive buildings at an affordable rate. Plus, our designs are meant for do-it-yourself construction, meaning you don't have to spend money hiring a contractor to build your workshop building for you.
Strength
Pole buildings are known for their strength. In fact, pole buildings withstand dangerous weather and other forces of nature (including earthquakes) better than most other structures. We also use pressure-treated wood that withstands virtually all deterioration due to insects. This means your workshop building will last.
Versatility and Customization
Pole buildings are modular, versatile, and customizable. Whatever your vision, we can make it happen at an affordable price.
Pole Barn Workshop Building Disadvantages
Construction Size
If you're looking for a tall building, a pole barn probably isn't for you. Pole barn buildings are meant to be low-rise—typically one story, although we do design two-story residential barn homes. For tall buildings, a steel frame is a better option.
We Aren't Contractors
Our pole buildings are meant to be do-it-yourself projects, so they're designed to be built even by the most unskilled builder. However, if you definitely don't want to build your own workshop building, we can help you find a contractor.
How Long Does a Workshop Building Kit Take to Build?
The amount of time it will take you to build your workshop building kit depends on the size and complexity of your building. We give an estimate for building times in every quote we give. Our building time estimates are always based on the time it would take for the most unskilled builder to complete the project.
Where Do I Get My Workshop Building Kit?
Your building kit can be delivered to you or picked up from one of our distribution centers in the U.S. and Canada. If you live overseas, we can deliver your materials to a port, but you will be responsible for arranging container shipment and transportation from port to your building land.
How Do I Find a Pole Barn Workshop Builder Near Me?
Some people would rather hire a contractor to construct their workshop building kit. If that's the case, we do have a list of contractors around the country that we can refer to you. However, these contractors do not work for us. It's up to you whether you want to hire a local contractor from your area on your own, or call us for a recommendation from our list.
Get A Free Quote!
Popular Pole Barn Cities:
Popular Pole Barn States: