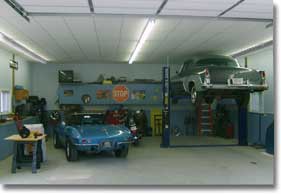 Call it a DIY shop if you will, or even a home workshop but what men really want is a …. man cave! This is a place a guy can go to be alone, or to have his buddies over to socialize. It doesn't hurt that his workshop building has a workbench with tools, a place for the lawnmower, or even shelves to store "stuff". It also may have a TV, refrigerator, pool table or even beer signs and mounted deer heads proudly displayed on the walls.
For those car enthusiasts, a DIY shop is a must. The building must be tall enough for a car lift, and wide or deep enough for a workbench and a tool chest or two. A popular combination is for a double garage to become a 2 car plus added third bay for the man cave. Once you've decided on a DIY shop, making it a "little larger" is not nearly the cost you may think.
Be a man – get a quote… Free Man Cave Quote in minutes!

DIY Shops and Man Caves
DIY shops end up being an added benefit to garages, horse barns, storage buildings and the ever popular all-in-one DIY pole building home. Women love the man caves, because it often gets the deer heads, car engines and repairs…out of her garage. She now has a place to park her car inside and out of the elements. The bonus comes when she can watch TV of her choosing while hubby is out in his man cave playing poker with his buddies or watching the game.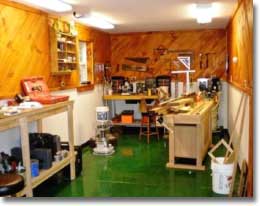 First decide what you want to use your home workshop for. Are you going to use it when you fix your boat or lawnmower? Do you need a car lift? Electricity is a "must", but what about water? Do you want to wash the dirt/sand off your vehicles in the dead of winter when there is 3 feet of snow outside? Are you ok with working with insulated coveralls on, or do you need commercial girts and insulation to make your workshop building comfortable for hours at a time?
Desk and a computer with carpeting and a fireplace? Not a problem for your man cave. You can add camo walls, racks for the fishing rods and gear for the sports enthusiast, black and white checked tiling with heating flooring to display your refurbished '57 Chevy ….or your new Harley.
You just can't tell from the outside – your home workshop will look just like….any other workshop building. But inside – it's where your heart is. How can a guy not absolutely love…..his man cave?
Click here to see photos of man caves others just like you have designed:.
Visit the Workshop Gallery Shops and Man Cave Gallery.