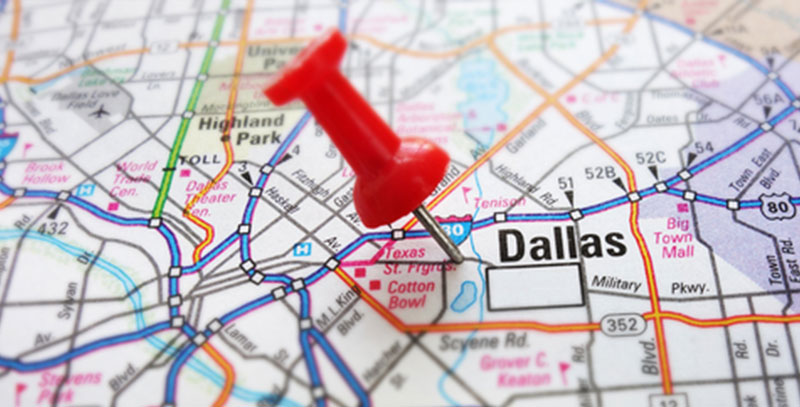 When you need to build a comfortable, functional, and durable structure in Dallas and your time and budget are big factors, pole barn kits are your best bet. Hansen Pole Buildings offers affordable, customizable pole building kits in Dallas and beyond. We've helped thousands of customers all over the country design and construct houses, workshops, farm buildings, garages, and much, much more.
Our pole barn kits are popular in Dallas, TX and many areas in the other Southwestern states: Arizona, Oklahoma, and New Mexico.
For Dallas's lowest prices on pole building homes and other structures, look no further than Hansen Pole Buildings. You'll have a hard time finding more cost-effective solutions anywhere else, but if you do happen to see a lower price for a similar pole barn design from a different provider, tell us and we'll match it.
Pole buildings are also in high demand in these other Texas cities:
Dallas Pole Barn Types
When you drive around the Dallas area, you'll see pole barns serving all types of purposes, from residential to commercial to agricultural. Here are some of the typical structures that Dallas residents create with pole building kits.
With a pole barn kit, it's easy to design the living space you've always wanted. Pole building homes are comfortable enough for Dallas families of all sizes, staying warm in the winter and cool in the hot Texas summers.
There are excellent road trips you can take in any direction from Dallas, but where do you leave your RV when you're back home? A simple but reliable RV storage pole building is an excellent solution.
Texans are industrious people, whether they're running a business or working on personal projects for fun. Build your own workshop pole barn in Dallas to create the space you need to be productive.
If you own a thriving farm or even just a few horses, you'll need plenty of storage space to keep all your supplies and equipment safe. Pole building kits are fantastic choices for agricultural buildings of all kinds.
Build the Right Pole Barn for You
With our pole barn kits in Dallas, TX, you can create any type of building you can think of (and maybe some you haven't). Here's a more complete list of things Dallas residents have made with pole building kits.
Find the Best Local Pole Barn Builders in Dallas
Anyone should be able to assemble our pole barn kits without a problem, but you may decide you want professional help anyway. Here are a few options for pole barn construction in Dallas.
Build It Yourself
Your custom pole building kit will come with detailed instructions that guide you through every step of the construction process. You don't need any experience to handle the whole build from start to finish.
Dallas Pole Barn Construction Companies
A local construction team can make the already quick building process even faster. Search for Dallas construction companies to see if any of them are available for your pole barn project.
Dallas Pole Barn Contractors
Any reputable contractor in the Dallas area can assist with pole building kit construction. You can either work with the contractor of your choice or have Hansen Pole Buildings recommend one that operates near you.
Dallas Pole Barn Pricing
Minimize the cost of your Dallas pole barn building project by ordering from Hansen Pole Buildings. Your final price will reflect your unique design, but you can get an idea of what you'll pay from our three main size ranges.
Small Pole Barn Prices
Our small pole barns range in price from $7,000 to $18,000 and in size from 24' x 24' x 8' to 36' x 36' x 12'. This size works well for the following building types:
Medium Pole Barn Prices
Medium pole barns generally cost anywhere from $18,000 to $39,000. Their dimensions start at about 36' x 48' x 10' and go to 40' x 72' x 14'. Medium pole barn kits are great for:
Large Pole Barn Prices
Most large pole barn kits cost $36,000 to $88,000, but their prices can go as high as $100,000 for bigger or more complex designs. Their dimensions range from 40' x 60' x 16' to 60' x 120' x 16'. Types of buildings you can make with large pole barn kits include:
Pole Barn Kits Are Also Available in These Regions
Need a pole building kit somewhere other than Dallas? We've got you covered across the country.
Make America's heartland more hospitable with a comfortable pole barn.
Get the most out of your property on the Atlantic Coast with a spacious, functional pole building.
If you need more living, working, or storage space in the South, our pole kits are the best way to get it.
For agriculture, working, living, or leisure, our pole buildings are the best in the West.
Build a Pole Barn or Building in Dallas Today!
Start looking at our pricing for pole barn kits in Dallas to get an idea of where you would like to start. If you have any questions, call us toll-free at 866-200-9657 or send us a message at sales@hansenpolebuildings.com. Start building your dream with a pole building kit in Dallas today!
Get A Free Quote!