People build versatile, ultra-strong DIY pole barn garages for a number of creative uses. Whether you need extra storage space, want to construct an art studio on your property, or have other plans, you can count on Hansen Pole Buildings to deliver the best pole barn garage kits on the market.
Not sure where to start with your custom pole barn garage kit? Take a look at the unique garage kit designs built by some of our most valued customers—then start brainstorming your own ideas!

Uses for a Pole Barn Garage
Americans love stuff, and we tend to collect a lot of it as the years go by. If you have room for a pole building garage on your property, you can conveniently store your things close to home without having to pay for an expensive storage unit.
More often than not, a standard one-, two-, or three-car garage doesn't provide enough space for all the cars, boats, campers, lawnmowers, bicycles, workbenches, and other items we own. If you can't fit all your stuff in one place, it may be time to purchase a two- or three-car garage kit.

What Does a Pole Barn Garage Cost?
The cost to build a garage depends on whether you're using a basic or advanced pole barn garage plan. Luckily, Hansen Buildings provides free quotes to interested customers! Click here to get a free quote on garage kits.
You should also consider how much storage space you need before deciding on a garage package and price. It's not unusual for families to have more than one storage building. Many have one for family vehicles or a workshop and a second for storage.
What Can I Do with a Pole Barn Garage?
In addition to being used for storage, pole barn garages can also be used to create "man caves" or "she sheds." Garage kits with lofts combine extra storage space above with room for activities below so you can easily access your tools or games without leaving them in the way.
Pole barn garages are quite comfortable, and they can be designed to match your home's interior. People use garages for their hobbies, home businesses, or even gardening. Our most creative customers have even built pole barn garages over their pools to allow for year-round swimming!
Want to Customize Your Pole Barn Garage?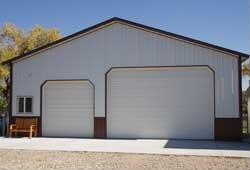 Customization is what Hansen Buildings is all about. Call a designer at 1-866-200-9657 to get started on planning your very own pole barn garage.
Building your own storage or play space is a wonderful convenience and a sound investment. Putting a few dollars into a sturdy, long-lasting pole barn garage will save you money in the long run.
Build it yourself or hire a local contractor to do the heavy lifting for you. After your pole barn garage has been constructed, you'll appreciate how convenient it is to have a storage and play space right on your property. Garage kits are number one!