Hansen Buildings sees more customers seeking custom pole barn garage kits than any other design. People just like you want to put in the work to create a one-of-a-kind, ultra-strong pole barn garage for any number of creative uses. That's because they provide massive storage capacity at unmatched savings with the strength of classic pole building design.
Not sure where to start with your custom pole barn garage kit? Take a look at the unique pole garage kit designs of some of our most valued customers in our gallery, then start brainstorming your own ideas!

When Would I Need a Pole Barn Garage?

Americans love stuff, and we tend to collect a lot of it as the years go by. It's important to us, so we want to protect it. There's plenty of room in our sprawling nation to build garage storage, and we like it close to home.
More often than not, a standard one, two, or even three-car garage is not enough for all the cars, boats, campers, lawn mowers, bicycles, work benches, and other items in our collections. When you can't fit all your stuff in one place, it's time to upgrade to pole barn garage storage.
Pole barn garages go up right on top of your property, where valuables can be easily accessed and used. Don't pay monthly rent for commercial storage; build and own your storage right on your property! That way, your dollars don't disappear – instead, they're invested into a permanent place to keep and conveniently access your favorite things.
What does a pole barn garage cost?
Find out by clicking here to get a FREE Garage Quote on garage kits
The cost to build a garage pole barn style varies so much from basic design to advanced design that there's no straightforward answer. Luckily, Hansen Buildings provides quotes at no cost to interested customers!
You'll also need to consider how much storage you need (or want) before you can solidify a price for designing and building a pole barn garage. It's not unusual for families to have more than one storage building. Many have one for family vehicles and a workshop, and a second for storage.
What Can I Do with a Pole Barn Garage Kit?
In addition to storage, man-caves and she-sheds are remarkably popular. Where there may not be enough space in the main house for recreation, pole barn garages provide quick and affordable access to storage for your favorite workshop items, games, and comfort areas.
How about a second workspace or relaxing area? Many garages are finished out just like the interior of the home, where men and women can furnish for their hobbies, home businesses, or even gardening! Our most creative customers have even built pool coverings with pole barn garage building kits to enable year-round pool swimming!
Want It Your Way?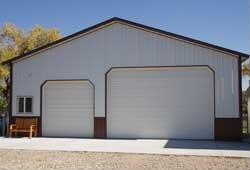 Custom buildings are what Hansen Buildings is all about. Call a designer to get started planning your new pole barn garage at 1-866-200-9657.
Having your dream storage play space is a spectacular convenience and a sound investment. Put a few dollars into a sturdy, long-lasting Hansen Buildings pole barn garage, and put a few dollars into your future.
Build it yourself or hire it done…garage kits are number one!