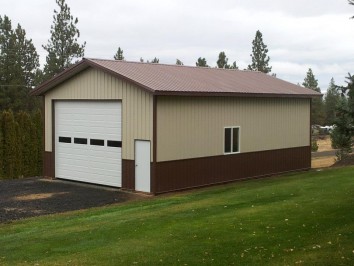 People build versatile, ultra-strong DIY pole barn garages for a number of creative uses. Whether you need extra storage space, you want to construct an art studio on your property, or you have other plans, you can count on Hansen Pole Buildings to deliver the best pole barn garage building kits on the market.
Not sure where to start with your custom pole barn garage kit? Take a look at the unique garage kit designs built by some of our most valued customers—then start brainstorming your own ideas!
What Are Pole Barn Garage Kits?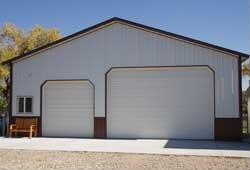 A pole barn garage kit is a simple way to increase your storage space. Most standard two-car garages don't have enough space to store multiple vehicles and other household or hobby-related items at once.
A garage building kit allows you to construct your own residential pole building efficiently and inexpensively. You'll design the garage you want, then we'll send you the materials to put it together. Our kits are made so that anyone can build their garages themselves, whether or not they have prior construction experience.
Our residential garage kits come with tons of high-quality standard features, but you can also purchase add-ons to customize your pole building.
Get A Free Quote!
How Much Does It Cost to Build a Garage Pole Barn?
Garage kit pricing depends on whether you're using a basic or advanced pole barn garage plan. Hansen Pole Buildings provides free quotes to interested customers! Click here to get a free quote on garage kit prices.
Consider how much space you need before deciding on a garage kit package and price. It's not unusual for families to have more than one pole barn garage. You might have one to use your vehicles, one just for storage, and one for a workshop, art studio, or "man cave." You're only limited by your space, budget, and imagination.
Small, Medium, and Large Pole Barn Garages
We offer three different sizes for our standard garage building kits. Below, we'll list the measurement and prices for small, medium, and large garage pole buildings. It's up to you to figure out which size would work best for you, but when it comes to a storage pole building like a garage, we always recommend sizing up, since you often need more room than you think you do.
How Much Do Small Garage Pole Barns Cost?
Small garage pole barns range between $7,000-$18,000, depending on the features and complexities of your building.
How Much Do Medium Garage Pole Barns Cost?
The base price for a medium garage kit ranges from $18,200-$39,100. Prices for garage kits vary depending on the exact plan you choose.
How Much Do Large Garage Pole Barns Cost?
Large garage pole barn kits can range between $36,000-$88,000. Customized features and add-ons will decide the exact price.
Get A Free Quote!
What Do Garage Pole Barns Look Like on the Inside?
What your garage pole barn looks like on the inside will depend on the size of your building and the features you want to include. Things like doors, windows, insulation, and more will affect the look of the interior of your garage. In general, though, garage pole buildings offer a large, clear space where you can park cars, add tables and benches, or store equipment.
How Do Wooden Garage Pole Barn Differ From Steel-Frame Buildings?
Steel-frame buildings get their support from large steel frames that can be spaced up to 30 feet apart. They require large concrete footings and carefully placed anchor bolts. Steel buildings are typically taller than pole barns and much more expensive when you factor in the concrete and machinery needed to construct them.
Pole buildings, by contrast, are low-cost and easy to construct. Our residential pole barn home concepts are designed to create the largest possible building using the least materials. Our garage building kits use widely spaced pressure-preservative-treated posts for the main vertical supports, embedded in the ground with a small amount of concrete around them. All of our pole buildings are modular so that you can easily vary the length of your building.
Garage Pole Barn Advantages and Disadvantages
There are many advantages to using a garage building kit for your new garage, and only a few potential setbacks. We think building your garage from a pole barn kit is an excellent choice in almost every case.
Garage Pole Barn Advantages
Cost
Garage pole building kits offer the best value in construction. Our blueprints use a small amount of materials for large, spacious building designs. Our DIY building kit makes it so that you don't have to hire a contractor to construct your garage. There is no other low-rise permanent structure that can be built as economically as a pole building.
Strength
Pole buildings are incredibly strong and can withstand the forces of nature, including earthquakes, as well as any other type of structure. In addition, the modern pressure treatments used on wood have virtually eliminated any chance of deterioration from insects. Build a garage that will stand the test of time.
Versatility
Our garage building kits can be adapted to numerous uses. In general, pole buildings allow for a clearspan of up to 100 feet. Build the pole barn of your dreams, whatever its intended use.
Garage Pole Barn Disadvantages
Construction Size Limitation
There are very few disadvantages when it comes to using one of our residential pole building kits. Your size options are somewhat more limited, however. Pole buildings are meant to be low-rise buildings, often one story, although two-story pole buildings are definitely possible. If you need a building that's any higher than that, a pole building probably isn't the best solution.
Pole buildings are perfect for things like garages, workshops, barns, storage spaces, and residential barn homes.
How Long Do Garage Pole Barns Take to Build?
The length of time it takes to build a pole barn garage depends on the building's size and complexity as well as your level of skill as a builder. We provide a construction time estimate with every quote to give you a general idea of how long construction will take. Our estimates are based on the amount of time it would take a totally unskilled worker to construct a pole barn garage.
Where Do I Go to Get a Garage Pole Barn Kit?
To Hansen Pole Buildings, of course! We can ship our garage building kits anywhere in the U.S. We also have distribution centers in Canada, and we can ship overseas as long as you arrange container shipment from port to port.
How Do I Find a Garage Pole Barn Builder Near Me?
If you don't want to build your own garage barn, you can hire a contractor to construct your pole building for you. We keep a list of builders throughout the country that we can recommend to you. Call our office directly to receive a referral for a builder in your area.
Get A Free Quote!
Popular Pole Barn Cities:
Popular Pole Barn States: