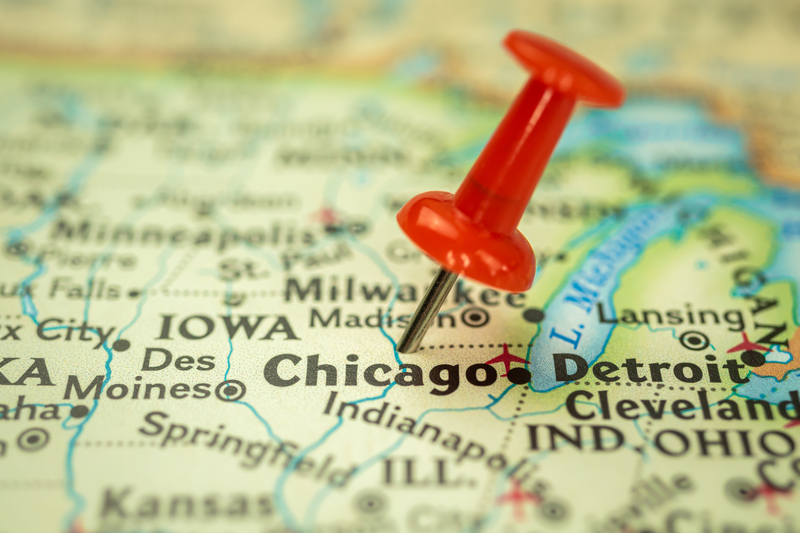 Customizability, versatility, and durability are just some of the reasons why pole barns are a popular choice in Chicago and the surrounding areas. Pole buildings can be used for a variety of purposes, including residential, agricultural, and commercial needs. If you're a homeowner or business owner considering erecting a pole barn of your own in Chicago, you've come to the right place. Hansen Pole Buildings is proud to be one of the top distributors of customizable pole buildings in Chicago and all of the United States.
Pole barn and pole building kits are popular in Chicago, IL, and other Midwestern states: Indiana, Iowa, Kansas, Michigan, Minnesota, Missouri, Nebraska, North Dakota, Ohio, South Dakota, and Wisconsin.
We are able to offer competitive pricing on pole building kits in Chicago and have a variety of design and customization options for you to consider. We also price match pole barn kits if another provider in Chicago, IL, gives you a different quote for the same kit. Simply contact us to let us know you'd like a price match, and we'll do our best to accommodate you!
Pole Barns are popular in these other Illinois cities as well:
Chicago Pole Barn Building Types
Pole barns are used for a wide range of purposes, including residential, agricultural, and commercial uses. With their flexible design parameters and simple construction, pole building kits are great options for Chicago residents no matter what they need a building for. Here are some of the main types of pole barns people build in the Midwest:
In the age of "tiny homes" and alternative housing, pole building homes in Chicago are becoming increasingly popular. Pole buildings can be easily customized to meet your specific needs, so whether you're constructing a brand new home or adding a guest house or short-term rental unit to your property, we can help you make your vision come to life.
Cross-country adventuring is a favorite pastime of Americans young and old, and that's no different for the residents of the Chicago area. Pole barns are an excellent way to store large vehicles like RVs and the road trip supplies that go with them. If you're someone who likes to travel in an RV, or you plan to in the future, a pole barn is definitely worth your consideration.
Illinois has a strong manufacturing industry in which enterprises like machine works, electrical equipment, chemical manufacturing, and food processing flourish. Pole barn workshops can provide the space Chicago workers need to develop and grow these specialized businesses or offer larger organizations the chance to build support structures separate from their main facilities.
Similar to RV storage, pole barns can also be used as general garages. From homeowners storing their vehicles to small business owners in need of a workspace, Chicago citizens count on pole barns for an affordable solution.
Build the Pole Barn of Your Dreams
Are you ready to build the pole barn that's right for you? Hansen Pole Buildings is here to make sure your dream becomes a reality. Residential, commercial, agricultural, or anything else—no matter what use you have for a pole building kit in Chicago, we're here to help.
Find the Best Local Pole Barn Builder in Chicago
There are a few different ways Chicago pole barn builders can go about constructing their kits.
Build It Yourself
Pole building kits are so easy to put together that anyone should be able to do it themselves, even if they have no construction experience. We include detailed, step-by-step instructions with every kit to help you along.
Chicago Construction Companies
If you'd rather not build your pole building kit yourself, Chicago is full of construction companies that may be able to take on your project.
Chicago Pole Barn Contractors
Independent contractors are another option for pole barn construction. Any quality contractor should be able to put a pole barn kit together, but if you don't know anybody, we can recommend some professionals in the Chicago area to you.
Pole Building and Pole Barn Pricing
Now that we've covered the variety of uses for pole barns in Chicago, it's time to find the option that's right for you. Homeowners, RV enthusiasts, farmers, hobbyists, and specialized workers of all types stand to benefit from the use of pole buildings, and Hansen Pole Buildings is here to help. With so many sizes, uses, and even styles for pole buildings, our selection of pole barn kits for sale in Chicago, IL, is sure to have something for you.
Small Pole Barn Prices
Click on the links below to see pricing and customization options for our small pole barns in Chicago. Uses for this size of structure include storage sheds, smaller garages, carports, and personal workspaces. If you need to fit multiple vehicles or store equipment with larger dimensions, consider looking at our medium options.
Medium Pole Barn Prices
Medium pole buildings serve similar purposes as our small options, with just a little more space. If you require more storage, want to fit multiple vehicles, or have irregularly sized equipment that needs shelter, these may be the options for you. Medium pole barns also make great workspaces for folks with projects that require more room.
Large Pole Barn Prices
Designed to accommodate the largest equipment and vehicles, our large pole buildings can even function as homes in Chicago. You can also construct pole barns for warehouse space or to store irregularly sized vehicles like aircraft. Contact us today to start planning your next large pole barn build in Chicago or the surrounding area.
Get A Free Quote!
Pole Barn Kits Also Available in These Regions
Hansen Pole Buildings offers pole barn kits across the United States. Visit the location pages linked below to see how we can help you no matter where in the country you call home.
If you're looking for a new structure in the Northeast U.S., Hansen Pole Buildings wants to partner with you. Contact us today to explore the wide variety of pole building kits we offer in your area.
Business is booming in the Southeast, and we want to help that growth continue! Design and build your own pole barn to expand your business and work on your terms.
We're committed to offering the best service possible across the country, and the same goes for the Southwest. Contact us today to get started.
Hansen Pole Buildings is here to take care of the West Coast as well. If you're a business owner seeking more space for growth or a homeowner looking to expand your property, we have a solution to fit your needs.
Get Started Today
Whether you need a pole barn kit delivered to Chicago or Collinsville, you can trust Hansen Pole for the most durable pole barns in Illinois listed at the best price. We're happy to answer any questions you may have – simply give us a ring at 866-200-9657 to speak with a pole barn expert today.
Get A Free Quote!