Grow House Kit
With recreational marijuana now legal in several states, cannabis has become a $7.1 billion industry. If you live in one of the states where marijuana is legal and are thinking of jumping into this lucrative industry, you'll need a grow house. Some amateur growers may start out using a closet or a room in their house, but if you really want your business to bloom, consider using a pole building for your grow house.
Pole buildings offer the lowest price per square foot of any permanent structure, making them a great option for marijuana grow houses. They're also easy to construct, and many ambitious DIYers are able to install a pole building on their property without hiring a contractor. In most cases, a 5,000 square foot pole building can go from concept to operational structure in under 60 days (barring any zoning issues, of course).
When you use a grow house kit from Hansen Pole Buildings, you'll get a durable marijuana grow building where you can control light, air flow, and climate, with plenty of space for your plants and workstations.

Controlling the Climate in Your Grow House
As with all plants, you need to carefully consider your growing climate to ensure your cannabis thrives. Marijuana grow facilities typically function best between 70 and 75 degrees Fahrenheit. You don't want the temperature to change too much between your light and dark cycles; if the temperature drops below 60 during the dark cycles, your plants will grow more slowly and your yields won't be as good.
Fortunately, you can easily add lights, ventilation, and air conditioning to your pole building to help control the temperature. You can also design the walls with thick insulation cavities to prevent significant and costly heat loss or gain. Our team at Hansen Pole Buildings will be happy to help you choose a customized grow house kit that meets your climate-control needs.
Lighting in Your Grow House
Lighting is another important consideration when setting up a grow house building. The nice thing about growing indoors is that you can control the amount of light your plants get, and in many cases, cannabis plants will grow larger and become more potent in a grow house than they would outside.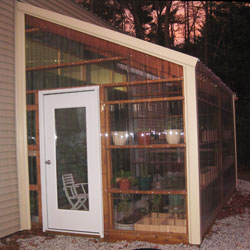 You'll need to plan for both light and dark cycles in your grow house. During the
vegetative stage, the plants will likely need to be kept under light for 18 to 20 hours, with a 4 to 6 hour dark cycle. For the flowering stage, most experienced growers recommend 12 hours of light followed by 12 hours of dark.
With a grow house kit, you'll have the flexibility to add the artificial lighting you need—and to make sure your plants are protected from outside light during their dark cycles.
Get Your Grow House Kit from Hansen Pole
If you've been searching for a marijuana grow house for sale at an affordable price, choose one of our grow house kits. We can customize a kit for you so that you get the ideal space for growing your plants and turning a profit. Call us at 1-866-200-9657 to get started or request a quote today.