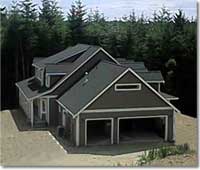 Residential pole buildings have come into vogue in the past few years because they now have the look and feel of a sleek, modern home, without the metal home look. Residential pole buildings were traditionally plain and boring in design—not anymore!
Need some ideas on pole building style and design?
Check out photos of residential post frame houses in our Pole Building Home Gallery.

Why Choose a Pole Barn Home?
Affordability is one of the most enticing features of a post frame home. The cost to build a pole barn house is often substantially lower than other construction methods because they require less material to construct—even with added features like wainscot, overhangs, and decorative windows or doors typically cost less in a pole barn home. The interior can be finished with drywall and hardwood floors like modern houses on the market today, and the exterior can be made of roofing and siding that matches the look of your neighborhood.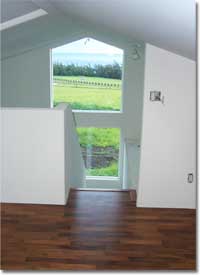 Durability and easy maintenance are two more advantages of choosing a residential steel-sided pole building. Houses with exposed wood requires a lot of scraping and repainting to maintain a fresh appearance, and the wood may need to be replaced if it warps or rots. Roofing and siding on residential metal buildings are virtually maintenance-free, so you'll have no shingles to replace or siding to paint!
Receive a free quote for your custom pole barn house in minutes!
How Much Does It Cost to Build a Pole Barn House?
The size of your new pole barn home determines its price. The average pole barn building costs anywhere from $7,000-$75,000 (larger or very complex pole barns can cost up to $100,000). Costs also vary by location due to regional material prices and local design requirements, and you'll have to factor in optional items you want to add to your pole building. Click here for more information on pole barn kit pricing.
Base Price Range by Size
Small: $7,000-$16,000
Medium: $15,000-$31,000
Large: $26,000-$75,000
Customize Your Pole Barn Home
Want it your way? Hansen Pole Buildings' pole barn homes can be customized to fit your ideal size, features, and budget. Pole barn houses are designed to meet your needs without the extra costs associated with custom home construction.
If you have a design in mind but can't find a standard pole barn home kit to match, look no further than Hansen Pole Buildings. Email us a sketch or picture along with any requirements or questions you may have. An experienced pole barn house designer will give you a quote on a custom-designed pole barn home, often within minutes. For a nominal fee, we'll draft a sketch of several angles to give you an idea of how your beautiful new pole barn house might look and feel.
Contact Hansen Pole Buildings Today
Rely on Hansen Buildings to design an affordable residential pole barn meeting your family's wants and needs. Your design is only limited by budget, imagination and available space—let Hansen Buildings help you create your next pole barn home.