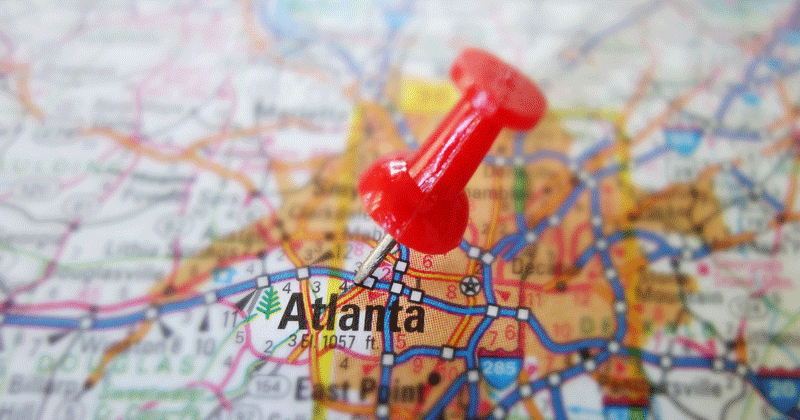 It's absolutely true – Hansen Pole Buildings helps you plan and build your dream pole barn in the Atlanta, GA area, too! We bring the popular and accessible Hansen Pole Building designs to the four distinct seasons of Atlanta for use as commercial office spaces, industrial warehouses, and even as spacious homes for Atlantans far and wide.
Popular Building Types in Atlanta
These are the most popular building types that our customers in Atlanta are interested in.
Pole Barns in Atlanta, GA
It's simple – even in a city of nearly 6,000,000 people, there's always room for a pole barn or two. The land's naturally rolling hills and dense tree coverage provide some of the most beautiful scenery on which you can start pole barn construction in Atlanta.
Industrial
Most Atlantans know that the Hartsfield–Jackson Atlanta International Airport triggered (and still contributes greatly to) a large portion of Atlanta's economic growth. It partners with some of the nation's largest airlines and brings in droves of tourists every year.
Build a pole barn in Atlanta to take advantage of the favorable industrial climate. As long as people continue to arrive in Atlanta, there's plenty of opportunity for your product to be manufactured and sold in a big city like Atlanta. Build a home for your research or factory equipment within the confines of your Atlanta pole barn construction.
Commercial
Before you join the huge number of Fortune 500 companies in your Atlanta skyscraper, start with a pole barn from Hansen Pole Buildings. If you need lots of office space with low overhead, a pole building can help you squeeze more out of your bottom line.
Plus, pole buildings remain low-maintenance throughout the year. They stand up to the hot summers and icy winters, and as long as you perform routine cleaning and upkeep, they will stand up to heavy rain, sleet, and snow as well.
Residential
You'll have a tough time getting through city building codes to put up your pole building or barn kit in Atlanta. But that doesn't mean that those of you who live on the outskirts can't enjoy a bit of the country while you're next to the city.
In the deep Atlanta winter, you'll love the warmth and comfort of your pole barn house just outside of Atlanta. They'll keep you cool when the summer gets rough in June and July, too. Take a look at available pole barn designs that you like, then ask us about our pole barn contractor services in Atlanta.
The Atlanta Area: Weather and Building Codes
The humid subtropical climate means Atlantans enjoy four distinct seasons. For pole barn owners in Atlanta, that means:
• Roofing and insulation for pole barns should be prepared to handle rapid changes in weather
• You should equip your pole barn with thorough ventilation or air conditioning to prevent moisture from damaging insulation or pole barn support systems
• Pole building contractors in Atlanta, or you if you choose to build your own barn, should take extra measures to ensure that heating is effective and safe for long winters
Building codes in Atlanta, like those in many large cities, are generally strict when addressing pole barn construction.
Most of our standard pole barn and building kits comply with Atlanta's and the State of Georgia's minimum Standard Construction Codes for height and safety. Talk with a Hansen Pole Buildings expert about compliance with codes for usage and occupancy, which will differ depending on how you intend to use your pole building.
Local Contractors
Our pole barn kits come with detailed step-by-step instructions so that you can construct the building yourself. However, if you'd rather leave it to the professionals, you can always work with your favorite contractor.
Having trouble finding a contractor in your local area?
Call Rachel at 605-432-8971 to help you find an Atlanta contractor. By working with a referred pole building kit builder you are agreeing to contractor terms and conditions.
Build a Pole Barn or Building in Atlanta Today!
Start looking at our pricing for pole barn kits in Atlanta to get an idea of where you would like to start. If you have any questions, call us toll-free at 866-200-9657 or send us a message at sales@hansenpolebuildings.com. Start building your dream with a pole building kit in Atlanta, GA today!
Get A Free Quote!