Many businesses today are considering prefab retail buildings as an option for their storefront. The pricing and variety of designs make it an attractive option. Traditional retail building construction can take several months or even over a year to complete, and buying a retail location that is already built is expensive. Plus, you have very limited choices for the building's aesthetic unless you remodel, which tacks on tens of thousands more to the price. Hansen provides a seemingly infinite variety of options for our custom retail buildings, including steel,  metal, brick, stone, wood siding and more.
How much can you save by going with a prefab building? Find out now by receiving a quick and easy free quote for your business's dream location.
Get A Free Quote!
Flexibility
The Hansen team can engineer building plans for any state to meet the specifications for building permits. Our prefab buildings can be designed to perfectly suit a variety of brands, industries and uses. When you design your retail building with the help of one of our building designers, you can design it as simple or  complex as you please. With our post-frame buildings, it is also easy to add on and expand your current location. Before you order your building kit, decide what aesthetics and functions will appeal to your target market as well as the activities that will be performed in your shop or store. Do you need a drive through window? Do you need garage or sliding doors for easy access to the outdoors? Perhaps you require an abundance of light? Will you be creating or assembling any products within your store, or just accepting deliveries? Consider the amount of space you will need for storage and for administrative work in addition to spaces for product display and other retail activities.
Design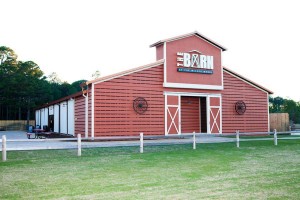 Pleasing aesthetics are essential to your retail location, and the appearance of your store will influence the public's impression of what you do or sell before they even read your signs or step inside.  A barn-like structure or gambrel-style building may lead people to believe the location is a feed store or that you sell outdoor products. A residential-like location usually denotes a retailer that sells products for home design such as carpets, tile, drapes, furniture, etc. Residential-style buildings are also a popular choice for offices. An industrial look on a retail location (a mix of metal, wood and cement or stone elements) can imply that it's hip and modern. This can be an attractive option to attract younger markets.
Ceilings also add a lot to a building's aesthetic. Higher ceilings normally give a sense of luxury. With our prefab buildings, you can choose to have a vaulted ceiling, drywall ceiling or a suspended ceiling. Options for siding are abundant, and siding is the most important design feature for first impressions. You can choose to have a steel or metal building, brick, stone, wood, fiber cement siding and more. Envision your dream store, and our designers will help you to make it a reality.
Durability
Post frame buildings were initially designed to be a more economical building option that would last for decades. This all starts with a proper foundation. Properly treated pressure-treated wood is highly durable. We can also offer perma columns as another option that keeps wood from ever touching the ground. At Hansen we are so secure with the high quality of our products and the durability of our buildings that we offer a lifetime warranty with every engineer sealed building! Our warranty includes structural building columns, pre-fabricated roof trusses and windforce-resisting components. Our suppliers of individual products also stand behind their brands with warranties for metal roofing and siding, doors, windows and more. With a Hansen building, you can rest assured that your pole building will serve your business for a lifetime.
Efficiency
As anyone who has ever worked with a builder knows, retail building construction can take several months with unexpected delays along the way which eat into your business's budget. The speed of construction for our prefab buildings saves your business time and money.
In addition to having your location ready on time and within budget, our buildings are energy efficient, saving you heating and cooling costs over the years. A report commissioned by the National Frame Building Association (NFBA) in 2010 highlighted the energy efficiency of post-frame buildings. The report indicated that a thermal envelope is easily achieved with post-frame buildings. Thermography indicated there are fewer breaks in insulation compared to stud-framed structures, and wood structural components do not conduct as much heat as steel or masonry components. Hansen offers a variety of options for insulation and ventilation.
Get a free quote for your perfect retail building now, or call 1-866-200-9657 anytime to speak with one of our designers about your many options for the ideal retail store.
Get A Free Quote!