Our Most Popular Colors
White
Brite White
Light Stone
Tan
Slate
Brown
Royal Blue
Gallery Blue
Brick Red
Brite Red
Burgundy
Clay
Evergreen
Light Gray
Charcoal
Black
*If you are looking to match your color to an existing building and want the best results call and request from us a steel sample. Colors shown on electronic devices will vary from one device to the next.
Your building's appearance is your opportunity to express your own unique taste and individuality. Most color options are available at little or no extra cost. The "Gingerbread" items such as enclosed soffits, wainscot and vents are not only affordable, but also very functional.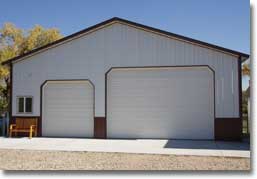 Set your building apart with our wainscot option. Wainscot is a section of steel around the base of the building that typically matches the roof color but can be any color of your choice! The side benefit of wainscot panels are that should you damage one of these panels getting a little to close with the mower or a vehicle they are quick to replace and cheaper than replacing that tall endwall steel section. Ask your designer for wainscot on your next building quote as a cheap option that will save you time down the road and add beauty to your building.
 Distinctive Doors
Entry doors can be purchased in White. Residential overheads can are available in White, Brown, Taupe or Almond.
Sliding doors can be a different color than the siding. You often see agricultural buildings with doors matching the trim or the roof, and compliment the siding. Dutch doors for horse stall barns are available in sixteen colors.
Wild Windows
Mix and match windows from a wide variety of sizes, shapes and styles. Many pole buildings do stick with a traditional 4′ x 3′ white window. But feel free to pick your own size and shape of windows, adding grids to give it that French door look. Available in white frames only. Because the color is solid throughout the frame, the color will remain true. Both interior and exterior hardware is color matched to compliment frame color. We buy windows where the trim is an integral part of the window, so installation is a breeze.
Cupolas, Vents, Soffits and More!
Functional cupolas have standard white bases, but a broad variety of top colors. Many weather vane styles attaching to the cupola roof cap are available: horse, cow, eagle, rooster, pig, antique car, mallard duck, horse and buggy, sailboat and pheasant.
Aluminum soffit is available in a variety of colors at an optional price and gable vents can be added in literally any color of the rainbow to either accent or compliment your building.
SunSky Polycarbonate Skylight panels do more than just bring light into your pole building. They also come in various colors to bring a whole new dimension of light and color to your building. Available colors include: Clear and Soft White. White Opal, Solar Control Silver and Special Order Colors are also available. Light Transmission varies from 90% with the Clear panels to 20% with the Solar Control Silver.
Color Brochures Available By Request
It's sometimes difficult to pick out colors from a brochure or website and envision them on your new pole building. Printed color charts are available to be sent from our office which match steel chips exactly. You can request a color chart from your designer. Hansen Buildings Color Accuracy Policy
Pole Building Color Questions? Call Us: 866-200-9657