Today's blog discusses a Garage Idea, Barn Doors, and Another Eave Height Question.
DEAR POLE BARN GURU: 30' wide x32' deep garage 6×6 posts spaced 10' apart except one side 16' span. 2×8 headers doubled 2×6 side walls supporters on slab. 2×6 rafters with on 2' centers with 2×6 connectors between rafters also on 2' centers 1' fall to read. Metal roof & sides. Does this sound thanks. JIM in PORT O'CONNOR
DEAR JIM: My expert opinion is you are setting yourself up for a failure – hopefully one which will not injury anyone in the collapse.
The right thing to do is to contact a post frame building kit package supplier who can provide you with not only the materials, but also the engineer sealed plans specific to your structure.
DEAR POLE BARN GURU: Can I order just steel door barn doors and tack systems from you versus an entire building? And how would I do that? And for a split door system to accommodate an opening of 10ftX5ft, what would be a rough cost estimate. Thank you. ROCKNE in PLACERVILLE
DEAR ROCKNE: Due to issues with damage in shipping, we only supply doors with the investment into a complete post frame building kit package. We suggest you visit the Pro Desk at your local The Home Depot as they should be able to assist you.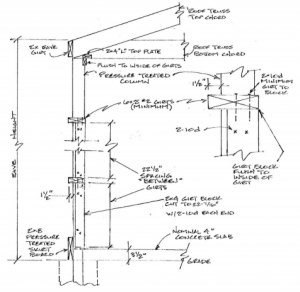 DEAR POLE BARN GURU: Is the "height" considered the peak or total height? If so, what are the exterior wall heights on an 8′ high building (for example)? Thanks in advance for your time. SHAWN
DEAR SHAWN: Post frame buildings heights are "eave" heights. Here is some reading on eave height: https://www.hansenpolebuildings.com/2015/02/eave-height-2/. An eight foot high building has an eave height of eight feet from the bottom of the pressure preservative treated splash plank to the underside of the roofing at the outside of a sidewall column.