Most Builders Do Not Understand Condensation Control, Ventilation or Insulation

Crucial to proper performance of climate controlled buildings of any sort is condensation control, adequate ventilation and insulation. Sadly, most builders do not understand how to come up with a proper design solution.
Reader AARON in WISCONSIN DELLS writes:

"Hello, I was wondering if you had a minute for a quick question ? I have read posts for countless hours regarding vapor barrier between trusses and roof steel and I can't find the answer I'm looking for. I'm building a 44×96 that will have in floor heat in South central Wisconsin (by Madison) so we have cold winters and humid summers. Walls will be spray foamed. I will be applying a vapor barrier (poly) to the bottom of roof trusses and then putting a metal ceiling on and spraying fiberglass insulation above the ceiling. Fully vented ridge cap and 2' overhangs with vented soffits around the entire building. The builder did not put any vapor barrier down between the roof steel and the trusses so the steel is directly on the trusses. Could this end up creating a moisture issue or will I have enough air flow in the attic space that I do not need the vapor barrier between the roof metal and trusses ? Thank you very much for your time."

Thank you for reaching out to me Aaron, I am always available to answer questions.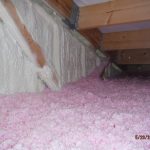 Your builder sadly did you no favors in not having a means to prevent condensation on your roof steel underside. It also requires having an actual thermal break, not just a vapor barrier. Your best solution now is to have two inches of closed cell spray foam applied directly to the underside of your roof steel, making certain they do not block ridge vents. Without this thermal break, expect to end up with damp insulation.

If your builder installed vented soffits on your building's end overhangs, you need to find a method to block them off – otherwise your attic will not vent properly.

In regards to ceiling vapor barriers, Joe Lstiburek (building scientist and founding principal of Building Science Corporation) says plastic vapor barriers should only be installed in vented attics in climates with more than 8,000 heating degree days. Even in South central Wisconsin, you are not to this point.

You'll want to verify a correct ratio of air intake from soffits to air exhaust at ridge (chances are good your builder did not). At least 40% and no more than 50% of your attic's net free ventilating area (NFVA) should be at the ridge. You may need to block off some of your sidewall eave vents to get the ratio correct.

I would also recommend you blow in rockwool insulation in your attic rather than fiberglass. Fiberglass insulation loses R value when outside (attic) air temperatures are low and is also affected by even small amounts of moisture.