Do not let this happen to you… not vetting contractors
Long time readers of this column have heard me preach this sermon repeatedly – do not let yourself be scammed by nefarious pole builders.
From the Danville (New York) Evening Tribune (dated February 21, 2018):
"A Dansville man was sentenced in Allegany County Court and ordered to pay over $17,000 in restitution and other fees after being charged with two counts of grand larceny.
Michael Oldfield plead to two counts of petit larceny, the Allegany County District Attorney's Office reported Tuesday. Oldfield, 50, was sentenced in connection with incidents in New Hudson on May 25, 2016 and in Clarksville on July 27, 2015.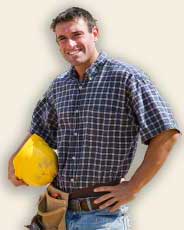 In both cases, Oldfield allegedly gave quotes for two separate pole barn construction jobs and requested a deposit for each job. Both victims wrote a check for the deposit and Oldfield kept the money. After taking the funds, he cut off all contact with the victims, and failed to deliver construction of the pole barns.
Oldfield was ordered to pay $7,500 in restitution on the first count, and $9,500 on the second count. Both counts included a $200 surcharge and DNA fees, as well as time served."
Whilst these folks might actually see their money returned, most are not so lucky. Please, I implore you, follow these steps:
Deal only with a licensed building contractor.
Many states, as well as smaller jurisdictions require contractors for construction services to be registered or licensed. The license number should be displayed on all business cards, proposals and any other contractor materials.
Verify the license.
Do not just assume the registration is valid. I once hired a contractor who provided a copy of his license to me. Only later (when there was a problem) did I find out it had expired and had been altered. Call the issuing agency to confirm it is valid.
Require insurance.
Require both a certificate of insurance showing liability insurance coverage AND proof of workers compensation insurance for all workers. Some contractors are registered with an industrial insurance account, however they report their workers as having zero hours, and pay no premiums. The workers are NOT covered.
If someone is hurt, and uninsured, the building owner can very well be held liable.
Know who you are dealing with.
Doing business with a Contractor who has a good reputation for doing the job right, in an ethical manner, at a reasonable cost is the ideal situation. Ask for references and then verify them.
Understand what you are getting.
Before agreeing to any work (as well as making any payment), require a written proposal describing in plain language what work will be done. A statement regarding compliance with applicable Building Codes should be included. If the contractor is doing building permit acquisition, it should be stated in writing and a copy of the permit should be provided prior to work starting.
A total price should be as inclusive as possible. Any unforeseeable work or unit prices clearly addressed (like what happens if holes are difficult to dig). If the contract is not understandable, have it clarified in writing. Maintain all paperwork, plans and permits when the job is done, for future reference.
Familiarize yourself with the terms.
Contractor's proposals and Contracts should contain specific terms and conditions. As with any contract, such terms spell out the obligations of both parties, and should be read carefully. Be wary of forms which are extremely short or are vaguely worded. A well written contract should address all possibilities and may very well take more than one page. Payment terms may vary, however most will require payment in full upon completion of all work. Do not pay for all work until the Contractor has finished the job.
Don't let price or warranty be your only guide.
Many building owners subscribe to the idea of obtaining three bids and if they all appear to be roughly the same, take the low bidder. This is simply not always a good practice, especially if there is a large disparity between prices. Be extremely cautious of prices which are substantially lower than others. It can mean a mistake has been made, or something is being left out. The Contractor may be planning on shortcuts in quality which can make the building owner the ultimate loser.
Be wary of unusually long warranties as an enticement. It is reasonable to expect a year or two of warranty for labor.
Keep in mind a good contract is written to provide clear communication between two parties.  It also protects both parties, and should never be "one sided".  From my years as a general contractor, a well thought out and spelled out contract (in writing) made for the smoothest projects. When clients followed all of the above suggestions, I knew they cared enough to do "their best" and I was on the same playing field….the one where both of us "played fair".
Require a performance bond.
For as little as a few hundred dollars, a legitimate contractor can acquire a performance bond (read more here: https://www.hansenpolebuildings.com/2012/07/contractor-bonding/) which will ensure the contractor will complete the job according to the contract. If they fail to perform, the performance bond guarantees no money will be lost in bringing in another contractor to complete the work.