When The Problem, Is Not The Problem


Captain Jack Sparrow's quote is close in this instance. Please read on…..

RYAN in MISSOURI writes:

"Hi Mike – I spoke with Brenda at your office and she said you may be willing to help me out. I don't expect you to just give me free advice though, so if you were willing to provide me with some feedback on my "project", I would like to pay you via Venmo or maybe your office could work up an invoice and I can pay you guys with a credit card. 
I built a 36×48 pole barn 5 years ago and didn't account for adequate ventilation and now I want to fix the problem (I'm sure you've heard that line countless times before). I read one of your blog posts to get a head start on working up a plan of attack to keep it dry in there. I'm hoping you could check my work and either take a phone call from me or provide guidance via email (again, I can shoot you some money for this, please just let me know what sounds acceptable to you). 
Specs on the barn (I've included some older pics from before I installed the gutters and the electric below):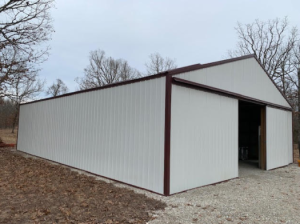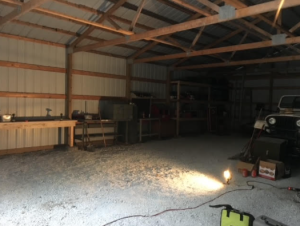 Location: central Missouri
Dimensions: 36′ wide (gable and door end) x 48′ long
Gutters down the eave/length sides to push water away from the "foundation" 
Currently no vents on the eave/length or gable sides or anywhere really… just some gaps around the trim and the base of the building where you can see daylight. 
The barn has electricity and the floor is just gravel. I have a junction box run to the gable on the south side (over the door ready to accommodate a vent fan). No animals inside. Just old tractors, some tools, and four wheelers. I don't plan on putting in concrete or any HVAC. Things out there can get hot or cold, I just don't want it raining from the ceiling anymore. 
Using your blog post, I tried to calculate what I would need as far as the CFM rating of the fan and the square inches of vent space (table of numbers below)
Questions: 
Before installing a fan, I should ask: is a fan even necessary? Seeing as I don't care about HVAC, temperature or even critters getting in there, could I get by with just strategically placed vents and wind? 
If I do need a fan to generate enough circulation, does my math below look ok? 
Would the Airlift T16 with a 3060 CFM adjustable fan speed and a humidity detector or something like it work ok? 
Where would you recommend I place the vents (and I'm happy to go overkill on them if needed) in order to achieve the best results? 
Thank you so much for your time!"
Mike the Pole Barn Guru writes:
Thank you for your generous offer of payment Ryan, however I answer all sorts of similar questions for free.

Now, the good news and bad news….

Good news is you do not have a ventilation problem, no reason to invest in any possibly expensive power ventilator fans.

Bad news – as you have found out, it rains from your ceiling. What you have is a condensation problem. Warm, moist air inside of your building is rising. It contacts with cooler roof steel, condenses and rains. This is much easier solved at time of construction than now (as well as less expensive). Roof steel ordered with an Integral Condensation Control factory applied would have been highly affordable, as well as easy to install.

Short of removing and reinstalling your roof steel to add a thermal break between purlins and steel (both costly and labor intensive), I would recommend having two inches of closed cell spray foam professionally applied to the underside of your roof steel.

When you do pour a concrete slab inside, be sure to add a well-sealed 6mil or thicker vapor barrier underneath.