This Wednesday the Pole Barn Guru discusses condensation issues in a metal pole barn a reader would like to convert to livable space, floor plans for a new post frame residence, and the steps to take to plan and build a new post frame house.
DEAR POLE BARN GURU: I just purchased a property with a metal pole barn on it. It has a concrete floor and is not insulated. I want to finish part of it off to make living space. Currently condensation will form on the bottom of the roof and I obviously can't have that over my living space. Planning to frame out the portion I'll use for living space, install kraft faced batt insulation and then drywall over that. Not planning on any additional vapor barrier on walls. Once I build the ceiling I plan on using blown insulation. How do I address the condensation/moisture issue from the roof in the most economical way possible and do I need anything additional on the walls? The cement floor seems dry enough but I don't know if there is a vapor barrier underneath, how can I know if it's dry enough and if it's not what should I do? Thanks so much!! MARK in UNDERWOOD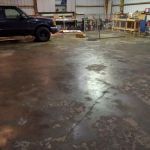 DEAR MARK: You can easily check your concrete slab for a vapor barrier – place a wrench on floor overnight, next morning remove wrench and if a dark spot is seen where wrench was placed, you have no vapor barrier. If so, seal slab with a high quality sealant (here is an example https://www.hansenpolebuildings.com/2018/11/siloxa-tek-8505-concrete-sealant/).
For you roof, best solution is two inches of closed cell spray foam applied directly to underside of your roof steel. If you create any dead attic spaces, make certain they are well ventilated, ideally at eave and ridge.
On exterior walls, since you have no Weather Resistant Barrier (Tyvek or similar), I would recommend using rock or mineral wool insulation (https://www.hansenpolebuildings.com/2013/03/roxul-insulation/) as it is unaffected by moisture. Install a well-sealed clear poly vapor barrier between wall framing and drywall.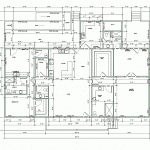 DEAR POLE BARN GURU: Do you do 6 bedroom Barndo's? I'm looking for a 6 bed, 4 bath barndominum floor plan. I have an idea of what I like in my head but 6 bedrooms one story are difficult. HEATHER in CLEBURNE
DEAR HEATHER: We can provide any number or bedrooms and bathrooms, as every barndominium Hansen Pole Buildings provides is 100% custom designed to best meet the wants and needs of our clients and their loved ones. Please see #3 here to assist in determining needed spaces and approximate sizes, and to have professional floor plans and elevation drawings produced affordably.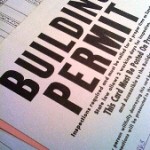 DEAR POLE BARN GURU: I would like to build a 20 foot wide x 40 foot long pole barn house in Fredericktown, Ohio. Do you know if the local building department would give a permit for a residential pole barn house, & what are the steps to obtaining that permit, who to call, & etc.? I'm at the beginning of that building process & would like to begin this summer. Thanks. RENEE in MOUNT VERNON
DEAR RENEE: Here is some information you may find useful in getting started: https://www.hansenpolebuildings.com/2021/02/a-shortlist-for-smooth-barndominium-sailing/
You will need to contact your local Planning and Zoning office to begin with. You can look up appropriate office (depending upon your actual Township/Village/City) at www.KnoxRegionalPlanning.com. This should get you what you need to know from them: https://www.hansenpolebuildings.com/2020/01/your-barndominiums-planning-department/
Many jurisdictions do have minimum square footage requirements for dwelling, so you may be forced into more than your desired 800 square feet. You may also want to investigate building 24′ x 36′ as it is more efficient for materials usage.
If anyone tells you a fully engineered post frame home cannot be erected in their jurisdiction, get from them a copy of any approved ordinance to confirm (usually there is not one) and if it does exist, get it to me and I will go battle for you for free (I win 99% of these).
In many smaller communities, Planning, Zoning and Building Departments are a "one stop shop". Here is what we will need from your Building Department: https://www.hansenpolebuildings.com/2020/08/building-department-checklist-part-i/ and https://www.hansenpolebuildings.com/2020/08/building-department-checklist-2020-part-ii/