With barndominiums, shouses (shop/houses) and post frame home building on a brisk upswing, a considering factor is how to insulate new homes. Becoming as close to (or reaching) net zero (https://www.hansenpolebuildings.com/2019/01/net-zero-post-frame-homes/) as possible should be a goal of any efficient post frame home design.
Rather than me just blathering about what my opinions are, I felt of interest to share what American home builders are actually using for insulation. Keep in mind these results are from traditional stick frame construction – where a plethora of redundant wall framing members often make insulating and avoiding thermal bridges much more of a challenge than with post frame construction.
For your reading pleasure:
Originally published by the following source: ABTG Staff — August 7, 2019 
The 2019 Annual Builder Practices Survey, which had more than 1,600 homebuilder participants this year, provides some powerful insight into the thermal products market in the U.S.
According to the survey, adoption of more stringent energy codes, homebuyer demographics driving the demand for lower energy bills, labor, and building material costs are prompting homebuilders to seek higher performing insulation that is also budget-friendly. Not surprisingly, these two factors seem to be tugging the market in different directions.
The performance vs. value tradeoff in the decision to specify insulation materials continued to be a key question for most homebuilders. According to the survey, some builders would use full-cavity foam insulation, if the cost was lower. The real challenge is that some homebuilders still believe fiberglass is the best bang-for-the-buck, and if they're looking for higher energy performance they will actually invest in things like energy efficient windows and HVAC systems over upgrading the insulation.
A builder's insulation preference is also heavily influenced by geographic area, price-point of their homes, and how many units they build annually. For example, fiberglass batt has its deepest market penetration in Pacific states and lowest in West South Central states. Smaller builders (10 or fewer starts-per-year) are three times as likely to use spray foam than larger builders (more than 50 starts-per-year).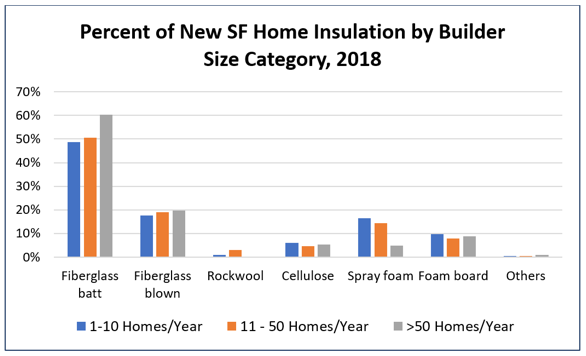 Source: 2019 Annual Builder Practices Survey, Home Innovation Research Labs
Difference in insulation usage was less variable when it came to home size as per building size. Yet, spray foam was about twice as likely to be used in luxury homes than starter homes, as an example. Conversely, fiberglass batts was more likely to be put in starter homes than luxury homes.