Should I Hire a Local Engineer and Work With a Lumber Yard?
Let's hope not. Here is the email which triggered this article:
"Hello, 
I am building a 50×60 pole building with 22′ eaves. I'm shopping right now to either hire a local PE to design the structure and work with my local lumber yard to supply the package or maybe buy a kit like the ones you sell. Do you do custom sizes? Would you be interested in quoting my project?
I live in Lake Stevens, Washington.

Sincerely, 
Tim"
DEAR TIM ~
Thank you very much for your interest in a new Hansen Pole Building.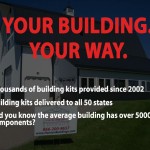 The heart of our business is providing totally custom designed post frame buildings of any size, as such your contact information has been forwarded to one of our senior Building Designers who can assist you with the process.
Some advice – hiring a local engineer to do the structural design will result in one thing for certain, and probably a second. The certainty is you will spend probably 8 to 12% of the value of your building on the engineer. In our case, the engineering is included with your investment in a new post frame building kit package. Our engineers do thousands of buildings for us, so your engineering costs are minimal.
The second is – most engineers are not specialists in post frame building design. You might get a great deal on the engineering itself, only to later find out your spent thousands (or tens of thousands) of dollars more than was necessary due to your engineer not being familiar with the most current advances in post frame design, as well as the plethora of materials options which could be incorporated to make your building the most efficient structure it can possibly be.
Your local lumber yard is most probably like most – they are nice, friendly, hard working folks, who know a little bit about lots of things. However, they are not going to be post frame building experts. The outcome, again, is probably going to prove to be one of less than ideal results.
My encouragement, whether you eventually invest in one of our post frame buildings or not, is to deal with folks whom you know are truly experts. We'd like to believe somewhere approaching 20,000 successful buildings might be heading us in the right direction.
Mike the Pole Barn Guru