I've never met or spoken with engineer Max Gregersen, engineer. I don't even know for certain if he is an excellent engineer or not. What I DO know is he is not so egotistical as to believe he knows it all and he will reach out to others for assistance. This in itself speaks volumes to me.
Max recently wrote to me:
"Hello,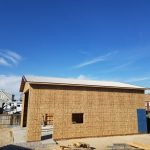 I have a client who has requested post and beam with light frame wood framing using preformed metal panels for roof (standing rib) and walls (ribbed panels) in 2015 IRC Seismic Design Category D1 without plywood or OSB sheathing under the metal panels for the roof or walls. 
This would require the metal panels to act as shearwalls and roof diaphragm with a light-framed wood supporting structure.
Is this something that you have done any past residential home projects?
Are there any ICC ES reports or shake table testing your technical engineering team is aware of that covers this?
Thanks, 
Max A. Gregersen, P.E., S.E.
Principal Structural/Earthquake Engineer
GREGERSEN STRUCTURAL ENGINEERING, INC.
1143 Two Moons Circle
Ivins, UT 84738 USA
385.232.1747 "
And my response:
Dear Max ~
Thank you very much for reaching out to us. Any standing seam panels will have to be installed over 5/8″ CDX plywood and minimum 30# felt per manufacturer's recommendations. You can read more here: https://www.hansenpolebuildings.com/2015/08/standing-seam-steel/
There are published tables of the shear values of various configurations of ribbed panels in the NFBA Post-Frame Building Design Manual (https://www.hansenpolebuildings.com/2015/03/post-frame-building-3/).
In most jurisdictions you should not even be questioned as to the validity of these numbers, as they not only followed rigid testing standards but have also performed admirably over the test of time.
You may want to have your client consider post frame construction totally, as opposed to traditional light wood framing as it offers a great deal of flexibility in design, lower costs and quicker construction times.
In need of an engineered post frame building in any state (or just want the peace of mind which comes with one)? Call us at Hansen Pole Buildings (866)200-9657. Need a Structural/Earthquake engineer in Utah, you might try Max!