Post-Frame Building Design Manual
Back in 2000 the then National Frame Builders Association (now National Frame Building Association – NFBA www.nfba.org) published the ground breaking first edition of the Post-Frame Building Design Manual.
In the foreword, then NFBA President James T. Knight so aptly wrote:
"The movement of the post-frame building into the commercial marketplace has obviously necessitated compliance with building codes. Although agricultural buildings were exempt from building codes in many areas of the United States, this was not true when buildings were built in developed areas or where public access would occur. Since the design was not understood by building officials, and since no approved and recognized design procedure had previously existed, the suitability of the post-frame structure has often been questioned.
Today, the post-frame design concept is well developed. It has, for many years, been the subject of countless research studies and analysis conducted by qualified individuals at the university level and in the private sector. This Post-Frame Design Manual, for the first time, sets forth in one document, the post-frame design criteria that is today backed up by sound and widely accepted engineering practice."
For those with an interest, the first edition can be viewed free online at: https://www.scribd.com/doc/29750872/Post-Frame-Building-Design-Manual
At the time of its publication, the United States was governed by three differing building codes – since then codes have been unified as the IBC (International Building Code). Now in its sixth edition (a new version is published every three years), the IBC has made many changes in the way Registered Design Professionals (engineers and architects) approach structural design solutions for wind, snow and seismic forces.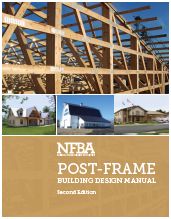 The NFBA has risen to the occasion with the recent introduction of the new Post-Frame Building Design Manual! The second edition of the manual—and the first new edition since 2000—is the ultimate tool for post-frame design. Eight chapters, 200 pages, and hundreds of photos, diagrams, illustrations and design tables cover everything you need to know about designing with post frame.
The Post-Frame Building Design Manual, second edition, is a must-have for anyone who works with — or is considering working with — post-frame construction.
Hansen Pole Buildings has been honored by inclusion of one of our buildings on the cover of the new manual. In fact, it is in the center of the three completed buildings pictured!
Download YOUR copy now:
https://apps.nfba.org/Store/ProductDetails.aspx?productId=344022