Upgraded Building at No Additional Cost
If you seriously believe this drop me a note – I have some swampland for sale!
There are three parts to anything being invested in – price, quality and service. The tough part is, the purchaser is only going to get two of the three.
Here is an actual excerpt from a pole building website I recently perused (yes, the errantly spelled word – structural- IS on the website):
"At Xxxxxxx Contractors, we offer an "upgraded" building at NO additional cost. For example we use only select structual framing lumber, a total trim package, bigger post sizes, reinforced vinyl backed fiberglass insulation, stronger doors, give you a 5 year written warranty and more."
No business does things for free for very long, they will put themselves out of business.
A story I once had related to me goes something like this: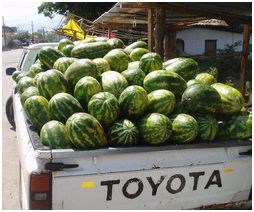 Two Texans decided to go into business together, selling watermelons. They could cross the border into Mexico and buy them for a dime each. Loading up their pickup, they promptly sold out at a dollar a dozen. At the end of the day, after counting up their lack of profits they arrived at a conclusion – they needed a bigger truck!
The lowest price is nearly always a disappointment, as it often arrives with little or no service (if arriving at all) and quality frequently suffers. There have been times when I've heard from clients about how much they saved by picking a Hansen Pole Building kit package – and my response is always, "I am sorry, we didn't mean to be least expensive, we do always intend to be the best possible value for the investment". We give a lot of thought to making the entire experience a pleasant one for every client – beginning with totally custom designs with the clients' best interests in mind!
Using all Select Structural (spelled correctly here) framing lumber and bigger post sizes adds no value for the end building user if those were not the weakest links. The same goes for stronger doors.
A better value would be to design the building for increased wind and/or snow loads. By doing so, every component gets structurally checked for its ability to withstand a given set of loads. Doors (especially larger ones like sectional overhead or sliding doors) should be ordered "wind rated" (read about wind load rated garage doors here: https://www.hansenpolebuildings.com/blog/2014/12/wind-load-rated-garage-doors/).
Vinyl backed fiberglass insulation may not necessarily be the best design solution, or investment. Read why: https://www.hansenpolebuildings.com/blog/2011/11/metal-building-insulation-in-pole-buildings-part-i/ and https://www.hansenpolebuildings.com/blog/2011/11/metal-building-insulation/
Regardless of which business one picks to provide their new pole building – hopefully they will opt for the one who has the best interests of the building owner at heart, rather than trying to fit the building owner's needs into preconceived ideas, notions or dimensions.