A couple of years ago Hansen Pole Buildings Designer Rick and I had a discussion about interesting people I had done pole building projects for. (Read more about them at: https://www.hansenpolebuildings.com/blog/2013/03/pole-building-11/).
One person I had left off my previous list was famous Pacific Northwest sculptor and artist Harold Balazs. While most folks outside of the Northeast Washington area may not be familiar with Mr. Balazs, his iconic works can be found throughout the downtown landscape of Spokane, WA. They are featured prominently in Spokane's downtown Riverfront Park, as well as several metal sculptures which are installed at various area colleges including North Idaho College and my alma mater, the University of Idaho.
More specifics of Harold's work can be found at: https://en.wikipedia.org/wiki/Harold_Balazs as well as at https://www.visitspokane.com/art/public-art/biography-of-harold-balazs/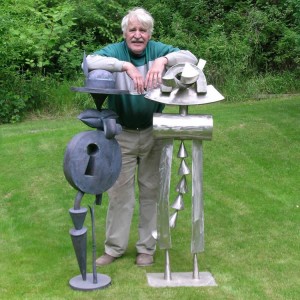 When Harold needed a lake mountain retreat in the 1990's he commissioned my then business, Momb Steel Buildings, to construct it for him.
The original structure was a tri-level building with features which would allow for him to continue with his metal sculpting work. We later added onto the building.
My own interest in metal arts sculpture has been further piqued by the works of my former college roommate and talented artist Everett Grondin, Sr. Everett is a third generation Arizonian, who, with his son Everett, Jr., has taken creative metal fabrication and construction to a new level (https://www.doglix.com/aboutus.html).
Post frame (pole) building construction makes for ideal homes for those in the metal arts industry. Pole buildings are true to the basic roots of architectural structures – where every component is serving a structural function. A truly customized post frame building which is one which would probably make Howard Roark (the hero in Ayn Rand's iconic 1943 novel The Fountainhead) proud!
The ease of lining welding and high heat areas of metal arts pole buildings with steel panels, lends itself well to the work of these artists!
Looking for an original and amazing metal art piece? Contact Harold or either of the Grondin's. Need an original and amazing pole building?
If you don't already know who to come to for your pole building – you don't have to look any further than the website you are on!