Great Room (487/481/680)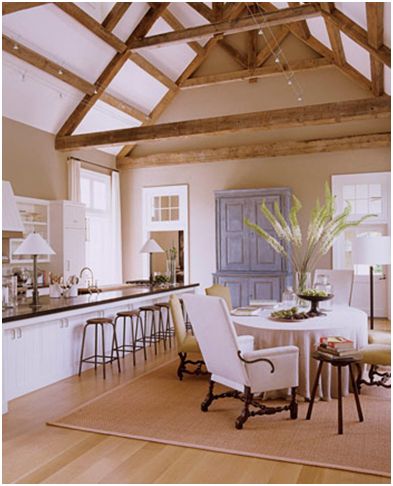 We like the open feeling of a great room, especially with 16 foot high ceilings and a huge bank of windows across our South facing wall. Ours is well over 1000 square feet. For our lifestyle this was far more practical than separate Dining (148/196/281), Living (256/319/393), Family (311/355/503), Rec (216/384/540) and/or Entertainment/Media Rooms (140/192/280).
Master Bedroom (231/271/411)
Ours gets lived in (and is on the large side) – we have a small corner gas fireplace and a big screen tv in ours. We also have a sewing/craft loft above a portion accessed by a wheelchair lift.
When I was in Oregon, our 16 foot square Master Bedroom was just not enough, so I added another dozen feet of length, stepping down a step, with an open beam ceiling and a wood burning brick fireplace. 
Master Bathroom (115/144/210)
Being empty nesters, it was convenient for us to have washer and dryer in our bathroom, directly next to our walk-in (or roll in my bride's case)closet. Originally we had a good sized prefabricated fiberglass shower unit, however this was removed and replaced with an open roll-in shower with a rain head.
Our first experience with open showers was in Costa Rica years ago, I'd never go back to a traditional shower if I was building from scratch. No, they are never cold.
Master Closet 
Neglecting a walk/roll in closet would be a serious design flaw in my humble opinion.
Secondary Bedrooms (130/139/178)
We actually have none! Our children are all grown and gone – but what about a guest room? 
For guests it takes not only a bedroom and a closet, but also another full bathroom. Easily a $10k investment. We did some math and found it would be far cheaper to pay for guests to stay at our not too distant Super 8 hotel (plus they get a free hot breakfast).
Have kids underfoot still? Unless you want them to become bedroom recluses, keep these spaces small.
Other Bathrooms (93/146/313)
In our world we have only a half-bath off our great room for guests on our living level. We do have a full "man bathroom" downstairs. 
At least one guest bathroom is best designed as being ADA (wheelchair) accessible. There are at least two million new wheelchair users every year in our country, so it is best to plan accordingly.
Laundry Room (67/87/145)
A well planned laundry room has plenty of space for a folding counter as well as ironing. If not on the same level with bedrooms, a laundry chute can prove more than a welcome addition.
Home Office
Mine is huge – 18' x 24' as it originally housed many of our business staff. Now, it is just me, so I have filled this space with a couch, coffee table, end table and a single bed for afternoon power naps!
In most cases, as youngsters grow up and go off to college a secondary bedroom can become a home office.
Utility/Mud Room (30/48/80)
These things have to go somewhere – water heater, furnace, water softener, etc.  Try to avoid my previous sins of making this area an afterthought. 
Hallways/Stairs
These are fairly unavoidable and since we don't actually live in them, not much thought is given to them until it is time to move something big up, down or through one. To avoid damage to walls, people and belongings I would encourage four foot finished widths for these spaces – you won't be sorry.
Work from this list to put your ideal spaces into priorities – "must have", "would be nice to have" and "who cares". Think about your family structure now and throughout your future years in this home.
Lastly, decide how large (or small) you want each room to be. Draw out each room, cut out and arrange the rooms according to your priorities as to where each room ideally will fit into the grand scheme of things. And there you have it, your new barndominium design!