Room In A Barndominium
I read plenty of chatter in Facebook barndominium groups where people want to see other's floor plans. In my humble opinion – this is a mistake. Building your own barndominium, shouse (shop/house) or post frame home from scratch gives you probably a once in a lifetime opportunity to craft a home specifically to fit your needs.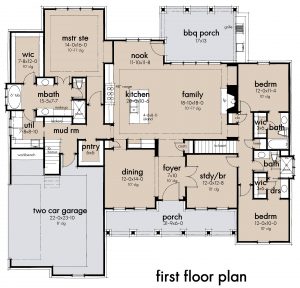 Home sizes can be split up into three groups – small (under 2000 square feet), medium (2000-2999 square feet) and large (over 3000 square feet). In discussions about possible rooms and sizes average square footage (sft) for each size will be indicated.
Entry Foyer  (65/89/138 sft)
Most homes have some sort of space inside the front door where coats and boots are removed, etc. Coat closet should be in this area as well. 
Our shouse in South Dakota has a tiled floor in this area located where top of stairs and  elevator are. Ours is on small end of spectrum, at well below average. My own personal favorite was in my Willamette Valley home where I created an 'air lock' entry – front door opening into an area where a nearly full glass door divided it from living spaces. This design was very practical for maintaining interior temperatures.
Kitchen (193/275/423)
Face it, we all have to eat. This is going to be your ideal dream home, so kitchen space is not a place to scrimp. Ours is most certainly beyond large average.
In our shouse's case, I personally enjoy to cook, my bride to bake. Our kitchen tends to also become a social place where company congregates as meals are organized and prepared. Things I feel we really did right in ours include:
4' x 8' center island. We designed it with a two foot bank of cabinets on one side, a two foot space for a chair from each side (and grandkids can crawl through) and four feet of cabinets on other side. This chair space worked out to be ideal for my wife's powered wheelchair after she became a paraplegic. 
Separate side-by-side refrigerator and freezer units. There is seemingly never enough space inside a standard combined unit. We also raised ours a foot above floor level so we didn't have to stand on our heads to see what was at the bottom.
If one is good, two are better. This applied to our ovens, where one is stacked above another. This became even more important after my wife's accident, as she can easily reach the lower oven. We also have two dishwashers – one of my pet peeves is fixing a meal for a large group and having dirty dishes remaining on counters and sinks. Two dishwashers solved this. We also raised each of them a foot off the floor and it has made loading and unloading so much easier! Our other duo is his and hers microwaves. Even though it is just the two of us here, it is amazing how often we have both of these in use at the same time.
We have large spaces (four feet) between island and surrounding kitchen counters.
Long eating bar (easily seats five on bar stools) – at the same height as the top of raised dishwashers, with sink and range on the other side and lower. With a passle of grandchildren, this makes serving and cleanup a breeze.
One thing I did miss (and I have had before) is a trash compactor.
Walk-In Kitchen Pantry (17/31/51)
Originally we did not have one in our shouse. After my bride's accident, we ended up adding a full sized elevator, requiring a mechanical room. The space at living level, above mechanical room, became our pantry. Even with our kitchen having side-by-side refrigerator and freezer units, there just was never enough room, especially around Winter Holidays. Our pantry has both a refrigerator with a top freezer and an upright freezer. Refrigerator is a handy spot for 12 packs of soda and adult beverages, as well as when guests bring refrigerated items over for a get together. 
We also used heavy duty shelf brackets and have two foot deep shelves all up one wall and above cooling units.
Come back tomorrow for more on designing your new barndominium.