Planning for a South Carolina Post Frame Home
A barndominium, shouse (shop/house) and post frame home wave is sweeping across America. There are numerous articles available on Hansen Pole Buildings' website – just click on SEARCH (upper right of any page) and type in BARNDOMINIUM and hit ENTER and relevant articles will appear for your reading pleasure.
Loyal reader LANE in NORTH AUGUSTA writes:
"Hello,
I'm currently planning a post frame home in North Augusta, South Carolina.
I'm planning to build 72x40x16 with a wrap around overhang around one end and part of the front or 84x40x16 with the last 12′ bay open to create the end porch then a lean-to on part of the front. 
I'm curious firstly on the shipping. There are a few local businesses here that sell kits and will erect the building as well if desired. How much will freight affect my final cost if I buy from you vs. sourcing it locally? I haven't gotten any prices from the local companies yet. I decided to reach out to you guys first because I've been reading your blog and it seems like you really have this pole building thing figured out. I'm also really interested in the design and plans that you provide. Do these also include the interior walls, plumbing and electrical, or is it just the shell of the building?
I've already drawn up a simple floor plan for the living space that really fits our needs so I'd like to incorporate that.
Thank you for your time. Look forward to hearing back."
Mike the Pole Barn Guru answers: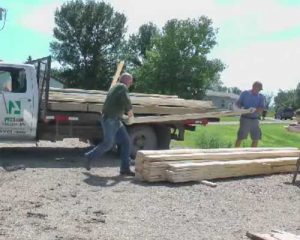 Thank you for your interest in a new Hansen Pole Building. We have wholesale relationships all across America and will ship bulkiest items, in most cases lumber and trusses, from your locale – freight costs will be no more for you, than they would be to any other location.

We would like to believe we have at least a reasonable idea of what pole (post frame) buildings are all about :-). It is all we do, unlike your local businesses who also do other things – we are specialists.

With your investment into any complete post frame building kit are detailed structural plans showing every member and all connections. For those with living areas, we have available an offer for interior floor plans: http://www.hansenpolebuildings.com/post-frame-floor-plans/?fbclid=IwAR2ta5IFSxrltv5eAyBVmg-JUsoPfy9hbWtP86svOTPfG1q5pGmfhA7yd5Q. For a nominal fee plumbing and electrical can be provided (a hint – your plumber and electrician will normally provide these at no charge as part of their service).

One of our Building Designers will be reaching out to you shortly to further discuss your ideal new building!