Overhead Door Install Without a Concrete Floor
Reader WILLIE in SHELBYVILLE writes:
" I am building a pole barn and I am not going to pour concrete on the floor just a rock base and I am going to install an overhead door. My question is what do I need to stop the door from coming out of the track at the bottom when closed?"
Mike the Pole Barn Guru responds:
While you may not intend to ever pour a concrete floor in your building, there is a better than good chance at some point in time this will change. Maybe for you, perhaps for a future owner. For this reason, overhead doors should always be placed to allow for a nominal four inch thick concrete floor – with bottom of door up 3-1/2 inches from the bottom of pressure preservative treated splash plank.
If this is not done, and a concrete slab on grade is to be added later, your overhead door will need to be taken out. Overhead door and top jambs will need to be raised by 3-1/2 inches – entailing cutting this off bottom of all steel siding panels above door opening. Side jambs will need to be lengthened at top, probably causing more steel jamb trim to have to be obtained.
This results in an issue with sealing overhead door bottom, to prevent your neighbor's cat from living inside of your building. I have had clients solve this gap challenge in many ways, all resulting in a bump or hump across door opening. Most usually it is done by creating a gravel berm.
I also deferred to Hansen Pole Buildings' overhead door expert, Rick Ochs. In his past life, Rick operated an overhead door sales and installation company.
Rick's answer:
If I understand correctly:
There is a threshold at door opening. His rock base is lower than that imaginary line from jamb to jamb. He doesn't want the rollers to fall out of the bottom of the track when the door goes down.
When my crews would install overhead doors without any flooring or concrete in place, they would mount a 2x to the inside face of the overhead door posts with the top edge at threshold height. The outer corners of the overhead door would then rest on that until concrete was poured. Some customers would temporarily build up the threshold with aggregate, but this rock gets pushed around and has to be built up continually.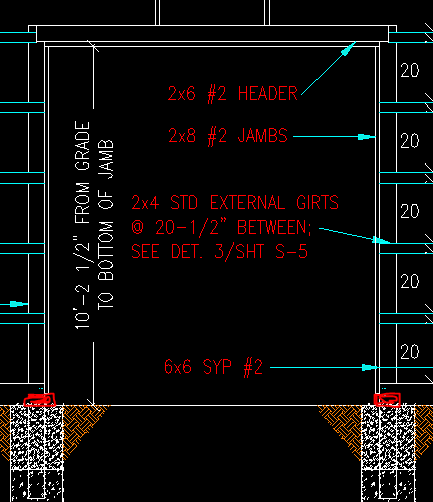 Where the red is butted to the inside face of posts: