I have configured both Google and Yahoo for notifications every time "pole barn" or "pole building" comes up in a new or edited article on the Internet. One of the things I am looking for is new or innovative ways people use buildings. Some of them make for interesting potential blog posts.
From Van Buren County, Michigan, yesterday, comes a story of an unsuccessful use of a pole barn:
It seems an 18 year old had perhaps been drinking, and decided to go on a burglary spree.
After entering one home, and appropriating some items, he decided to try the same with the neighbors. The suspect was unsuccessful in entering the home of the last victims, and woke them up in the process. He then forced his way into their pole barn, where the shotgun wielding homeowner held him at bay until deputies arrived.
The suspect was later charged with three counts of larceny from a motor vehicle, unlawful driving away of a motor vehicle, and alcohol consumption by a minor.
In retrospect, I suppose the owner of the pole barn in question, might view this as a case of successful, but unintended use of his pole barn.
Now I doubt law enforcement agencies are going to start constructing pole buildings with the idea they will become "mouse traps" for burglars….but it is an interesting concept!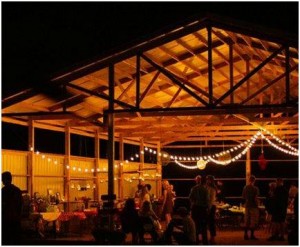 Do you own a pole building which is being used for a unique purpose? If so, I'd like to hear about it, and why you chose a pole building as opposed to some other form of construction.
Take a look at this photo from one of our recent customers who recently got married in his new pole building!