Is a Two Story Barndominium Possible?
Reader BROGEN from HOUGHTON LAKE writes:

"I'm looking to build a 40×60 pole barn dominium with the whole downstairs being a garage space except 10 foot off the back wall making the total garage space a 40×50 and having a 10×40 space walled in for stairs and a storage/mud room or possible bathroom. Then the whole upstairs be living quarters. For the garage height I was thinking 10-12 foot high and the upstairs being 8 foot with either a flat ceiling or have it be vaulted trusses so it could be 8 foot in the corners of the room to possibly 10 foot in the center of the building. I have a rough sketch I made to get an idea of what I want with each square representing 2 foot (I'm no artist these drafts are rough). Basically I'm wondering if this is possible or should I just go with stick built, and any sort of cost reference, because I haven't seen many two story pole buildings of this sort. I will also be the one building and erecting everything. Unless the price is right and it's cost efficient otherwise. Thank you for your time."
Mike the Pole Barn Guru writes:
I have been to Houghton Lake several times, calling on your local Home Depot (our post frame building kits are available through them), as well as being a guest presenter on post frame construction to a meeting of your area's Building Officials. Having spent much of my life as a lake dweller, I can appreciate Houghton Lake's scenic beauty.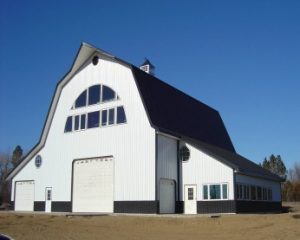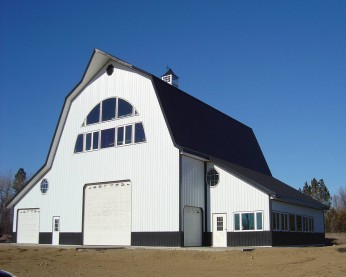 Fully engineered post frame (pole barn) lends itself very well to multiple story buildings of nearly any type – especially homes (barndominiums and shouses – shop/house combinations). I built my first personal barndominium back in the mid 1990's, three stories! Our current shouse has 8000 square feet of finished space on two stories plus a mezzanine (yes, we have not one, but two elevators).

Post frame is going to be more economical than stick frame – saving a boatload of concrete and being more material efficient than stick built. It also lends itself well to DIY, especially when engineered plans are accompanied by detailed step-by-step assembly instructions and unlimited Technical Support from those of us who have actually erected post frame buildings.

Your new Hansen Pole Building kit is designed for an average physically capable person, who can and will read and follow instructions, to successfully construct your own beautiful building shell, without extensive prior construction knowledge (and most of our clients do DIY – saving tens of thousands of dollars). We've had clients ranging from septuagenarians to fathers bonding with their teenage daughters erect their own buildings, so chances are – you can as well!

This may prove helpful in making your decision: https://hansenpolebuildings.com/2022/01/why-your-new-barndominium-should-be-post-frame/