Considering a Post Frame Building as a "Bus Barn."
In Underwood, MN, school district chairperson Frank Fee recently toured the district's new bus garage (aka school bus barn) and noted, "You'd never know it's a pole barn". Indeed though it is, with internal parking for 14 buses, it is heated, has an office and a wash bay.
As far as facilities go, new bus garages are often among school district's biggest needs. The challenge being school district voters often vote against funding as they feel the proposed building plans are too expensive.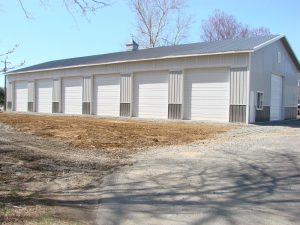 The costs of not having an appropriate bus garage will most usually be more than the cost of the structure. Buses deteriorate from weather and vandalism when stored in outdoor or unsecured areas. The lifespan of a regularly used route school bus varies from 10 to 16 years, depending upon weather and miles, with 20 years seemingly being on the extreme high end. With the price tag of a new bus being approximately $110,000 being able to squeeze an extra year or two of service out of each bus can result in some significant savings.
Smaller garages may contain the minimum engineering facilities, restricted to light servicing capabilities only. Garages may also contain recovery vehicles, often converted buses, although their incidence has declined with the use of contractors to recover break-downs, and the increase in reliability.
Overnight, the more valuable or regularly in-service buses will usually be stored in the interior of the garage, with less used or older service vehicles, and vehicles withdrawn for storage or awaiting disposal, stored externally.
Often bus garages will feature staff canteen/break rooms and rest rooms for drivers assigned to 'as required' duties, whereby they may be required to drive relief or replacement buses in the event of breakdown.
Post frame bus barns give an affordable solution to school districts on a budget. They are usually far less expensive than architecturally designed buildings. Architects are not cheap and an architect who does not understand post frame construction won't design a building as optimally or cost effective as a company which specializes in post frame building kit packages.
While steel covered post frame buildings are the most durable and affordable, any material can be used for exterior finishes and roofing – keeping any review committees smiling.