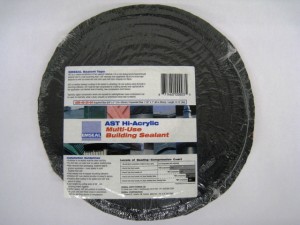 The Hansen Pole Buildings warehouse is an older pole building, which did not have closures under the ridge cap. To compound the problem – the ridge cap was nailed on! Luckily, one of the products we sell is an Emseal ® AST expanding foam closure strip which comes in a very thin roll, but expands to an inch square once installed. These expandable closures will stick to nearly anything, and can be a gooey mess to work with, but they did the trick in our case. They really do stick and seal!
AST is a self-adhering tape seal made from resilient, open-cell polyurethane foam impregnated with a water-based acrylic-modified asphalt emulsion and then compressed to a sealing density level appropriate to the application. Typically, higher compression levels are required for watertightness in water run-off applications; lower compression can be used, for example, for snow seals at roof ridges. AST replaces and outperforms liquid and butyl-tape sealants as well as closed-cell and unimpregnated open-cell foam closures.
AST sealant tape is used to seal out dust, air, wind-driven snow, and moisture through joint details in metal buildings and roofs. AST is ideal as a filler in expansion/compression joints subject to movement from thermal expansion and contraction, and as a gasket in mechanically fastened, non-moving applications such as lap seams. AST is suitable for use against metal, plastic, wood, concrete, and other materials common in metal building structures.
Product Features:
Will not dry out and become hard and brittle
UV-stable
Highly resistant to bugs and vermin
Will not extrude from between joints like caulk or butyl tapes
Conforms to contours and fills gaps
Maintains a seal during thermal expansion and contraction of building panels
Excellent compressibility and recovery (minimal compression set)
Good thermal and sound insulator
No shrinkage or blow-out due to closed-cell breakage
Supplied with self-adhesive on one side. After removal of packaging, material begins gradual expansion – more slowly in cold weather than in hot.
AST is supplied standard on Hansen Pole Building kit packages to seal angled roof cuts on steel roofing, such as on top of valley flashing and beneath ridge caps on hips. It is also used beneath rake trims on flying gables and widow's peaks.
For those who are looking for a very tightly sealed post frame (pole) building, they are an ideal and affordable solution for use at the tops of endwalls beneath rake trims (in applications where no endwall overhangs are present). Small pieces may also be used at the top and bottoms of corner trims and the low edge of rake trims.
Looking to keep every possible small flying critter out? Then a little Emseal® AST might be the solution.