One Foot
And it isn't the left or the right one!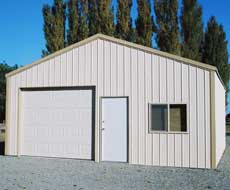 Actually the one foot I have in mind is the difference in width between a standard 36 inch width entry door and a 48 inch wide one. Oh what a difference the extra foot makes!
And most of the difference is not in cost. It is in functionality.
With an insulated commercial steel entry door with steel jambs, all factory pre-painted, the difference in investment between a "standard" width door and one with far greater flexibility for access and egress (a.k.a. 12 inches greater in width) is going to be somewhere around $150.
So, what good does the extra foot of width do exactly?
In my case – it has kept my knuckles intact when taking my 1986 Yamaha Venture Royale motorcycle through. I don't always want to open up an overhead door on my shop to get my favorite scooter in or out. If it is hot outside, I want to keep my shop cool. If it is cold out, I want to keep it warm. Far less temperature change occurs when all I have to do is open the 'person door'.
I've tried to get my bike through a three foot wide door. Yes, it can be done, however not without pain and possible damage to both my feelings and my ride.
Enjoy garden work?
The extra foot of door sure makes it easier to get things like a wheelbarrow in and out.  And how about the beast which makes your garden look like it could be on the cover of House Beautiful…the garden tiller. Running it through a four foot door is a snap. The hand lawnmower too.
Then there is my daughter, Bailey, the professional horse trainer. She will quickly vouch for the ease of getting saddles through a four foot wide entry door, rather than struggling through a narrower one.
Regardless of whom you select for your new pole (post frame) building provider – if you aren't at least being offered a four foot wide door and being explained the advantages, do yourself a favor and suggest it!
The knuckles you save, may very well be yours!