Double Bi-parting Sliding Doors for an Airplane Hangar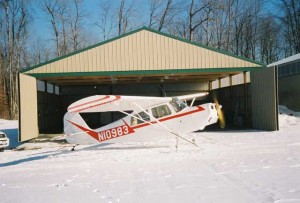 Every once in a while I get asked a Dear Pole Barn Guru question which just demands its own space in order to do the subject topic true justice. This happens to be one of them.
DEAR POLE BARN GURU: I want to build a 50x40x16 for an airplane hangar. I need a 45×14 door. Without spending a fortune on a bi-fold or hydraulic is there a way to double sliding barn doors? LUKE IN SARAH
DEAR LUKE: The answer really comes down to would sliding doors be the best design solution and/or be practical.
Bi-parting sliding doors on double tracks would mean you would have four sliding door panels of roughly 11'6" in width each. In order to fully open these doors, they would have to be able to slide PAST the corners of the building and out into space (actually they could slide on a header out to a column which would be planted 9' away from the building corner).
This poses some challenges – first being, do you have exclusive access to a location this far away from the building corner? Second, if you do have the exclusive rights, these posts tend to become targets for things to run into. When (not if) something does run into one of the columns, it is going to damage the something, as well as potentially create a "fall down, go boom" situation for your sliding door track.
You can read some of my own personal experiences with sliding doors on hangars here: https://www.hansenpolebuildings.com/2013/09/hangar-n3407s/
Now the practicality part (yes, darn the practicality thing).
In order to get four sliding doors to function properly it will require steel guide brackets to be poured into (at the least) concrete piers at the intersection of each door. These will tend to get in the way of your plane (or vehicles) going in and out.  The piers should extend below the frost line, to minimize the possibilities of frost heaves making it impossible to open the doors.
Sliding doors, on their own, tend to not be the tightest for security. Placing them on double door tracks multiplies the possibilities of being unable to seal them well. Plan upon visits to the inside of your building by small rodents and feral cats. Neither of which is ideal (mice can chew up the insulation on wiring faster than one might imagine).
My recommendation – we can design a post frame building kit for you which will accommodate a Schweiss Door.  No, they are not free, however they are a well-regarded door and should provide for you years of operation as a happy hangar owner. Here is an article with more information: https://www.hansenpolebuildings.com/2015/02/hangar-doors-2/