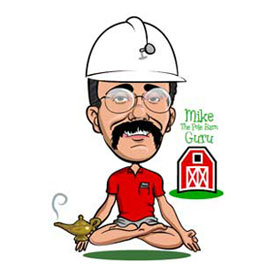 DEAR POLE BARN GURU: Hello, I have a steel shop (30×50) that I need to have the existing roll up door (10×12) removed and a rolling steel barn door to replace it so that I can get 13.8ft of clearance to get my 5th wheel in to it. It appears you sell these doors (picture on your website) and may have a contractor in the Northern Ca area who could install it. NEAL IN WHITMORE
DEAR NEAL: Thank you very much for your interest. We do offer sliding door kits and sell them with our buildings but not as individual kits due to the high shipping costs. The buildings and components we provide are designed to be installed by the building owners themselves, which most do successfully without the need to hire a contractor. In the event you do not have the time, ability or inclination to do the work yourself, you might consider running a Craigslist ad under "gigs", where you will probably have a great deal of success in finding an installer.
DEAR POLE BARN GURU: We purchased a barn package from Hansen and in the manual, it says to leave a trackless space on door track of 24 inches and 48 inches for doors wider than 10 ft. We have 15×9 ft total the 2 doors combined, 15×7 1/2ft each biparting split sliding doors. So do we leave the 24 or 48 inch space. thanks. JEFF IN MEDORA
DEAR JEFF: Typically most sliding doors are multiples of two foot in width, which fits well with track which is manufactured in multiples of two feet for length. In your particular case, you have an odd (in length, not strange) width door opening, so you were sent two 12 foot long sections of track, this would allow you to have the space between the track ends in the middle of 36 inches.
DEAR POLE BARN GURU: I am looking to put a pole building on 18 acres I own in Grand Isle, ME. I would like to use it as a summer residence but unsure what type of foundation i would need because of the 6-8′ frost line. Any thoughts on this problem. I have city water and sewer on the property. DONALD IN GRAND ISLE
The Hansen Pole Buildings Instant Pricing™ system takes into account your frost depth, when calculating the depth of the columns into the ground. Basically, you want the bottom of the column to be below the frost line and for the bottom of the hole to be larger in diameter than the top of the hole. This series of articles on frost heaves may prove helpful: https://www.hansenpolebuildings.com/2011/10/pole-building-structure-what-causes-frost-heaves/
In the end – I'd recommend the same thing I have on our house in South Dakota, where I've seen frost seven feet deep – post frame (pole) building construction, with isolated pressure preservative treated columns embedded in the ground below the frost line.