Building Permit Makes It All Okay? Think Again!
This article "Town of Rush orders woman to move barn it granted her permit to build" by Brett Davidson was published at
www.WHEC.com
February 24,2022
A woman from Rush has been ordered to tear down a brand new barn on her property because it violated the town's zoning laws, but it was the town that approved the plans and issued the building permit.
Elizabeth DiStacio told News10NBC Anchor Brett Davidsen it has broken her financially and emotionally.
She thought she did everything right.
"I don't sleep," DiStacio said. "I cry every night. I sit there and cry and I'm still crying."
News10NBC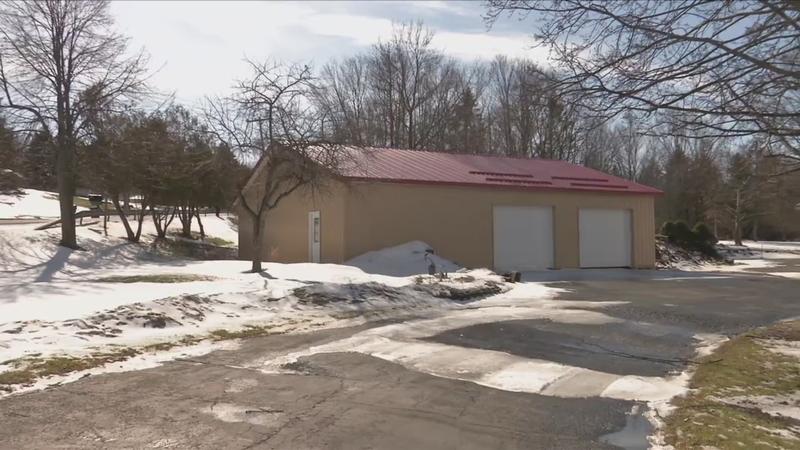 In the fall of 2019, she decided to put up a large pole barn on the family's property in Rush. She submitted a survey map to the town building inspector and marked with an "X" where she wanted to construct the barn.  
Davidsen: "You had a permit?"
DiStacio: "Yes, I did. A building inspector never came out, took a look at anything, just issued the permit."
With this permit in hand, she hired a contractor. The cost of the job was about $25,000. Then, about a month into construction, the building inspector for the Town of Rush showed up for the first time and told her the barn was too close to the road and violated the town's zoning law—which calls for a 110 foot setback. The barn was about 50 feet. The inspector ordered the construction crew to stop work, but by then, the framing for the 1,900 square foot barn had already gone up.
Davidsen: "So you didn't alter the map?"
DiStacio: "No."
Davidsen: "You didn't misrepresent where you wanted to put the barn?"
DiStacio: "I was upfront and honest."
Davidsen: "Did you know what the setback was?"
DiStacio: "No. Oh no I didn't. I didn't even know anything about a setback."
It appears, while looking at the survey map, the inspector mistook the existing house's setback distance of 117 feet for that of the proposed barn.
"It wasn't Elizabeth's fault the zoning officer misread the map," said DiStacio's attorney, John Vogel.
"She wasn't misleading. She wasn't engaged in any subterfuge or anything improper, and the town granted the permit, and now it seemed like they were pulling the rug out from under her," Vogel added.
The Town of Rush also didn't issue a written stop-work order—which its own bylaws require. When she didn't get it after several months, DiStacio brought the contractor back.
"I didn't hear anything from the town, so I'm like, 'Finish it,'" DiStacio said.
Eventually, she applied for a variance with the Rush Zoning Board of Appeals but was denied.
So she took her fight to court. But a judge recently ruled against her, saying the board was thorough and rational when it rejected her request. The judge ordered her to take down or move the barn.
So we went to the Town of Rush to find out how this could have happened.
"It's just a comedy of errors," said Town Supervisor Gerald Kusse.
Rather than defend the town's actions, he made this stunning admission.
"I would describe what happened as the very direct dereliction of duty on our building inspector at the time. Because all the investigation, as they've done proves that to be true," Kusse said.
Kusse points out that the building inspector would have caught the mix-up much sooner had he visited the property earlier to ensure the layout was in compliance.
"Why he didn't, I don't know," Kusse added.
Kusse said the inspector in question no longer works for the town.
Davidsen: "Given all of this, could the town have done something for her financially to move that barn?"
Kusse: "I'm one vote. I would have liked to proceed in that direction."
But Kusse said members of the town board and the town attorney nixed the idea, concerned about setting a bad precedent.
"Why do I have to pay when I did everything the town asked me to do?" questioned DiStacio.
DiStacio said moving the barn will cost an additional $35,000. She has until mid-March to get it done.
Davidsen: "What has this done to you financially?"
DiStacio: "When this thing is done, I have zero in the bank. Zero. And that's what I've got to show for it."
Home improvement jobs can be very involved, and most of us don't know all the pitfalls before launching into a project.
So Davidsen spoke with the Finger Lakes Building Officials Association President Jim Bailey about what you can do to avoid problems like Elizabeth DiStacio had. He shared this advice:
Before you do anything, know your local zoning laws, things like setback requirements, and how they pertain to your property.

Make sure you have detailed plans about your project, and hire professionals if you need to.

Make sure you are getting inspections by town officials throughout the entire process.

Most importantly, over-communicate with your local building inspectors and code officers.
"Through communication, you can utilize the education that all the municipal employees have for their profession and through that communication and dialog, then you can achieve compliance, which is really what everybody wants," Bailey said.
Mistakes do happen, but ultimately, the responsibility lies on the homeowner.