8 Quick Questions to Ask When Investing in a Pole Barn
Will my building be fully-engineered?
Be sure all of your building's components are engineered to work together and to last – this entails a complete building system, designed specifically for your site, with your openings and sealed by an RDP (Registered Design Professional – engineer or architect).  Don't assume "a pole barn is a pole barn". Often, the only engineered components are any pre-fabricated light gauge steel connector plated trusses. The truss relies on the rest of the building for support and bracing. If these are inadequate the truss may fail. An engineered truss, does not make for an engineered building.
All Hansen Pole Buildings are fully engineered structures, custom designed specifically for you.
Where are the parts of my building sourced?
There's a big difference between buying a building system versus a list of building materials. The components must be designed to work together as a system.
Considering purchasing a pole barn kit from a lumber yard? Chances are very good they will supply you only with a list of materials priced out. No guarantee is made as to completeness, or the ability to adequately carry the necessary loads.
When you invest in a Hansen Pole Building, you are guaranteed to receive all of the materials required to construct your new post frame building according to our engineered plans (other than concrete, rebar and any nails which would normally be driven by a nail gun).
What type of lumber is used in my building?
Size, species and grade all have a meaningful impact on your building performance. Bigger is not necessarily better. (read more here: https://www.hansenpolebuildings.com/2014/08/lumber-bending/ and https://www.hansenpolebuildings.com/2012/03/lumber-species/).
Will my builder use multi-ply glu-laminated columns or solid wood posts?
Glu- laminated multi-ply columns provide higher design strengths than solid wood posts. Column consistency and straightness can be controlled by glu-laminating wood plies together. True glu-laminated columns do NOT have nails or wires through them to connect the plies.
With this said, glu-laminated columns are not readily available in all regions of the country. You may specify glu-laminated columns, if desired, however they may come at a premium.
In any case, all Hansen Pole Buildings' columns will be pressure preservative treated to a UC-4B rating for structural in ground use. Lumber and timbers treated to lesser specifications (such as UC-4A or UC-3) are not allowable for use as columns for post frame buildings. https://www.hansenpolebuildings.com/2014/05/building-code-3/.
What type of structural framing will my building use?
It is important to compare structural framing details.
Purlin to truss connection

: Purlins in engineered steel hangers provide positive 

truss bracing (the truss cannot prematurely buckle) and eliminates places for birds to nest.
Truss bottom chord bracing

: It is essential for trusses to be adequately braced to prevent bottom chord buckling. Any braces over 10 feet in length need to be either two ply, an "L" or a "T" to prevent weak axis buckling.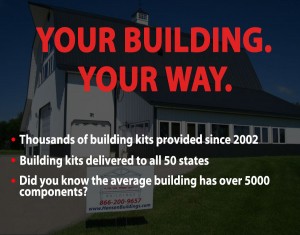 6. Can I help design my building, or do you only offer standard models?
Ask about options for building width, bay spacing, foundation type and framing choices. Some building suppliers offer little-to-no flexibility and will not provide a building outside of their standard cookie-cutter methods.
Hansen Pole Buildings can be designed to any method which meets sound engineering practice, the applicable climactic loads and the Building Codes.
Is my quote a complete proposal or just an estimate?
An estimate is justan estimate. Its final value is determined at project completion. A complete proposal is a firm quote, subject to change only if the scope of the project changes. Review your quote to ensure it includes everything you want. The quote should clarify in writing what is included and what is excluded. Avoid unpleasant surprises by understanding the true scope of work before you sign a contract.
What does the warranty cover?
Ask to read the warranties which cover treated lumber, steel paint and the structure itself. Be wary if a building provider is not willing to provide a written warranty covering the building's long-term performance.