Exciting Times for Post Frame Construction
Welcome to 2020!

My fifth decade of post frame buildings and I could not be more excited.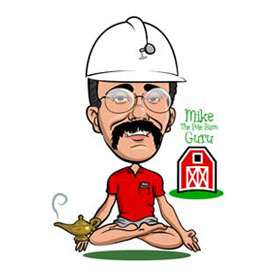 40 years ago today if you would have told me I was going to embark in an exciting career in post frame buildings I would have looked at you quizzically – and then asked what a post frame building was!
Now I realize 40 years is greater than a lifetime for many of you readers. Or, if you had arrived on this planet, you might have not yet been school aged even! A few of you may look upon me as being ancient. Trust me I know ancient –  probably 20 years ago my son (in all seriousness) asked me what it was like watching space aliens build the Great Pyramid!
 I have no qualms about being 62 years old – and am still excited to see what each new day will bring.

Well, back on task, if you would have told me a post frame building was a pole barn, at least I would have heard about them.
I had migrated from Northern Idaho to Oregon late summer of 1979, when home mortgage rates topped 10% and home loans were no longer available there due to a state mandated cap on interest rates. By January 1980, interest rate issues brought housing starts in Oregon to a screeching halt as well.
 My truss plant typically produced eight to 10 buildings worth of trusses a day. In January 1980 we had only four orders in an entire month! Not good – however there was a single common denominator among those four orders, they were all for pole barn trusses. I didn't have the slightest idea what a pole barn really was, but it was time to find out. Long time pole barn builder George Evanovich allowed me to pick his brain and I was an apt student!

Frankly (knowing what I know now) these buildings were not very good. I suppose they do resemble some buildings I see people buy from their local lumberyards – a great price and not much else! At least I established quickly a firm policy of always supplying all materials to assemble a building. It might not have been much of a building, but it was all there.
Virtually every building 40 years ago was nothing more than a barn. Very few ever required building permits and if they did, engineer sealed truss drawings usually got a permit acquired!
Technology has changed our everyday lives. I grew up actually dialing a rotary phone! These same technologies allow us today to structurally design intricate post frame buildings for virtually any use – with walls up to 40 feet in height and three stories high (add 10 feet and another story for sprinklers).
True residential construction, not just a garage or shop out back, is becoming a driving growth force for post frame buildings. Today's post frame homes (also known as barndominiums and shouses) are quickly becoming our business core. They can be erected quickly, even by DIYers, are more cost effective than any other Building Code conforming permanent structure and can meet exacting demands of energy efficiency.
Ready for your new building? Think no further than post frame construction. Call Hansen Buildings at 866-200-9657 and talk to a Building Designer today!