This week the Pole Barn Guru answers questions about scissor trusses, wood framing and hanger bolts for sliding doors, as well as a foundation option for a post frame house.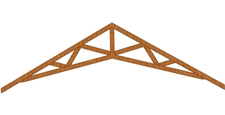 DEAR POLE BARN GURU: I have a 30×40 pole barn. And my lower beam on the trusses is to low for my car lift. Is scissor trusses as strong or stronger then common trusses and I know without a engineer doing the math it's hard to say. ZACH in ATASCOCITA
DEAR ZACH: Scissor trusses can be engineered to be every bit as strong as conventional trusses. If your idea is to swap out some or all of them, you would be looking at a highly labor intensive project. It might very well be less expensive to just add a taller bay onto one end of your building.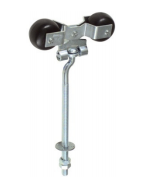 DEAR POLE BARN GURU: The round rail hanger bolt on our sliding door got pulled out of the hole drilled through the 2×6 at the top of the door. We have made angle iron for the top and bottom of the 2×6 with 1/2in holes but are finding it difficult to get the bolt through the holes. Is there an easy way to reinstall the door hanger without removing the entire door from the track? AARON in MARYSVILLE
DEAR AARON: You have just discovered one of many reasons why sliding doors should not ever be framed out of lumber. Steel door components (such as horizontal girts) are far superior in every way. They are stronger against wind loads, they do not warp or twist, doors are phenomenally lighter weight and trolley hanger bolts never pull through!
In direct answer to your question – you are going to have to remove entire door, reinstall trolley hanger bolt and rehang door. This might be an ideal time to totally replace your wooden components.
DEAR POLE BARN GURU: Can a pole barn be a permanent house residence, and can they be built on a walled foundation? TERRY in AKRON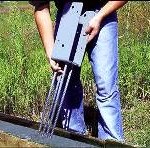 DEAR TERRY: Post frame (pole barn) buildings can be permanent residences – I happen to live in one myself, with about 8000 square feet of finished space. They can be built either with embedded columns, or on a partial or full foundation. For more information please visit www.HansenPoleBuildings.com , navigate to upper right corner of the page and click on SEARCH type BARNDOMINIUM in search box and click ENTER. This will bring up a plethora of relevant articles for your reading enjoyment.

.